There will be more COEs (certificates of entitlement) for the next three-month quota period starting from November – something which is likely to keep premiums at the current low levels.
In its latest quarterly announcement yesterday, the Land Transport Authority said that there will be 10,046 COEs a month from November to January – up 8.9 percent from the current monthly supply of 9225.
Car buyers will have 7181 COEs a month – 3.9 percent more than now. The number includes Open COEs, which can be used for any vehicle type except motorcycles, but which usually end up being used for cars.
Motorcyclists will get the biggest rise, with their quota expanding by 34.7 percent to 2207 a month.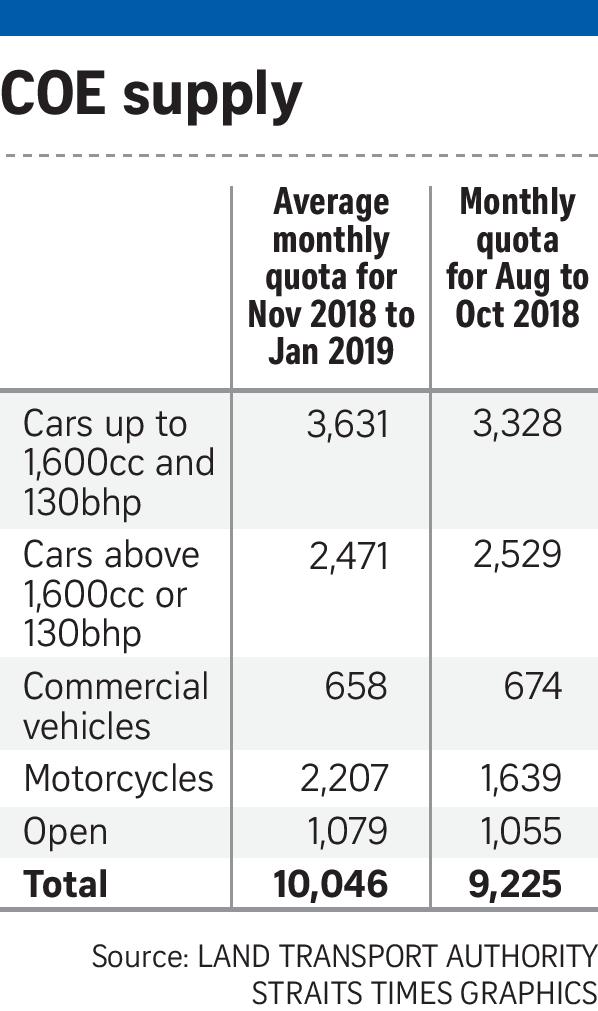 Motor traders attribute the increase in car COE supply to more cars being deregistered. COE supply is determined largely by the number of vehicles taken off the road in the preceding three months.
Traders said the premature scrapping of newer cars bought between 2012 and 2016 – when car premiums were as high as $90,000 – was fuelling the quota growth.
Now that premiums have fallen to as low as $25,000, owners of these "high COE cars" are scrapping them because their annual depreciation is much higher than that of new cars now.
For motorcycles, the sharp increase in COE supply is likewise driven by a surge in bike deregistrations.
This came on the back of a recent government push to encourage riders to get rid of their older, more pollutive motorbikes. These riders were given monetary incentives to scrap their two-wheelers.
Mr Nicholas Wong, general manager of Honda agent Kah Motor, added that many unused motorcycle COEs were also being recycled, propping up the supply further.
The expanded quota is likely to keep prices suppressed, according to industry players.
Mr Neo Nam Heng, chairman of diversified motor group Prime, said the COE for cars up to 1600cc, which will see a 9.1 percent increase in supply, could fall further in price.
At the latest tender on Wednesday, this COE premium closed at a three-month low of $25,556. "I hope the next support level will be $å20,000," Mr Neo said.
Sliding prices will in turn fuel the premature scrapping of cars bought between 2012 and 2016. And this will lead to a bigger quota next year.åç
Mr Neo said: "The next quota is expected to be a fat one."
While sliding COE prices will be a boon for new car buyers, used car dealers will continue to reel. Many have stocks acquired when COE prices were above $50,000.
---
How will my car's road tax and insurance be affected if I renew its COE?