You can soon rent a blazingly-quick Audi RS4 Avant if you've got a special occasion coming up.
That's thanks to Audi on Demand, Audi's car rental service that lets you book anything from an Audi A3 sedan to a TT Roadster.
Mind you, the Navarra Blue Audi RS4 Avant is only available during August 2019, so act quickly if you have something special planned!
How much is rental?
Bookings for the RS4 Avant open from Aug 1, 2019 onwards.
A promotional rate of $388 per day applies for the first three bookings, so hurry and be the quintessential kiasu Singaporean!
Thereafter, the daily rate will rise to $498, or $288 for a four-hour block.
Audi on Demand's RS4 Avant is powered by a 2.9-litre turbocharged motor producing 450hp and an astonishing 600Nm of torque.
The modern interior gets RS sport seats, the Audi virtual cockpit and a heads-up display that shows you g-forces, tyre pressures and torque.
What is Audi on Demand?
It's essentially a car rental service managed by Audi, available to any drivers over 23 years of age and with two years of driving experience.
This is similar to Access by BMW, a rival scheme by the Bavarian automaker which was recently launched here.
Unlike BMW, which has a one or three-month lease duration, the minimum booking period for Audi on Demand is only four hours, with one month being the maximum.
New BMW leasing service lets you own a Beemer without the hefty costs
The four-hour block makes the service great for weddings or impressing an important client!
You can either choose to have the vehicle delivered to you (for a fee) or collected from Audi's showroom at 281 Alexandra Road.
Audi has a comprehensive list of FAQs which you can read about here.
One key differentiator is that unlike Access by BMW, Audi on Demand lets you drive into Malaysia with insurance coverage.
But they're quick to point out that it doesn't apply for RS3 sedan, so speed freaks, no Sepang track day for you.
What other cars are available?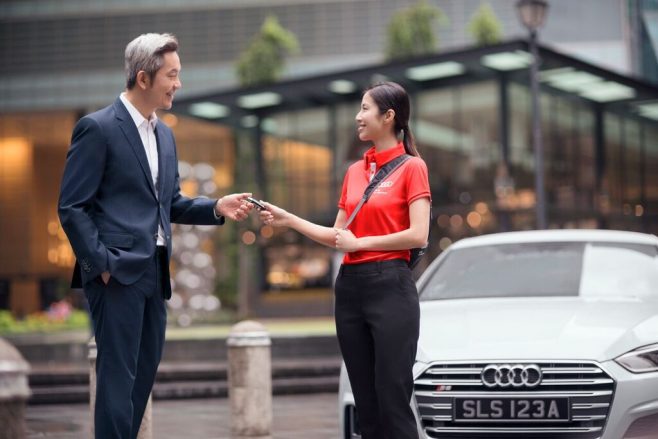 Aside from the stonking RS4 Avant, you can also rent other Audi coupes, sedans and SUVs to suit your needs.
The A3 sedan can be rented for $89 for four hours or $158 for one day.
If you're looking for something sportier, the S3 sedan can be yours for $152 for four hours or $272 for the day.
Stepping up to the big league, you can have the S5 Coupe for $198 for four hours or $368 for a day.
If you need to cart around loads of stuff or people, get the Q7 for $198 for four hours or $388 for a day.
There are no mileage restrictions on any of the cars, and all you need to do is sign up for free.
---