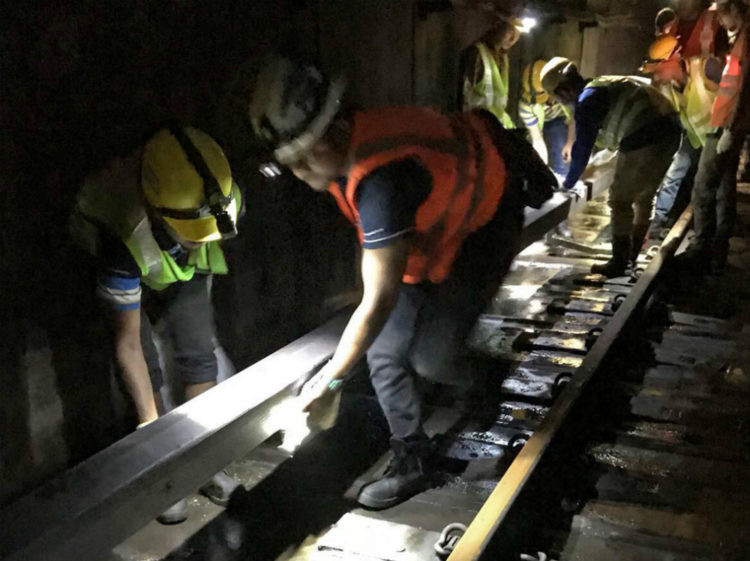 In a Facebook post on Thursday night (Nov 16), the train operator clarified that under Mr Kuek's leadership, the staff strength in the Permanent Way, or PWAY team, has almost doubled.
The PWAY team, which looks after track and trackside infrastructure, grew from 206 staff at the end-2010 to 395 staff as at 30 September this year, SMRT added.
"This is obviously fake!" SMRT wrote, alongside a screen capture of the online report, which claimed that Mr Kuek's predecessor, Ms Saw Phaik Hwa, terminated 25 per cent of the PWAY team, while Mr Kuek himself sliced it down further.
It is unclear where this online allegation originated from.
SMRT said: "How would SMRT have been able to complete the change out of all the power rails and 188,000 sleepers if staff count had indeed been cut so drastically?"
Addressing the claims that night-shift staff in the PWAY group were axed, SMRT countered that the numbers of employees working the graveyard hours increased by 65 per cent. This was through the adding of more full-time night-shift staff to the North-South and East-West Lines.
"The number of personnel carrying out maintenance work is even more when one adds external contract workers who augment the permanent staff on the tracks," said SMRT.
---
Related story: Transport Minister says lapses have "negated good work" of SMRT staff
Related story: Defence engineers to help SMRT review maintenance work processes