The new Audi A6 3.0 feels larger, plusher and more refined than its predecessor. And it is the biggest rival of the A8 limo.
It has been six years since I last drove an Audi A6. But I remember that car as if I had just driven it yesterday.
You see, that A6 in question was something special. It, too, had a 3-litre V6. But unlike the turbocharged version in this new model, that engine is supercharged.
Needless to say, the response to throttle inputs felt instantaneous.
Then there were the optional goodies. The test-car had LED headlights, a night vision camera and a Bang & Olufsen sound system, just to name a few.
As an executive saloon, it was very complete. And I was enamoured with it. Still am, actually.
When the new A6 was finally launched, I couldn't wait to take it for a spin. I anticipated that Audi would improve upon every characteristic that I loved about the preceding model.
THIS LOOKS BIG
As I walked up to the new Audi A6, I was immediately struck by its size. It looks a lot bigger than the older model.
However, the A6 isn't really that much larger. A spec check shows that the overall length of 4939mm is merely 24mm longer than before. The car's width of 1886mm is only 12mm wider than previously.
So, the older car hid its dimensions well. I assume that the designers wanted to increase the A6's road presence. They have succeeded.
HIGH-TECH LIVING
As an executive saloon, I expected the Audi A6 to be even more spacious than before. I was not disappointed.
Given my "prosperous" frame, I appreciated the airy cabin and generous headroom. The wide seats were most welcome, too.
Also quite welcome was the A6's Virtual Cockpit display. The digital instrument panel looks great. And by now, I had gotten the hang of navigating through its menus.
The A6's infotainment system, however, was less of a treat. Using it and the air-con controls were a turn-off. Now, this is not a rant against digitalisation. My issue is with the touchscreen.
I don't enjoy the way the haptic feedback is delivered. And more effort is needed to activate the functions, since the screen requires a firmer press. I've tried adjusting this.
It could be because I am right-handed and my left hand is naturally weaker. But think touchscreens should be effortless. You wouldn't like it if you needed the same effort to use your smartphone.
That said, I feel more attuned to the car because the screens and dashboard are more angled toward the driver than they used to be.
EXECUTIVE ACCOMMODATIONS
Lounging in the rear is a pleasant experience. I can see how hot-tempered bosses might be able to relax and cool down.
Apart from the slight increase in rear legroom, there's also four-zone climate control. And there are vents on both the rear console and B-pillars. They really improve throughput and can quickly cool down the interior after the car has "baked" in the sun.
As a German "business class" saloon, the boss in the back can opt to have two subordinates with him or her. However, that sizeable floor protrusion will definitely make things awkward for the middle occupant.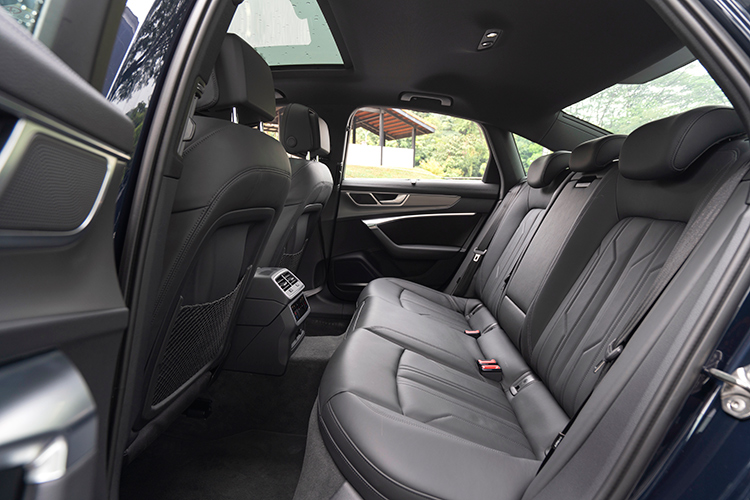 DRIVE TO IMPRESS?
The previous Audi A6 3.0 has a supercharged V6. I was also curious to see how this new, turbocharged version would stack up.
Is the new turbocharged V6 any good? Well, in terms of power and refinement, it is plenty good. There's nothing to complain about. The 48-volt mild hybrid system is also unobtrusive. You hardly feel the stop-start system kicking in.
Besides, the motor delivers 340hp and 500Nm of torque. That's 7hp and 60Nm more than before.
More importantly, these outputs arrive earlier. The 340hp is between 5000-6400rpm. The older supercharged 3-litre Audi A6 produced 333hp between 5500-6500rpm.
And the 500Nm is available between 1370rpm and 4500rpm, versus 440Nm between 2900rpm and 5300rpm previously. That said, the new A6's 5.1-second century sprint time is the same as before.
Punch and smoothness are great. But I've always been a fan of responsiveness. And in this regard, I think the Audi A6 could be more forthcoming.
You're probably saying, "Seriously? 500Nm from 1370rpm isn't forthcoming?" But I think the A6 could be more responsive. However, it is up against the inertia caused by its 1.76-tonne kerb weight.
That's pretty hefty. The Audi A6 3.0's direct rival, the BMW 540i, weighs in at 1595kg. The weight difference? It's like the Audi A6 carries three extra adults who each weigh 65kg.
Some of that extra weight is probably down to the insulating materials. The old A6 was refined. This one takes it up another two notches.
LIKE A BOSS
If you need a quiet space to think, this could be it. On the go, the Audi A6 is hushed and the ride is pliant. You're cocooned against the outside elements and road noise.
Behind the wheel, you feel like you're in a very substantial luxury saloon. If you didn't know any better, you could be in the range-topping A8 limousine.
That's great, but it also presents a problem. The fun of the preceding Audi A6 is gone. In its place is a more mature and refined executive saloon. It's powerful, but its acceleration doesn't feel as immediate as before.
Now, can the A6 tackle bends? Sure. It also has quattro all-wheel-drive to give you even more traction. The only things that will need grip would be the sliding bums. Those wide and cushy seats aren't meant for dramatic manoeuvres.
WHO IS THE A6 FOR?
It seems that Audi's aim with the A6 has been to create a compellingly refined executive saloon. They have succeeded.
It's relaxing to drive. And if you're a chauffeur-driven businessman or businesswoman, it deserves your consideration.
And since it's like a smaller A8, acquiring an A6 can be seen as paying for business class, but getting an upgrade to first class.
---
Audi A6 3.0 (A)
ENGINE     2995cc, 24-valves, V6, turbocharged
MAX POWER     340hp at 5000-6400rpm
MAX TORQUE     500Nm at 1370-4500rpm
POWER TO WEIGHT     193.2hp per tonne
GEARBOX     7-speed dual-clutch with manual select
0-100KM/H     5.1 seconds
TOP SPEED     250km/h
CONSUMPTION     13.9km/L (combined)
PRICE INCL. COE     $350,800 (after $10k VES surcharge)
AGENT     Premium Automobiles
---