It is no surprise that Audi chose an SUV format to introduce its first ever fully electric vehicle.
This is after all, the largest growing passenger vehicle segment.
Anyone looking to buy a new "car" these days will have more SUVs than saloons on the shopping list.
What is truly surprising is that Audi chose oil-rich Abu Dhabi as the location for the e-tron's world launch.
The capital city of United Arab Emirates (UAE) controls 95% of the UAE's oil, and not surprisingly contributes almost 70% of their whopping S$550 billion annual economy.
Our introduction to the electric Audi begins at Masdar City, Abu Dhabi's purpose-built high-tech sub-city that ironically relies extensively on renewable energy for the six square kilometer commercial complex.
Masdar City is also home of the International Renewable Energy Agency or IRENA. And it is here that we pick up our first e-tron.
There are two versions of the e-tron but the differences are for now restricted to trim and equipment only. Hence, there is just one standard bodystyle, "engine" and powertrain.
The e-tron is slightly larger than the Audi Q5 but smaller than the Q7. If it was badged as a Q model, it would be a Q6.
The e-tron's external styling resembles other Q models, although you will notice some bespoke features on the outside like the semi-blanked grille, pronounced fender bulges at the front and rear, and wide rocker panel profiles along the sides.
The e-tron's styling should really have been more striking, like the Q8's.
Because unless it is fitted with the optional sleek rear-view door cameras instead of conventional wing mirrors, there is nothing about its design that shouts about how special it is.
What is truly special in the e-tron essentially lies in its floor pan so the good stuff you really cannot see.
Right under the passenger compartment is a lithium-ion battery pack consisting of 432 cells in 36 modular groups.
Though the cells are supplied by well-known Korean makers of such batteries, the entire assembly and packaging is designed by Audi.
In particular, the structural aluminium housing is made to withstand intrusions in the event of a crash.
A complex temperature control system not only takes care of the maintaining battery temperature between 25°C and 35°C in hot or cold climates, but also takes away heat generated within the electric motors.
With the integrated heat-pump system in the thermal-management network, the passenger compartment's air-conditioning is also kept at a comfortable level at all times.
The total energy content of the 396-volt battery pack is 95kWh. All this is supplied to two electric motors, each mounted transversely across the front and rear axles.
The motor at the rear is slightly larger and more powerful, with 188hp compared to front motor's 168hp.
Both axles only need a single, fixed reduction gear which is a planetary gearset that also functions as the differential.
The configuration is extremely compact and yet has all-wheel drive capability.
With electric drive and of course highly precise electronic power control, this latest-generation quattro system is, according to Audi, its most sophisticated all-wheel-drive system yet. Adaptive air-suspension at all four corners is standard.
That is all very well really, because the asynchronous motors together can normally deliver a meaty 561Nm, so it is certainly a great help to have plenty of clever electronic controls to effect ideal torque distribution.
Even more so when you consider the e-tron's driver-selectable boost function that allows the motors to deliver 8 seconds of additional power and torque, pushing maximum output to 402hp and 664Nm respectively.
And because all that torque arrives instantly, putting it down on the tarmac, even with all-wheel-drive, is a mighty task.
Audi claims that its high-speed power electronics control module is perfectly designed to optimise the e-tron's performance in all conditions of traction and dynamic loads.
Together with individual wheel braking, the system possesses some degree of torque-vectoring too.
The one thing that really makes an Audi impressive in is in the presentation, function and feel of the passenger compartment.
In this electric model, the dashboard is pretty much like the one in the latest A6, A7 and A8 models.
The beautifully laid out virtual cockpit with high-definition OLED screens display almost everything you would ever want to know while driving or sitting inside as a passenger.
There is enough width and legroom in the rear for three-abreast seating and thanks to the flat floor, the guy in the centre need not sit with his knees at chin-level. 
Our e-tron came with the aforementioned slim door-mounted camera. These come with two 7-inch displays mounted on the leading edge of the front doors' interior trim panel.
As digital images, they offer a clear rear-side view. But as replacements for door mirrors they take some getting used to.
Experienced drivers tend to look a little higher and a little further outside of the window, thus missing the screen altogether.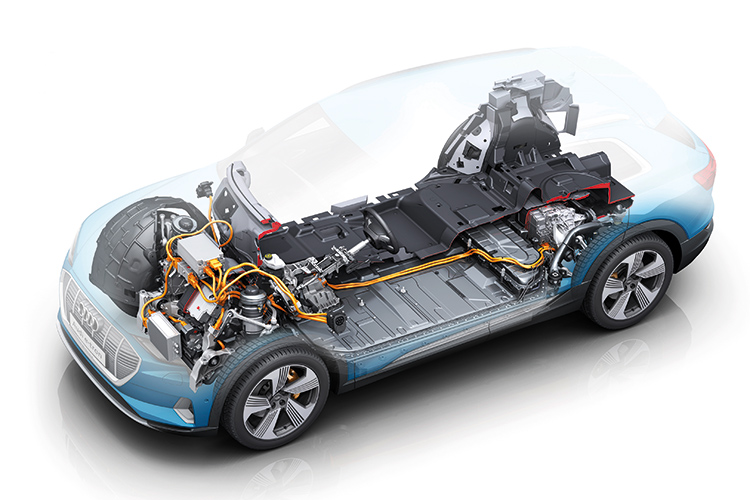 A second look becomes necessary. You would have to be desperate for that 0.01 reduction in the drag coefficient to actually pay extra for these "digital mirrors", however cool they look on paper.
In any case, even with conventional mirrors, the e-tron's drag coefficient is already an impressive 0.28. 
Even without the 8 seconds of extra boost, the e-tron will happily charge from rest to 100km/h in 6.6 seconds (5.7 sec with boost).
What is the difference between a hybrid, plug-in hybrid and electric car?
That's quite a feat considering the car's overall weight of almost 2.5 metric tons makes even cars like the 2250kg Bentley Continental GT seem lightweight.
On the other hand, the lithium-ion battery set occupies a space that's very low on the chassis.
Contributing roughly 25% of the total weight, the 95kWh battery plays an important role in the 50:50 front-rear weight balance and in keeping the car's centre-of-mass low.
Driving up Abu Dabi's 11.7km-long Jebel Hafeet Mountain Road proved that it all works remarkably well.
Through sweeping turns and tight hairpins, the e-tron kept all four tyres firmly planted, neither understeering nor oversteering.
Despite having 2.5 tonnes of mass to move, the motors' instant torque was comfortably up to the task, accelerating the e-tron eagerly out of every corner.
On more leisurely highway stretches, the electric Audi was smooth and refined, and always ready to accelerate instantly once past speed cameras.
But you ought to watch that remaining battery charge when exploiting its addictive acceleration.
Driven as if you were performing the WLTP cycle, the e-tron will run 400km on a full charge.
Audi is proud of the energy-recuperation capability of the specially developed electro-hydraulic brakes that are claimed to decelerate up to 0.3g purely by charging the batteries.
Hydraulic braking only comes into play when higher deceleration is called for.
After hard driving that included a hill-climb, 160km/h highway runs and desert strips that have a combination of gravel and soft sand, our e-tron covered about 265km on an 80% full battery and was still not quite down to empty.
All told, if you are considering a new SUV and have a budget in the region of S$400,000, you should take a serious look at the Audi e-tron.
---
Audi e-tron
DRIVETRAIN
Battery    95kWh
Motor     Transversely mounted 3-phase asynchronous motor at each axle
Max power     356hp (402hp in boost mode)
Max torque     561Nm (664Nm in boost mode)
Power to weight     143hp per tonne
Gearbox     Single-speed fixed ratio
Driven wheels     All
PERFORMANCE
0-100km/h     6.6 seconds (5.7 seconds in boost mode)
Top speed     200km/h
Consumption     Estimated  4.21km/kWh (WLTP)
Range     400km (WLTP)
SUSPENSION
Front     Five-link adaptive air-suspension, anti-roll bar
Rear     Five-link adaptive air-suspension, anti-roll bar
BRAKES
Front / Rear     Ventilated discs
TYRES
Type     Goodyear Eagle F1
Size     255/50 R20
SAFETY
Airbags     6
Traction aids     ABS, ESC
MEASUREMENTS
Length     4901mm
Width     1935mm
Height     1616mm
Wheelbase     2928mm
Kerb weight     2490kg
Turning circle     12.2m
BUYING IT
Price incl. COE     To be announced (car arrives in Q3 2019)
Warranty     To be announced
+ Zippy acceleration, flat rear floor, terrific grip and traction
– Virtual rear view mirrors, unexciting exterior design
---