On matters like one's manhood, "size matters" is certainly an adage most subscribe to. Not in the case of the new BMW 5 Series, however, I'm afraid.
Two models are offered here – the BMW 535i and the BMW 523i, the latter having two variants with different trim levels. Test car was the BMW 523i Highline, the version that's taking up the majority of sales here.
Though nominally a BMW 523i, the engine is actually a 2.5-litre inline-6 developing 204bhp and 250Nm of torque. These figures aren't exactly groundbreaking, but the BMW 523i is surprisingly lively.
The inline-6 is silky smooth, never fussed or stressed even at its 6300rpm redline. It pulls willingly and effortlessly, with torque characteristics perfectly matched with the 8-speed autotrans.
There are no steering- mounted paddles, so manual shifts are via the stubby joystick selector. Changes are lightning-quick and barely perceptible.
By almost all accounts, the BMW 523i doesn't feel as inferior to the 535i as it should – it has a 482cc, 102bhp and 150Nm deficit against the "bigger" car that also costs $65,000 mode.
In fact, the onus is on the 535i to justify itself.
Yes, the 535i is far quicker, with terrific engine response. Its single twin-scroll turbocharged engine helps it cover the yardstick sprint to 100km/h in just 6 seconds.
However, the 3-litre inline-6 doesn't feel quite as sweet or refined as the naturally aspirated 2.5.
With the 18-inch run-flat tyres, the ride of the 535i feels a trifle busy over broken surfaces, with some pattering over ridges.
It would definitely benefit from the Adaptive Suspension and Integral Active Steering, which comes with a rear-steer function.
Unfortunately, these two all-important options would add a cool $18,100 to the already inflated base price of the 535i.
With arguably less performance, the BMW 523i feels perfectly poised and balanced when driven very quickly over twisty secondary roads.
Steering is sharp, quick and direct without being overly sensitive.
BMW still sets the standards for steering response and feel in saloon cars.
This BMW 523i handles so well that the car feels far from unwieldy over narrow roads.
What's remarkable is that the ride comfort is perfectly acceptable when driven hard.
The ride at speed is definitely more impressive than over urban commutes!
With a power output of "just" 204bhp, it could do without Adaptive Suspension and Integral Active Steering.
Yes, in the case of the 523i, "less is more". At $229,800, the BMW 523i Highline is definitely better value than its more illustrious and expensive stablemate.
Engine size does matter, but coughing up an extra $65k for 102 more horses is probably not worth it!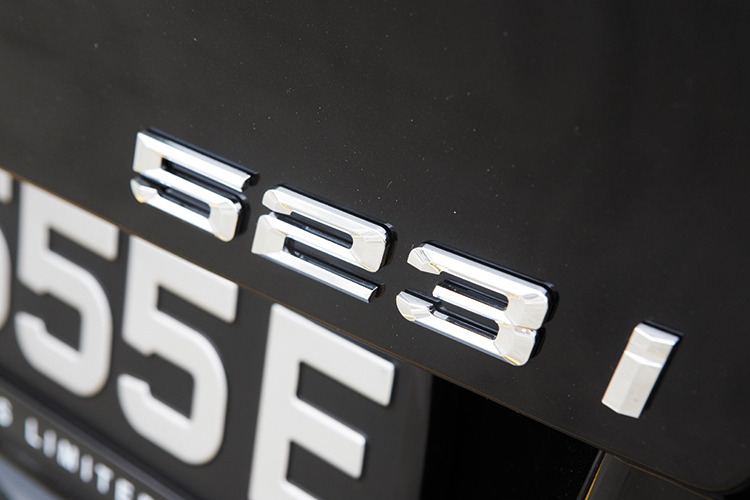 ---
BMW 523i 2.5 (A)
ENGINE     2497cc, 24-valves, inline-6
MAX POWER     204bhp at 6300rpm
MAX TORQUE     250Nm at 2750-3000rpm
GEARBOX     8-speed automatic with manual select
0-100KM/H     8.5 seconds
TOP SPEED     234km/h
CONSUMPTION     12.5km/L (combined)
PRICE INCL. COE     $229,800 (as of September 2010)
---
Check out the latest BMW 5 Series