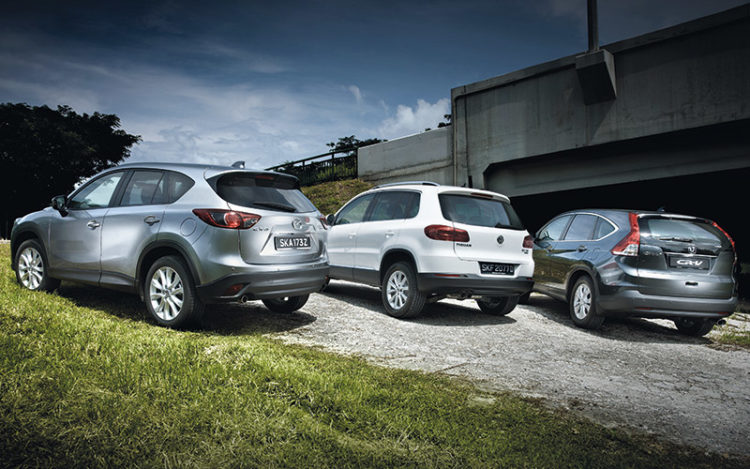 With its on-board amenities, tidy handling and excellent fuel efficiency, the Mazda CX-5 could have been the crossover to beat in this competition. But it falls short in terms of day-to-day practicality and weekend versatility, which is what families need.
If it's living space you want on the road, the roomy Honda CR-V is just the ticket. But its dated drivetrain and rather low-rent cabin (with just two airbags versus six in the others) prevent the CR-V from climbing comfortably to the top of the desirability chart.
The most convincing vehicle in this shoot-out is the rugged Volkswagen Tiguan. Although it doesn't have the CX-5's infotainment goodies or the CR-V's fantastic spaciousness, the Tiguan compensates with its surefootedness, eager performance and highly flexible interior. All in all, this wagon is the most convincing upgrade from the humble family saloon.
---
Honda CR-V 2.0 (A)
DRIVETRAIN
Type Inline-4, 16-valves
Capacity 1997cc
Bore x stroke 81mm x 96.9mm
Compression ratio 10.6:1
Max Power 155bhp at 6500rpm
Max Torque 190Nm at 4300rpm
Power to weight 102.6bhp per tonne
Gearbox 5-speed automatic
Driven Wheels Front
PERFORMANCE
0-100km/h 12.6 seconds
Top Speed 186km/h
Consumption 13.1km/L (combined)
SUSPENSION
Front MacPherson struts, coil springs
Rear Double wishbones, coil springs
BRAKES
Front / rear Ventilated discs / Discs
TYRES
Type Bridgestone Dueler H/P Sport AS
Size 225/65 R17
SAFETY
Airbags 2
Traction Control ABS with VSA
MEASUREMENTS
Length 4550mm
Width 1820mm
Height 1685mm
Wheelbase 2620mm
Kerb Weight 1511kg
Turning Circle 11.8m
BUYING IT
Price $179,900 incl. COE
Warranty 5 years/100,000km
+ Most willing drivetrain and roomiest interior of the group
– Lacklustre steering, unrefined cabin trim, worst radio reception
---
Volkswagen Tiguan 2.0 (A)
DRIVETRAIN
Type Inline-4, 16-valves, turbocharged
Capacity 1984cc
Bore x stroke 82.5mm x 92.8mm
Compression ratio 9.6:1
Max Power 180bhp at 4500-6200rpm
Max Torque 280Nm at 1700-4500rpm
Power to weight 113.2bhp per tonne
Gearbox 6-speed automatic with manual select
Driven Wheels All
PERFORMANCE
0-100km/h 9.6 seconds
Top Speed 201km/h
Consumption 11.5km/L (combined)
SUSPENSION
Front MacPherson struts, coil springs
Rear Multi-link, coil springs anti-roll bar
BRAKES
Front / rear Ventilated discs / Discs
TYRES
Type Bridgestone Dueler H/P Sport
Size 235/55 R17
SAFETY
Airbags 6
Traction Control ABS with ESP
MEASUREMENTS
Length 4426mm
Width 1809mm
Height 1703mm
Wheelbase 2604mm
Kerb Weight 1590kg
Turning Circle 12m
BUYING IT
Price $182,300 incl. COE
Warranty 3 years/100,000km
+ Strongest motor and smoothest gearbox of the bunch, most versatile cabin
– Air-con less effective than the rest, weak infotainment, relatively thirsty
---
Mazda CX-5 2.0 (A)
DRIVETRAIN
Type Inline-4, 16-valves
Capacity 1998cc
Bore x stroke 83.5mm x 91.2mm
Compression ratio 13:1
Max Power 155bhp at 6000rpm
Max Torque 200Nm at 4000rpm
Power to weight 110.3bhp per tonne
Gearbox 6-speed automatic with manual select
Driven Wheels Front
PERFORMANCE
0-100km/h 9.5 seconds
Top Speed 187km/h
Consumption 14.5km/L (combined)
SUSPENSION
Front MacPherson struts, coil springs
Rear Multi-link, coil springs
BRAKES
Front / rear Ventilated discs / Discs
TYRES
Type Toyo Proxes R36
Size 225/55 R19
SAFETY
Airbags 6
Traction Control ABS with DSC
MEASUREMENTS
Length 4540mm
Width 1840mm
Height 1670mm
Wheelbase 2700mm
Kerb Weight 1405kg
Turning Circle 11.2m
BUYING IT
Price $181,888 incl. COE
Warranty 3 years/100,000km
+ Group's sharpest steering, most efficient engine and best infotainment system
– Less space and utility than the other two cars, least pleasing engine note
---