When you've got a good thing going, you don't want to make big changes to it. That's how most people would think.
But we live in an age of disruption, where the common refrain is "disrupt or be disrupted".
So, it is perhaps with this in mind that Hyundai has made a bold gamble with its all-new Tucson. Globally, this SUV is the brand's best-selling model, so the risk of it not paying (or playing) out is a big one.
But going by the positive response to the current Avante model, it seems luck is on Hyundai's side.
ALL ABOUT GEOMETRY
The latest Tucson is styled according to Hyundai's "Sensuous Sportiness" identity. Like the Avante, designers developed the Tucson's design using geometric algorithms, a process now better known as parametric dynamics.
The SUV's face is particularly striking, especially with its "hidden" lights. When the car is off, the lights also remain switched off. But once the engine is started, the daytime running lamps – which are integrated with the grille, light up as well.
The rear end looks neat, too. The slim tail-lamps seem to have been minimised, and their shape has a hint of Peugeot about them.
A closer look at the tailgate reveals that the rear wiper has been "hidden", giving the windscreen a cleaner look. There's a geometric pattern along the rear bumper, which reflects the car's overall styling.
These two details might seem minor, but they prove that the designers have put a lot of thought into the process to execute a more cohesive look.
That said, looks are subjective, and in my eyes, the Tucson's flanks are the least attractive parts. Those busy lines unnecessarily complicate an otherwise strong design.
HEADING UPMARKET
Apart from digitising the cockpit, designers have also ensured that the controls and displays are neatly and logically laid out. This is paramount, for no amount of fancy styling can hide poor ergonomics.
So, the Tucson interior looks good. I like the "cascading" dashboard which is supposedly inspired by Niagara Falls, integrated air vents and wraparound feel created by the horizontal lines that extend to the doors.
Incidentally, placing the driver's memory seat buttons within these lines was a deft touch, as is the button-type gear selector. Having the connectivity options (ports) all in one area is also convenient. I prefer this to ports that are tucked away in the storage bin.
Given how advanced everything looks, it's puzzling that the infotainment display is rather ordinary. Even the power flow animation for the hybrid system is plain, especially in contrast to the instrument panel.
Fortunately, the menus are easy to get the hang of, and once CarPlay is connected, everything works quickly and seamlessly.
Other upmarket touches in the Tucson include a panoramic sunroof, and a third climate zone and USB ports for backseat passengers.
The occupant behind the front passenger also has controls to move the front seat forwards and backwards, as well as adjust the recline angle to enhance space/comfort.
The backseat itself is roomier than before, although those with big feet might find foot space to be at a premium.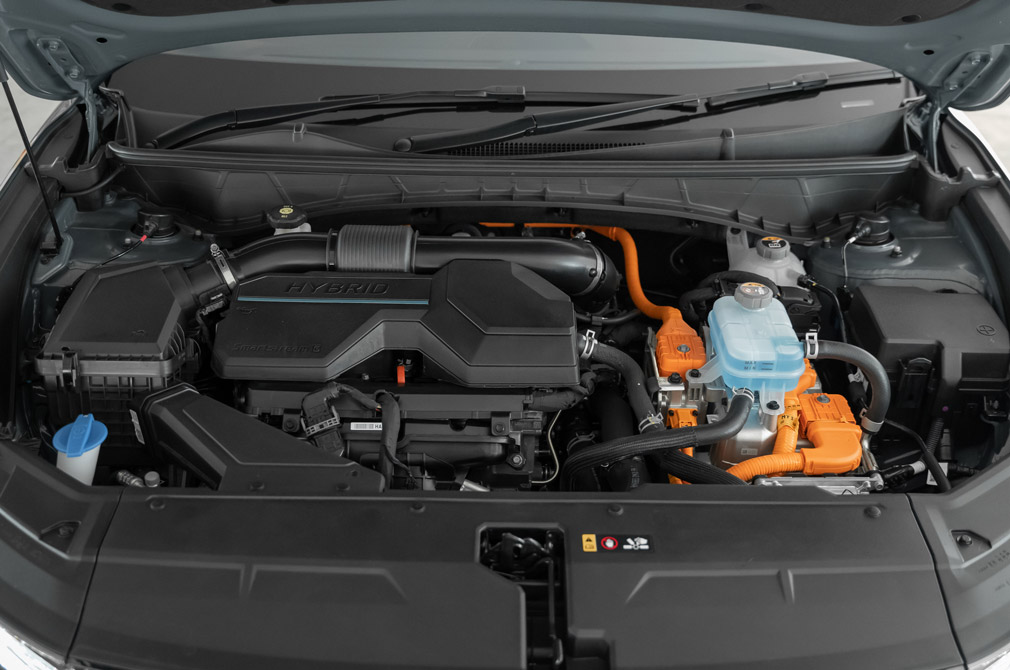 EASY EFFICIENCY
Beneath the Tucson's bonnet is a turbocharged 1.6-litre hybrid powertrain, with a combined output of 227hp (230PS) and up to 350Nm. It's the same drivetrain found in the Santa Fe Hybrid, but with less sheet metal to move, it works even better here.
Driving the wheels through a 6-speed automatic gearbox, the Tucson Hybrid is relatively speedy, needing just 8 seconds to go from rest to 100km/h.
But that's not all it's good at. Its 44.2kW (59hp) electric motor can solely power the SUV even when cruising at highway speeds. Apart from making it feel as powerful as a plug-in hybrid, this further helps reduce fuel consumption, too.
Speaking of which, I easily managed 17km/L over three days of driving, which is close to Hyundai's claimed 20.8km/L average. On the go, the switchover between petrol engine and electric motor is almost indistinguishable, so NVH is not an issue.
Manoeuvring the Tucson in built-up areas is easy. It's not a sporty car by any stretch of the imagination, but its predictable and linear handling do make it relatively driver-friendly.
At any rate, if blind spots are an issue, the brand's SmartSense suite of driver aids and safety features can help remedy that. Apart from a blind spot monitor, the list of functions includes Rear Cross Traffic Avoidance Assist, Tyre Pressure Monitor and Smart Cruise Control (adaptive cruise control).
HIGH STAKES
Revolutionising the Tucson's design wasn't just a bold move. It was a necessary one, too. Hyundai's (and Kia's) tried-and-tested strategy of offering value-for-money still works, but relying solely on it to sell cars is not a future-proof plan.
In this era of digitised cockpits and semi-autonomous driving aids, cars are becoming more and more homogenous. So, the best way to distinguish yourself from rivals is through your designs. Like it or loathe it, the Tucson stands out from the crowd.
When you've got a good thing going, the last thing you want to do is rock the boat. But Hyundai has done just that, and going by the positive response, it seems luck is on its side.
---
Hyundai Tucson Hybrid Sunroof 1.6 (A)
ENGINE     1598cc, 16-valves, inline-4, turbocharged, hybrid
MAX POWER     227hp (230PS, 169kW) at 5500rpm
MAX TORQUE     265Nm at 4500rpm
GEARBOX     6-speed automatic with manual select
0-100KM/H     8 seconds
TOP SPEED     193km/h
CONSUMPTION     20.8km/L (combined)
PRICE INCL. COE     From $184,999 (after $15k VES rebate)
AGENT     Komoco Motors
---
Click here to read our Hyundai Santa Fe Hybrid review
We review the Hyundai Kona Electric here
Head here for our Hyundai Avante review