Crossovers these days are a dime a dozen.
Many of them are produced for the sake of having a contender in the segment. That's not a bad thing. Carmakers are in the business to make money.
What I mean is, a many of them are made to satisfy the minimum requirements. That means having an inoffensive design, relatively good space and so-so performance.
Oh, and the price must be relatively affordable, too.
These characteristics are not what you'll find in the Mazda CX-30, though.
Because that's not how Mazda makes cars. Thank heavens for that. If there's one thing that underpins Mazda models, it's the fact that they genuinely care about the driver.
WHAT IS A CX-30?
The Mazda CX-30 sits between the brand's CX-3 and CX-5 models.
When I first drove the CX-30 last year, I mentioned my suspicions about Mazda making a naming error.
The CX-3 is closer in size to the Mazda 2. It should have been called the CX-2.
Now that there is a crossover closer in size to the Mazda 3, I suspect Mazda had to create a new name. Hence, the Mazda CX-30. Of course, no-one from Mazda ever confirmed this.
Monikers aside, the Mazda CX-30 is actually smaller than the Mazda 3. The former, at 4395mm, is 65mm shorter than the latter.
And the CX-30's 2655mm wheelbase is also 70mm shorter than the Mazda 3's.
The Mazda CX-30 was given smaller dimensions because the designers wanted a car that would be easier to handle in city driving.
STYLE GUIDE
Manoeuvrability aside, the designers wanted the Mazda CX-30 to look good, too.
The crossover's Kodo design language is unmistakable (it resembles other Mazda models). And the designers worked on the car's curvy flanks so that they would reflect light in a particular manner.
For a touch of ruggedness, black plastic cladding runs along the Mazda CX-30's lower lines. The slim tail-lights are a nice touch.
Overall, this is an example of how to make a car look good without trying too hard.
INSIDER'S SCOOP
The same philosophy was applied to the Mazda CX-30's interior. Instead of adding more, designers decided minimalism was the way to go.
As one of our contributors remarked, it seems as if tidying expert Marie Kondo was their consultant. Or possibly their muse.
The CX-30's cockpit isn't covered in knobs, buttons and switches. Whatever the driver can press or turn is actually necessary. Speaking of pressing, the materials used here are quite nice to touch.
The same approach was applied to the infotainment system. Rather than make it more complicated and trying to "dazzle" customers with new functions, it was simplified.
Now, pressing the control knob brings you back to the home screen. Apple CarPlay takes care of navigation and music. Brilliant.
If you're wondering why the Mazda CX-30 has no touchscreen, it's because the brand says it could be a safety issue. Touchscreens require you to tap on specific surfaces. Buttons and knobs are safer.
Ironically, Mazda will be putting a touchscreen interface in its MX-30 electric crossover.
SPACE CONSTRAINTS?
Given that the Mazda CX-30 is more compact than the Mazda 3, space could be an issue.
However, Mazda did one thing to make the car feel roomier. It ensured that the distance between the front seats here is identical to the distance in the CX-5.
And to make ingress/egress easier, the seats are placed closer to the door sills. This means passengers – especially those with mobility issues – don't have to stretch as much.
Backseat space is okay for two adults, but might be a squeeze for three. I'd say anyone above 1.75m may feel a bit of a pinch. But if you're just driving in Singapore, it's fine.
The Mazda CX-30's 422-litre boot (430 litres without the Bose audio system) is relatively decent. With a low loading height, wide aperture and 60-40 split-folding rear seats, it's useful and versatile.
ZOOMING ABILITY
One thing you must know before driving most Mazda models is that they thrive on revs. That's because everything except the CX-9, which is turbocharged, has a naturally aspirated engine.
The unit in the Mazda CX-30 is a 2-litre 4-cylinder that pumps out 163hp at 6000rpm and 213Nm at 4000rpm. See what I mean about revs?
If you're used to the immediate shove of a turbocharged engine, this drivetrain may underwhelm you.
But if you give it a chance, there's plenty to love about it. The linearity and progressiveness of the acceleration is good. However, it's the Mazda CX-30's responsiveness that really impresses me.
A bit of pressure on the accelerator pedal will swing the tacho needle upwards and to the right. The gearbox will drop two (sometimes three!) cogs rapidly. You might think there's a dual-clutch setup. There's none.
Keep the revs boiling at just under 4000rpm and you'll make steady progress. Responsiveness matters more to me than outright power.
I could have double the ponies and torque, but if the drivetrain is a laggard, I say no thanks.
ON AN EVEN KEEL
The Mazda CX-30's strong point isn't just its handling. It's also in how it keeps passengers on an even keel.
Mazda engineers analysed how the forces from the road travelled from the road to the passenger. They then focussed their efforts on trying to reduce the pitching motions that occupants would experience.
In particular, they wanted to make "driving feel as natural as walking". The goal was to ensure your spine's S-shape was maintained.
Like the Mazda 3, the Mazda CX-30 has this very natural feel to it. You don't lean as much when you're cornering. Bumps aren't as upsetting as expected.
Turn-in is keen and progressive. The curvy roads leading to Changi Airport Terminal 4 were fun. And I could have pushed harder, if not for the comfort-oriented tyres.
As for the steering and braking, I can only say that I felt "dialled in". The responses to my inputs were always encouraging.
WHO IS THE MAZDA CX-30 FOR?
If you're looking for a cool-looking and well-built compact crossover with good handling, this is a serious contender.
There are crossovers that may be punchier and offer more space. But few have the abilities and characteristics that set the Mazda CX-30 apart from crossovers that are a dime a dozen.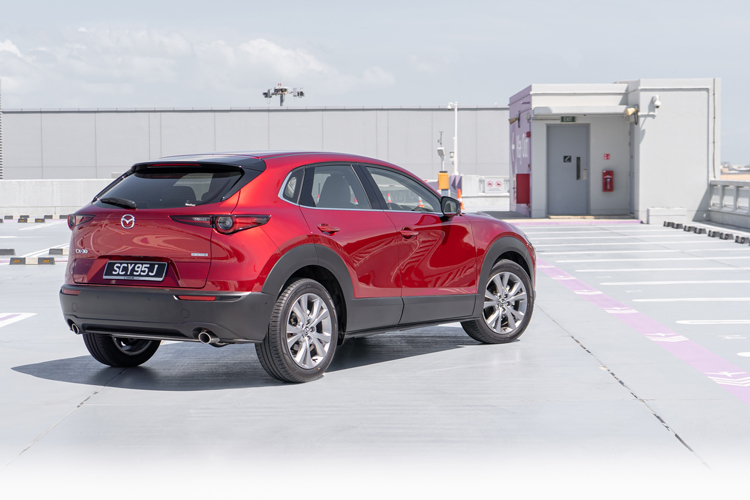 ---
Mazda CX-30 Luxury 2.0 (A)
ENGINE     1998cc, 16-valves, inline-4
MAX POWER     163hp at 6000rpm
MAX TORQUE     213Nm at 4000rpm
GEARBOX     6-speed automatic with manual select
0-100KM/H     9.7 seconds
TOP SPEED     196km/h
CONSUMPTION     15.2km/L (combined)
PRICE INCL. COE     $122,888 (no VES rebate/surcharge)
AGENT Trans Eurokars
---
Click here for our Mazda 3 Skyactiv-X review
Check out our Mazda 3 1.5 Hatchback review