Regular motorists may not notice this, but special edition models have become an industry norm.
They do not need "Special Edition" badges. It could be a model designated as a "sports edition", "performance edition" or "luxury edition".
Then there are cars like the MINI Cooper S 5 Door 60 Years Edition.
Holy moly. That's a mouthful. Try telling your friends that instead of saying, "I bought a MINI Cooper S." Then again, not every model makes it to 60. This is a significant milestone for MINI.
STRIKING HUES
The example I drove has British Racing Green IV (BRG) paintwork. To make it stand out even further, the roof and mirror caps are painted Pepper White.
Truth be told, I only noticed the difference between Pepper White and the regular White when the car was under direct sunlight.
The 60 Years Edition is available in three other colours: Melting Silver, Moonwalk Grey and Midnight Black.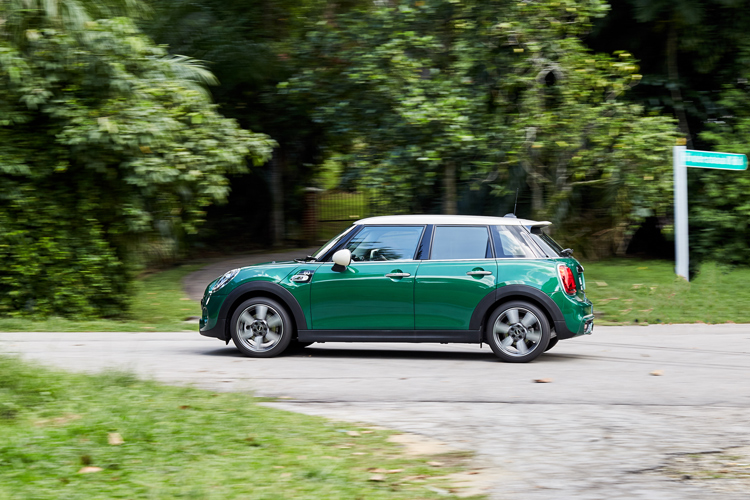 After choosing your preferred hue, you can then choose between Pepper White or Black for the roof and mirror caps. However, if the official agent doesn't have the colour combination you want, you'll have to do a special indent.
In other words, pay a deposit, have your order sent to the factory and wait. According to MINI, production of the 60 Years models is "ending soon".
If your friends don't realise that your MINI Cooper or Cooper S isn't like its regular brethren, don't fret. You can point out the "60 Years" markings on the fender badges and bonnet stripe. There's even a unique wheel design.
YES, MORE CUES
Open the doors and you're greeted by "60 Years" door sill plates. At night, the puddle lights also project this logo on the ground.
There's BRG stitching and piping on the seats, which have "60 Years" leather patches, too. The dashboard trim has BRG stripes. And the steering wheel even has a "60" badge at the bottom of the centre spoke.
It's good to celebrate milestones, but this is overkill. I am not senile. I don't need constant reminders of this car's significance. Besides, isn't being a MINI enough to make it special?
MINI CONNECTED
That said, the key thing in this MINI Cooper S is that it has the "full flavoured" version of MINI Connected.
MINI Connected is standard in these special edition cars. It comes with useful features such as Apple CarPlay and Real-Time Traffic Information. Sync it to your phone via an app, and you can do even more.
For instance, there's a "find my MINI" function if you forgot where you parked. You can see if the doors are locked and lock them if they're not. It even lets you check the fuel level.
And if it's a particularly scorching day, you can switch on the fan before you reach the car. Not as useful as being able to turn on the air-con, but good, nonetheless.
MINI = MAXI SMILES
More than good is the MINI Cooper S' performance. It's grin-inducing.
Packing 192hp and 280Nm, the MINI Cooper S' turbocharged 2-litre can zip you from rest to 100km/h in 6.8 seconds. But it's how the hatchback goes about it that makes it delightful.
Flick the toggle to put the drivetrain in Sport and you're ready for fun. The drivetrain's responsiveness isn't just immediate – it's also eager. Eager to rev and eager to be pushed. And it sounds rorty, too.
However, I did expect the soundtrack to sound louder and naughtier. This is a MINI Cooper S, after all. More popping noises on the overrun. Burblier sounds when accelerating. Those kinds of things.
But for everyday commutes, it's okay. It's entertaining without being annoying to non-enthusiasts.
FUN AND THEN SOME
MINIs are usually equipped with run-flat tyres that make the ride firmer than desired. But the ride was more pliant than expected. Good stuff.
Handling-wise, the MINI Cooper S 5 Door takes to corners like a Labrador Retriever takes to water. It just wants to play… and play. The car's point-and-squirt ability eggs you on. You can't help but oblige.
Drive it well or drive it in a ham-fisted manner – the MINI Cooper S won't care. It just enjoys being driven by an enthusiastic pilot.
The MINI Cooper S' nimbleness and zesty drive put a big smile on my face. When I'm having this much fun, I can forget about the numerous "60 Years" plastered around the car.
That might be what makes this special edition model so special.
---
MINI Cooper S 5 Door 60 Years Edition 2.0 (A)
ENGINE     1998cc, 16-valves, inline-4, turbocharged
MAX POWER     192hp at 5000-6000rpm
MAX TORQUE     280Nm at 1350-4600rpm
POWER TO WEIGHT     143.3hp per tonne
GEARBOX     7-speed dual-clutch with manual select
0-100KM/H     6.8 seconds
TOP SPEED     235km/h
CONSUMPTION     17.9km/L (combined)
PRICE INCL. COE     $159,888 (no VES rebate/surcharge)
AGENT     Eurokars Habitat
---