The Range Rover Sport 3.0 was a rather dynamic sport utility vehicle (SUV) when it was introduced here six years ago.
But newer cars have since attained a higher level of dynamism, including the brand's own Velar and new Evoque.
So, to ensure that the big SUV is still deserving of its Sport nameplate, Range Rover has given it an all-new heart. The engine is an inline-6, a configuration favoured by BMW.
But in the Range Rover Sport HST's case, it is turbocharged as well as supercharged.
The Range Rover Sport HST's supercharger is electrically driven by the car's 48-volt "mild hybrid" system, which also allows it to coast to a halt at low speeds with the engine off.
The real benefit of the supercharger, though, is access to torque at low engine speeds, before the turbocharger spools up.
The enhancement is very obvious, with the 3-litre SUV almost leaping at the softest touch of the throttle.
At the wheel, it is rather entertaining to let rip and see the Range Rover Sport HST passing hot hatches and souped-up Japanese sedans without a sweat (but alas, still with a fair amount of waddle).
Zero to 100km/h is done in 5.9 seconds – an incredible 1.3 seconds quicker than its 2013 V6 equivalent.
The Range Rover Sport HST has 550Nm of torque from 2000rpm, compared with 450Nm at 3500rpm previously.
At 5500rpm, the engine attains peak power of 400hp. The V6 had to spin up to 6500rpm to produce 340hp.
Comparing the two power plants is like comparing a pitbull to a poodle.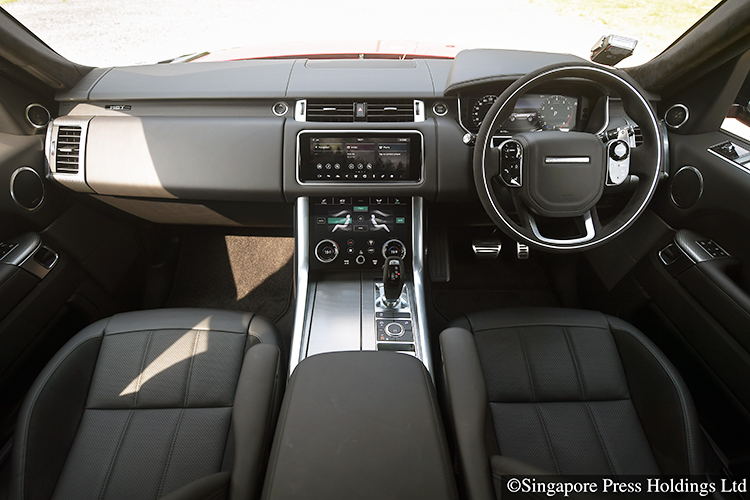 The new engine is also remarkably refined, with far less harshness when extended than expected. It actually sounds pretty good at higher revs – something you would hardly associate with the brand.
The fact that it was developed in-house by Jaguar Land Rover and manufactured at the group's £1-billion (S$1.7-billion) engine plant in Wolverhampton, England, proves that the sun has not quite set on British engineering.
That it spins at noticeably lower speeds to make a lot more power contributes to the engine's cultured and unstressed demeanour. This newfound effortlessness also leads to better efficiency, with the new car being 14 percent more economical than its predecessor.
But to most drivers, it is the higher level of excitement which it brings that matters more.
While the Range Rover Sport HST still lags behind a similarly sized SUV like the BMW X5 on the specs sheet, it is just as punchy on the road.
Its shortcoming is its less controlled body movement. While not uncommon in old-school SUVs, this gives the impression of poor handling when, in fact, the car will sail around a sweeping bend with plenty of grip to spare.
Being a Land Rover, the Range Rover Sport HST is still made for off-road conditions. Selectable drive modes and adjustable chassis height to tackle different terrains are standard fare.
On tarmac, its all-round air suspension filters out the nastiest of ruts here.
But back to its sportiness. The Range Rover Sport HST comes with carbon-fibre accents.
You will see air vents on its bonnet, faux vents on the fenders and a tailgate strip fashioned from this exotic material.
Group Test: Porsche Cayenne S vs Maserati Levante S vs Jaguar F-Pace
Inside, you will see a suede-lined steering wheel, up till now the preserve of out-and-out sports cars.
Will all these and the car's charismatic heart make for a stronger proposition to folks looking for a full-size performance utility?
Certainly, but probably more so against something like the Audi Q7 than the BMW X5.
Either way, the gap between Range Rover and the German giants has closed considerably.
---
Range Rover Sport HST MHEV 3.0 (A)
ENGINE     2996cc, 24-valves, inline-6, turbocharged and supercharged
MAX POWER     400hp at 5500rpm
MAX TORQUE     550Nm at 2000-5000rpm
GEARBOX     8-speed automatic with manual select
0-100KM/H     5.9 seconds
TOP SPEED     225km/h
FUEL CONSUMPTION     10.9km/L
AGENT     Wearnes Automotive
---