The hearts of Mark 1 Golf GTI fans would have skipped a collective beat when the new Volkswagen Polo GTI was announced. Here, surely, was the spiritual successor to the iconic car that single-handedly created the hot hatch genre.
Given that the Volkswagen Golf itself has grown so much over the years that in its sixth incarnation, it's now unrecognisable from its handily sized Mark 1 forebear, the new performance Polo – almost identical in size to the original Golf – looked like the perfect candidate to step into the boots of the classic Mark 1 GTI.
The Volkswagen Polo GTI is certainly dressed for the part, faithfully replicating every significant styling element of its Volkswagen Golf GTI sibling. It has lowered suspension (by 15mm), signature GTI red piping adorning the trademark honeycomb grille, red-painted brake callipers, twin chromium-tipped exhausts, a colour-keyed tailgate spoiler, sportier bumpers and even the same five-hole alloy wheel designs ("Denver" or "Detroit"), albeit in 17-inch instead of fender-filling 18-inch dimensions.
It helps that the standard Volkswagen Polo's body – with its pronounced fenders and pert, aggressive stance – lends itself to such aesthetic tweaking without inviting ridicule. The Volkswagen Polo already looks like a scaled-down version of the Volkswagen Golf, and the Volkswagen Polo GTI likewise resembles a downsized Volkswagen Golf GTI. It's subtle but special, and presses just the right visual buttons.
This newcomer can be had as a three- or five-door (the latter priced at a $2000 premium) version. The equipment level is high, with sports seats, aluminum pedals, a large panoramic sunroof, foglights and an electronic transverse differential lock.
There are trademark Volkswagen GTI cues inside, too, with the flat-bottomed, red-stitched steering wheel and standard tartan seat trim (it's leather-cum-Alcantara for Singapore) lifted straight from the hot Golf. Striking bi-xenon headlamps with integrated LED driving lights are optional and cost around $2500.
Where the Volkswagen Golf GTI is powered by a 210bhp turbocharged 2-litre, the Volkswagen Polo GTI uses a 1.4-litre Twincharged (i.e. turbocharged and supercharged) engine.
There's no shame in this downsizing, though, because this same powerplant has served so impressively in other VWs including the Scirocco, Touran, Tiguan and Golf Sport over the last three years or so.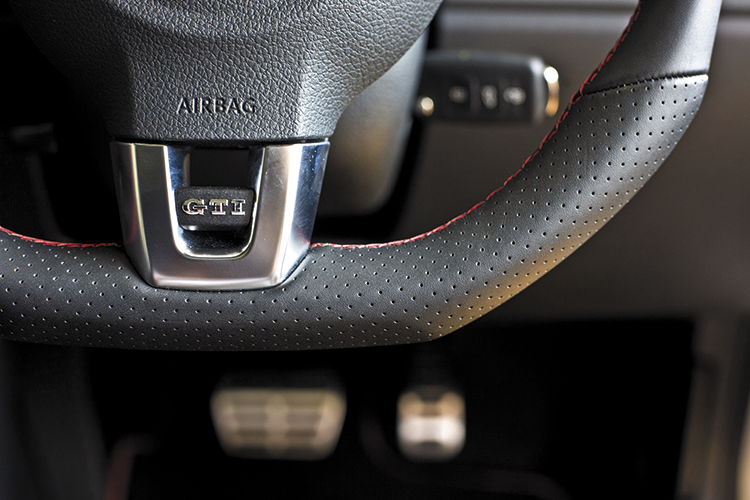 It's proven to be a huge success – punchy, smooth and incredibly frugal, especially considering the performance it serves up. In the Polo it appears in its most powerful guise yet, delivering 180bhp against the 160bhp it puts out in the other models.
With the Volkswagen Polo's trim 1194kg kerb weight, this affords a power-to-weight ratio almost identical to that of the current Volkswagen Golf GTI.
To put you in the mood, the Volkswagen Polo GTI's engine's got a keen burble at idle which continues as you move off, telling you (and any bystander) that this is no ordinary Polo.
That's unfortunately the extent of its aural repertoire, because the engine note doesn't really change as the revs rise – instead of building up to an exhilarating high-rev rasp, it merely gets louder and more intrusive as you press on.
The engine does deliver, though. There is a hint of lag at really low revs, but by 2000rpm the boost has arrived (accompanied by a slight turbo whoosh) and urge builds in a linear fashion all the way up to and past 6000rpm.
In low gears, there's enough grunt to even induce slight torque steer through the steering wheel if you floor the throttle pedal. In a straight line, you'll hit 100km/h in a Volkswagen Golf GTI-matching 6.9 seconds, and given enough tarmac, the Volkswagen Polo GTI will max out at 229km/h – impressive figures for a 1.4-litre.
The redline is at 6800rpm, although you'd be better off changing up before then as the power peters out slightly after its 6200rpm peak.
Speaking of gearchanges, the transmission is the familiar 7-speed dry-clutch DSG unit to which the 1.4-litre Twincharged engine is usually mated in other VW models (no manual option is available).
Typically, there's a slight hesitation when moving off, but thereafter, gearshifts (up as well as down) are instantaneous and seamless.
Left to its own devices, the 'box changes up at the earliest opportunity, and holds onto the high gear as you're slowing until it absolutely has to change down – not exactly the sportiest way to go. You can stick the shift lever in Sport mode, but then it goes too far the other way, hanging on to a low gear for too long and refusing to change up even at cruising speeds. It's much better to use the steering-mounted paddles to dictate your choice of gears.
The Volkswagen Polo GTI's ride is a little busier than the regular Volkswagen Polo's, but not markedly so. Thanks to the tall gearing of the 7-speed box (100km/h equates to just over 2000rpm in top gear), the car has a loping gait at a cruise. There is noticeably more road noise which, coupled with the boomier engine, makes the Volkswagen Polo GTI a less relaxed long-distance prospect than the lesser Volkswagen Polos.
This top-dog Volkswagen Polo's behaviour feels curiously grown-up, perhaps more so even than the Volkswagen Golf GTI. The steering is a tad low-geared for a car with sporting intent, but is noticeably meatier than in the normal Volkswagen Polos, and the weighting remains linear and consistent.
The Volkswagen Polo GTI responds faithfully to steering instructions, but does so without much enthusiasm, lacking the instant, darty turn-in of a Clio or a MINI Cooper S.
All the direction-changing work seems to be done by the front wheels – tip the hatch into a bend and you can feel it leaning on its front tyres; push harder and you'll feel (and hear) them start to scrub. And all this while, the rear end remains resolutely inert, passively following the path taken by the front.
In mitigation, there is good roll resistance after a bit of initial lean, and the car tracks cleanly and securely through the corner, its strong grip enabling it to carry good speed. Decent feedback through the rim keeps you clued-in on the state of grip underfoot.
Overall, it's a very able performance, just not one that would inspire a late-night blast along South Buona Vista Road just for the thrill of it.
So, the Volkswagen Polo GTI is not quite the spiritual reincarnation of the Mark 1 Volkswagen Golf GTI, lacking that icon's dynamic verve and the chassis magic that gained it cult status.
It's clinical and effective instead of being an outright hoot to drive. In today's VW line-up, the Volkswagen Golf is still the GTI of choice.
But ignore these comparisons, and the Volkswagen Polo GTI is still a fine pocket rocket in its own right. It adopts the Polo's inherent strengths (excellent build quality, good ride, class-leading cabin room and remarkable frugality) as its basic ingredients, and to this recipe adds an impressive turn of speed and subtly sporty good looks. It could do with more spice, but it's still very tasty.
---
Volkswagen Polo GTI 1.4 (A)
ENGINE     1390cc, 16-valves, inline-4, turbocharged
MAX POWER     180bhp at 6200rpm
MAX TORQUE     250Nm at 2000-4500rpm
GEARBOX     7-speed dual-clutch with manual select
0-100KM/H     6.9 seconds
TOP SPEED     229km/h
CONSUMPTION     16.9km/L (combined)
PRICE INCL. COE     $128,300
---
Check out the latest Volkswagen Golf GTI
Check out the Volkswagen Golf R
Volkswagen Golf GTI and Golf R are Wolfsburg in sheep's clothing