Uncle X5 peers, down the length of his nose, at wide-eyed, innocent little Cooper. "You know, little boy, you can't stay a child forever."
"But Uncle! I love to play! I want to scamper and scurry and –"
POW!
The elder Bimmer clocks Cooper across the face with a thick wad of Benjamin Franklins, then leans back and ignites a cigar, etched with a pattern suspiciously reminiscent of freshly minted Euros.
Cooper nurses his reddened cheek and catches his breath, finally daring to open his eyes in a squint. He was not sure if the tears were from the smoke or the pain.
"Grow up. Your mother is already pregnant with Billy Big Bollocks. She's going to call him Countryman, and he will take all your toys." The hulking Sport Activity Vehicle sneers, turning around to confidently conquer a gentle, mildly grassy incline.
Despite the guff about "Sheer Driving Pleasure", the BMW brand is broad and versatile enough for something like the X7 to exist.
That SUV is as philosophically divorced from the E30 3 Series, arguably the marque's spiritual centre, as it is possible to be, but yet it sits reasonably credibly next to the 318i in the showroom.
Problem was, and still is, that the MINI brand quite plainly is not. I mean, it's right there in the name.
As a matter of existential necessity, anything with that badge on it needs to be bug-eyed and impish and make a play at "go kart-like" behaviour.
If you have not heard it, trust me, the salesperson will tell you.
CLUBMAN ARRIVES
Thus, in 2007, the MINI "R55" Clubman came to be. In a slightly half-hearted, wilfully quirky attempt to pass itself off as a proper family car, the then-current MINI hatch grafted on an extra aperture on only one side, stretched its torso ever so slightly, and sprouted barn doors for the boot.
What the world got was a bit of a Willy Wonka situation. An adult only as far as it had to be, a child's spirit still ran free through the R55.
The result was great (for the driver). Losing very little, if any, of the donor platform's wicked sense of irrepressible smallness, it remained a proper bucket of giggles.
Even if, as a mere cursory concession to the concept of family-friendly useability, it never came close to the sales numbers of a Volkswagen Polo.
Come 2020, and the brand has matured somewhat. Here we have a facelifted second-generation Cooper S Clubman, a car that has swelled and moved on to an entirely new platform.
It has four proper passenger doors and is finally sized to live legitimately, next to the VW Golf, Audi A3, and Mercedes-Benz A-Class, in the segment labelled "family hatchbacks".
Barn doors that open with enough force to knock you over remain, though, for that garnishing of uniqueness. Behind them, you can accommodate two large suitcases, unlike in the 5 Door.
This is why my wife bought one, as she regularly entertains foreign business guests.
The spirit and mechanical principle of the original 2007 Clubman lives on in the form of the current MINI Cooper S 5 Door.
Same platform as the venerable 3 Door… except with two more doors. Its boot is just big enough for a folded stroller and not much else.
SAME, BUT DIFFERENT
Burbling underhood these cars are the same 189bhp, turbocharged 4-cylinder motors. Despite all the aggro appendages and that "S" badging, that's more warm hatch than hot. The Golf GTI's output exceeds it by quite some margin.
Question: How far can you inflate a MINI Cooper S before it stops being a MINI?
Which brings us neatly to the Seletar Aerospace Park carpark, where our intrepid photographer wrestles with juxtaposing similarity against difference with our identically coloured subjects.
The occasional passer-by does a double take. These cars have the same detailing, the same styling elements, but are they actually the same? Your brain instantly realises something is off.
The 5 Door is proportioned like you will expect MINIs to be. It sits pugnaciously and squat on the tarmac like a bulldog, eager and waiting to go gambolling around the city.
Suffering from the same effect one does when warping a photo to fit a frame, the Clubman is wider and so its eyes are further apart. The medical term for this is hypertelorism, and it is associated with genetic disease.
Thankfully, there is more elegance from the side. A straight roof reaches back to end in an upright rear end, emphasizing an impression of length. The car looks like a station wagon in profile view.
The facelift brought new rear lamp clusters, replacing previous ovoid elements with the straight lines of the Union Jack.
Get over the ickiness of overt Anglophilia and you might appreciate that this looks far more handsome than the Citroen-DS-meets-Area-51 effect of the old car's bum.
MISCHIEF-MAKING
MINI, like Porsche, is one of those carmakers with an unmistakable dynamic identity on the move. Patently front-driven, distinctly playful, characteristically darty, the standard MINI Cooper S 3 Door embodies these virtues to hilarious effect.
Their PR department will hit you over the head with the assertion of a "go kart-feel", but you can always see where they are coming from. There is always a twinkle in the eye and an infectious sense of mischief.
So it is with the Cooper S 5 Door, which moves in a fashion largely indistinguishable from its slightly smaller 3 Door brother.
Hurl it into a bend, or tip it in and let the wheels scrabble in a crescendo of throttle input.
It dives hungrily at directional changes like my shih tzu lunges at scraps of meat dangled from the dinner table. All huffing and snorting and gleeful with crazy eyes.
This is not a light car for its size, but it has tautness in spades, communicated through a meaty steering suffused with much heft.
Previous generations of Cooper S models were afflicted with some raw nervousness as a trade-off for its youthful exuberance. This newest one feels sure and confident on its feet, without losing any sense of vigour.
NIPPING AROUND
Bombing around, it punches through traffic like a volley from tiny, tightly clenched fists. It really is a proper chuckle bunny.
Go banzai, which the car eggs you to, and you can even cannonball through bends in a four-wheel drift. This means you are toying with limit, and that is a pleasure available only to the smallest or most well-balanced cars.
The MINI Cooper S 5 Door can just about count itself as both. Torque steer is ever present, but you sense that it is there for entertainment rather than as a fault. Cheeky and playful, you cannot help but have loads of fun every time you tickle it awake.
Sure, it's slower than a Golf GTI, and when you meet a yellow light in the wrong gear you might find yourself wishing for more ponies. But I'll be damned if it doesn't have oodles more zest and pep in its step.
This is the MINI signature, and the Cooper S 5 Door signs it with glee.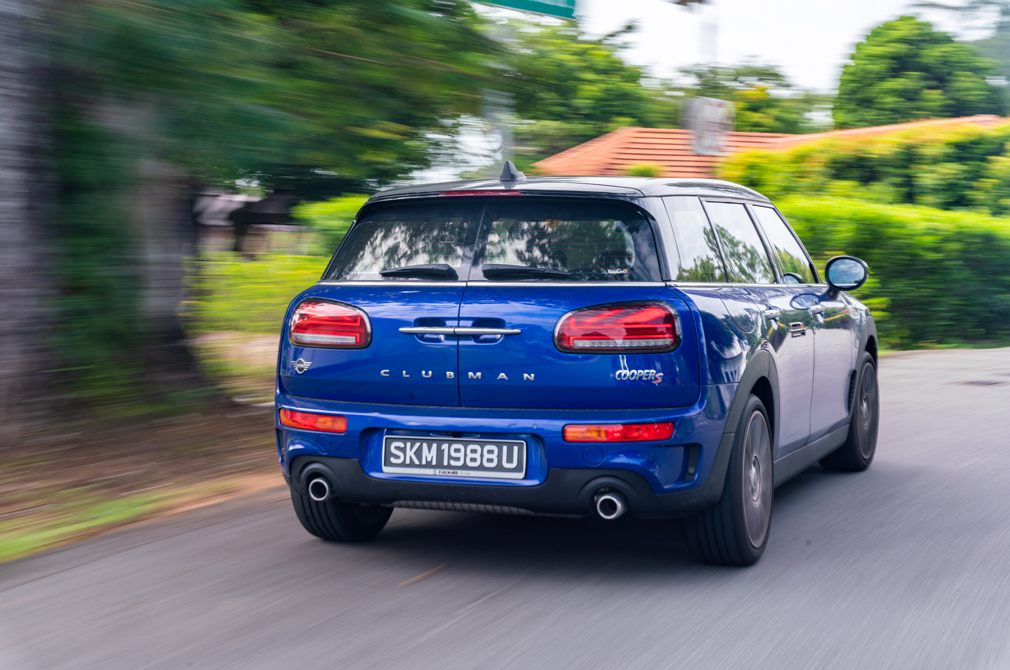 MATURE MANNERS
The MINI Cooper S Clubman, though, hmmm. Same burble, same control weights, same heft in the steering, same tight, animated ride.
This was a difficult thing to rationalise, because for all intents and purposes the tactile sensations are remarkably similar. Yet just like with eyes, there is something different.
There is a real danger here that this is less Willy Wonka and more Tony Hawk with a backwards cap. A middle-aged man who won't let go of his sticker-filled skateboard.
Size is a hard thing to hide, especially when smallness is the defining feature of the driving experience.
Of course, this is by no means a big car in absolute terms. The thing is technically a small hatch for crying out loud. But next to a "proper" MINI? It's practically an aircraft carrier like the USS Nimitz.
You feel it the second you step in. In the 5 Door, the car ensconces you like a softball mitt cradles a ball. As the goofy dash inserts taper down to their outer edges, the passenger side panel glows with yet another Union Jack motif.
It's cozy, and therefore, intimate. The Clubman is noticeably more spread-out, with the windshield and all corners further away. Going for a more mature theme, the rather more muted and slab-like dash treatment adds to the impression of expanse.
If the MINI driving experience is supposed to be like a volley of punching fists, the Clubman doesn't quite play the part of fitted boxing glove.
Correspondingly, the opportunities to do that wild cannonball thing so gratuitously indulged in the 5 Door are rarer to find. It takes a while to cleanse one's palette of the 5 Door's memory, but once done, the charms of the MINI Cooper S Clubman can stand on their own.
FUN FOR GROWN-UPS
At its heart is still a sharp, composed, eager, and very accurate warm hatch. More capable at fading into the background when you prefer it to, it nevertheless still retains the ability to carve up slower traffic and swallow sweeping expressway on-ramps whole.
As immensely likeable fast family transport with a devilish attitude, there is a huge amount to savour here. It even has some crisp moves a GTI cannot replicate.
Perhaps MINI's brand repertoire has greater range than it even realises.
There are technically faster hot hatch options out there for about the same money. Yet, just like an iPhone, if you want one you want one, specs be damned.
Fun is fun, cheek is cheek. My wife declined to even look at a Renault Megane RS. Make that choice, and you will have yourself a distinctive motoring experience.
Even if out of sheer necessity you must supersize it beyond what was previously thought possible from the brand "Mini", let alone the word.
---
MINI Cooper S 5 Door 2.0 (A)
ENGINE     1998cc, 16-valves, inline-4, turbocharged
MAX POWER     189bhp at 5000-6000rpm
MAX TORQUE     280Nm at 1350-4600rpm
POWER TO WEIGHT     149.4bhp per tonne
GEARBOX     7-speed dual-clutch with manual select
0-100KM/H     6.8 seconds
TOP SPEED     235km/h
CONSUMPTION     17.9km/L
PRICE INCL. COE     On application
MINI Cooper S Clubman 2.0 (A)
ENGINE     1998cc, 16-valves, inline-4, turbocharged
MAX POWER     189bhp at 5000-6000rpm
MAX TORQUE     280Nm at 1350-4600rpm
POWER TO WEIGHT     136bhp per tonne
GEARBOX     7-speed dual-clutch with manual select
0-100KM/H     7.2 seconds
TOP SPEED     228km/h
CONSUMPTION     16.1km/L
PRICE INCL. COE     $172,888 (no VES rebate/surcharge)
AGENT    Eurokars Habitat
---
Click here for our MINI Cooper S Clubman review
Find out more about the MINI models here