A Skoda isn't the first name that springs to mind when you envision a great road trip car. It's not even the second or third. And certainly not a 1-litre Skoda.
But a Skoda Octavia 1.0 is exactly what I took up to the far reaches of the Malaysian peninsula last month, for a short father-son getaway to the pristine sands and crystal waters of Perhentian Island, off the coast of Terengganu.
On the early-morning North-South Highway slog it already started to win me over, with little road or wind noise intruding into the spacious cabin, and the 3-pot MOTOR almost inaudible at a 100km/h cruise. Speaking of which, that engine is a familiar peach which already does duty in many VW group products like the Polo, Golf, Audi Q2 and A3.
The 1.4-tonne Octavia is the most substantial car it's yet had to haul around, but nevertheless the engine makes fabulous use of its 109bhp. At a low 3-figure cruise the engine is in its sweet spot, comfortably within its 200Nm torque band for easy part-throttle overtakes.
When pressed hard it does somewhat gather speed rather than truly accelerate with venom, but unless you're on a Cannonball run it never feels inadequate.
And the motor has that free-wheeling sensation when you lift off that is so typical of 3-cylinder engines, giving the impression of a perpetual-motion device as the car maintains its speed, throttle-free, for huge distances.
Sometimes the engine even shuts down entirely on the highway. No cause for alarm – this is, by design, a fuel-saving measure which activates on flat or downhill stretches where the car senses that it will be able to maintain its speed for a while on pure momentum.
A detour for breakfast takes us through the wonderfully sinuous 30-kilometre stretch between Yong Peng and Paloh which climbs, dips and weaves through endless oil-palm plantations.
And the Octavia's chassis doesn't just cope with these challenging roads, it laps them up. The steering is accurate, body roll is well-contained, and pushed to the limit of its tyres, the car edges into the mildest of understeer, easily contained with a slight throttle lift or a dab on the brakes.
It carries speed so well through the non-stop bends that the modest power on tap is not an issue, even when overtaking the occasional palm fruit-laden lorry.
Our reward at the end of the road is an excellent kopi and kaya-toast breakfast at Ling Nam, a little old-school coffeeshop which is a veritable institution in Paloh. The toast is so yummy that we have seconds, and then thirds, before we again tackle those lovely plantation roads back to Yong Peng to rejoin the highway up to Kuala Lumpur.
After a night in the capital, we head off well before daybreak, taking the infamously hilly and meandering E8 highway (which locals call the Karak highway) eastwards.
After nearly 200km we veer northwards towards Terengganu, and now the E8 is less hilly, with vast, endless straights and almost no other traffic, so the speedo needle starts to edge clockwise as I ease open the throttle.
Even at faster speeds the Octavia remains rock-stable and very, very quiet. Finally after another hour the first rays of sunshine start to emerge on the horizon, and eventually the highway terminates near Kuala Terengganu, over 430km from KL.
By this time we've covered nearly 900km since the last top-up in Singapore and astonishingly the trip computer tells me there is still 100km of range left – that's a potential all-in range of nearly 1000km, showing the 1-litre engine to be parsimonious beyond all expectations.
But out of caution we top up at a Petronas before the last 100km or so of trunk roads to Kuala Besut, where we leave the car at a guarded carpark and hop into a speedboat for the 20-minute ride to Pulau Perhentian Kechil.
Perhentian and the other little islands surrounding it are gorgeous – white beaches and water as blue and clear as you can imagine – and we spend a couple of blissful days snorkelling among black-tipped reef sharks, turtles and all other manner of marine life before we reluctantly board our return boat to leave this island paradise.
Arriving back on the mainland we're relieved to find the Skoda where we left it, and immediately set off to rejoin the E8 highway for the 200km trek back towards Kuantan, and then onto a long stretch of trunk road from Kuantan to Yong Peng.
Our progress on these trunk roads is frequently hampered by lumbering trucks, buses or ancient Peroduas, but on longer straights the Skoda has enough verve to ease past them quite comfortably before slotting back safely into lane.
Its suspension easily soaks up the ruts and potholes that typically litter these roads, so the occupants remain unruffled no matter how poor the road surface, but also equally importantly, the car doesn't get thrown off-line at high speed by mid-bend bumps.
Along the way the heavens open (the first rain encountered on the whole road trip) and the car continues to cope heroically, keeping good pace despite the downpour and remaining stable and sure-footed even through the most waterlogged stretches.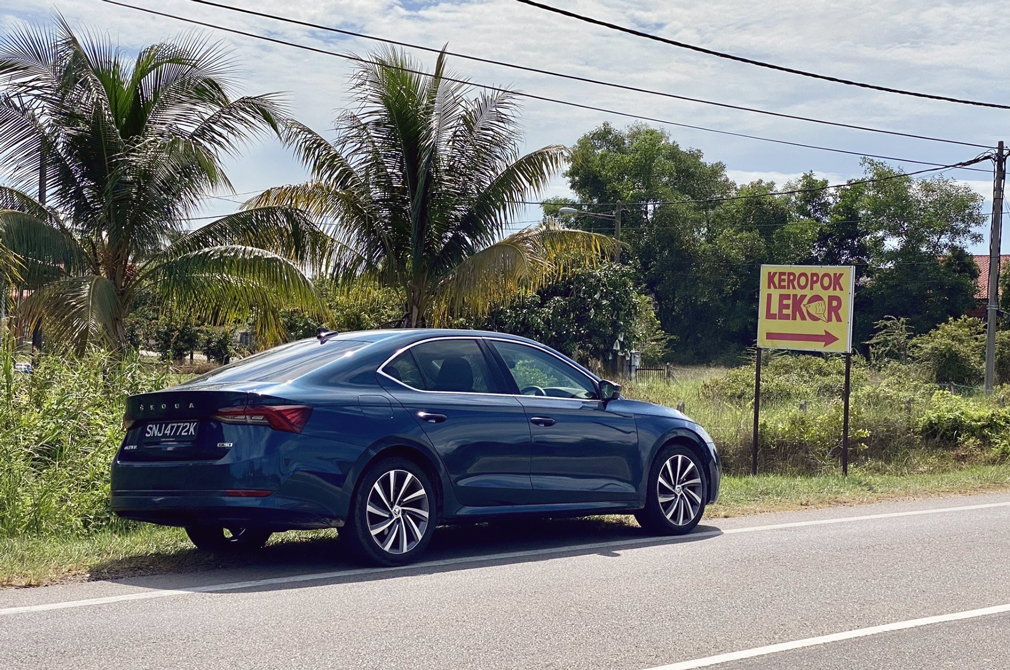 Eventually after four hours of B-roads we reach Yong Peng and rejoin the familiar North-South Highway for the final 110-kilometre trek to Tuas Checkpoint. Highway traffic on this Sunday afternoon is heavy, slowing to a crawl or even a standstill at many points, but the unflappable Octavia just eases its way patiently along till we reach the final Gelang Patah toll booth.
That calm nature is perhaps the car's greatest strength. In the course of the trip it displayed the full range of its talents – from entertaining the driver on some great driving roads, to cruising silently at high speed on endless highways, to nipping in and out of city traffic, to coping with potholed B-roads and battling blinding rain.
But underpinning all this was the way the car simply got on with the job without fuss, its little engine burbling keenly away and providing more than enough pep for most occasions, the cabin always a comfortable, insulated cocoon no matter what the weather or traffic conditions outside.
Four days and 1660km later, we were home, after a cumulative 22hours and 33 minutes on the road, with neither the car nor its occupants any worse for wear. Despite some spirited B-road driving and lots of time spent crawling in stop-start highway and checkpoint traffic, it delivered nearly 18km per litre, meaning that the entire trip only required one fuel stop.
Can the ideal road-trip car really be a 1-litre Skoda? You heard it here first.
---
SKODA OCTAVIA 1.0 TSI e-TEC
ENGINE     999cc, 3-cylinders, 12-valves, turbocharged
MAX POWER     109bhp at 5500rpm
MAX TORQUE     200Nm at 2000-3000rpm
GEARBOX     7-speed dual-clutch with manual select
0-100KM/H     10.5 seconds
TOP SPEED     202km/h
CONSUMPTION     23.3km/L (combined)
PRICE INCL. COE     From $175,400
AGENT     Skoda Singapore
---
Audi e-tron models zap and crackle on this electrifying road trip