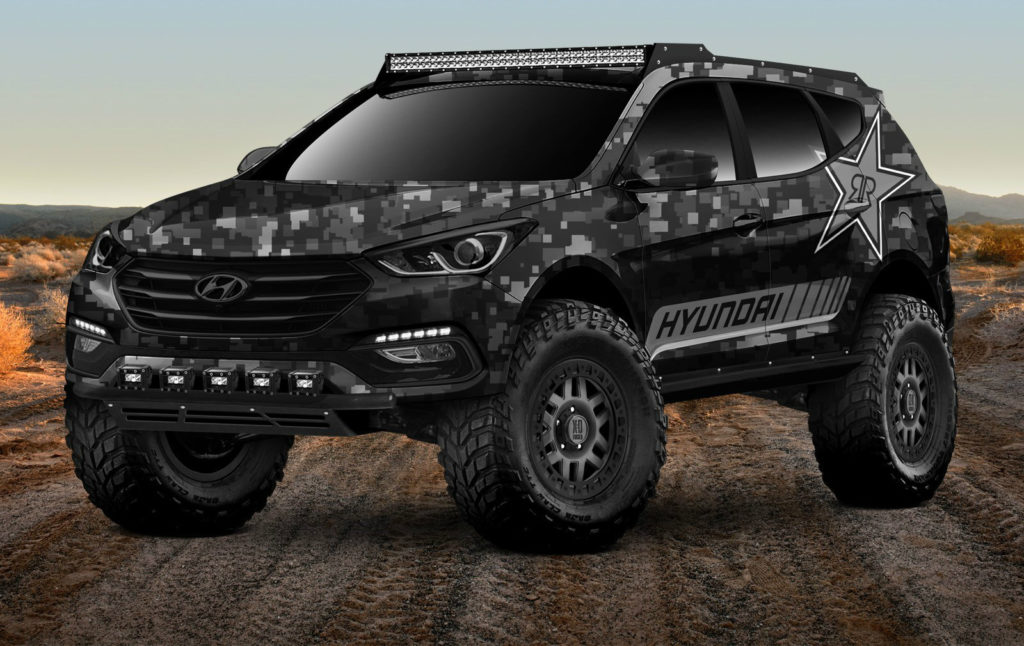 Hyundai's Rockstar Energy Moab Extreme Off-roader Santa Fe Sport Concept was designed to be able to withstand the ultimate demands of extreme off-roading in Moab, Utah – considered one of the world's most challenging off-road regions.
"The Rockstar Energy Moab Extreme Concept was specifically designed to withstand the extraordinary demands of Moab off-road terrain," said Nic Ashby, Rockstar Marketing. "Leveraging the outstanding Santa Fe Sport platform and powertrain, we definitely pushed its capabilities to new limits to conquer the pinnacle of challenges at Moab."
Hyundai combined expertise with Bisimoto Engineering to create the HyperEconiq Ioniq concept for the 2017 SEMA Show. This innovative prototype integrates the best hypermiling, economy and friction technologies to amplify the outstanding Ioniq platform beyond original equipment manufacturer limitations for outstanding efficiency gains and excellent drivability.
"The HyperEconiq Ioniq takes the Ioniq where we always knew it could go, without sacrificing drivability," said Bisi Ezerioha, president, Bisimoto Engineering. "Leveraging the outstanding Ioniq electrified platform and powertrain, we've focused on a variety of technical elements to bring efficiency, aero and design to the highest level."
Hyundai partnered with Blood Type Racing to develop the BTR Edition Elantra Sport concept for the 2017 SEMA Show. This eye-grabbing concept builds upon the affordable, OEM-level performance and design of the Elantra Sport and adds methanol injection, intake, exhaust and intercooler technologies, tuned suspension and full aero kit for "all-show, all-go" looks and performance.
"The BTR Edition Elantra Sport takes the Elantra beyond its capable OEM-development roots without sacrificing daily drivability," said Sam Lee, product manager, Blood Type Racing. "Building upon the well-developed Elantra Sport platform, powertrain and design fundamentals, we've given enthusiasts a new vision of where this affordable sport compact wants to go."
Check out another 2017 SEMA Show mod job, the Kia Stinger GT Federation.