Mercedes-Benz will be launching the A-Class Sedan in Singapore next week.
The A-Class Sedan is the Mercedes-Benz's smallest saloon, which makes it the entry-level sedan in their model lineup.
The A-Class Sedan's front-end closely resembles that of the A-Class hatchback's.
At the rear, the Sedan's tail-lights have a slightly different design compared to the hatchback's.
Its biggest competitor is the larger four-door Mercedes-Benz CLA Coupe, which is also built on the same platform and has the same wheelbase length.
In order to make the Mercedes-Benz A-Class Sedan more attractive than the CLA, it will have to be priced more competitively, befitting its status as the brand's entry model saloon.
Though not as stylish as the CLA, the A-Class Sedan does offer the same amount of rear legroom and slightly more headroom for backseat occupants.
However, the A-Class Sedan is less practical than the CLA due to its significantly smaller boot. The former offers 420 litres, while the latter has 460 litres.
The Mercedes-Benz A-Class Sedan, however, does have a larger cargo volume (rear seats up) compared to the A-Class hatchback.
The A-Class hatch's cargo hold with the rear backrests up is just 370 litres.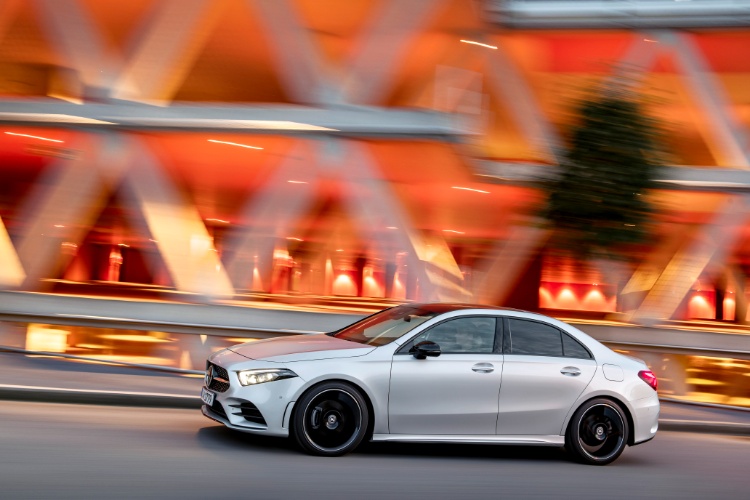 The A-Class Sedan might be the smallest saloon in the lineup, but that doesn't mean it's equipment will be pared down.
It is still likely to be equipped with MBUX (Mercedes-Benz User Experience), which comes with an intelligent voice assistant.
MBUX has been a staple in new Mercedes models, which also include the B-Class, CLS and CLA models.a
Going by the A-Class hatchback and CLA variants, we expect the A-Class Sedan to debut in its A200 model trim.
That means it will get a turbocharged 1.3-litre inline-4 that kicks out 163hp and 250Nm.
Mated to a 7-peed dual-clutch gearbox, it'll probably deliver performance times that are similar to the hatchback's.
---