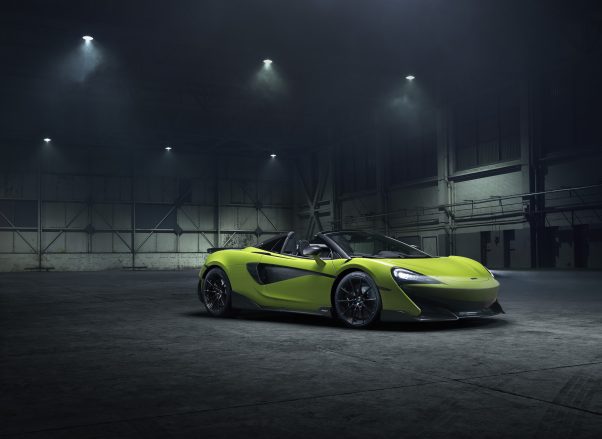 The fifth car to carry the Longtail name, the new McLaren 600LT Spider is an open-top version of the 600LT Coupe and promises to be as exciting to drive.
The 1,297kg 600LT Spider is just 50kg over the model on which it is based, and 100kg lighter than the preceding 570S Spider.
Just how light is the McLaren 600LT Spider?
Thanks to its lightweight but strong carbon fibre MonoCell II chassis, the convertible 600LT retains the Coupe's structural rigidity with no need for extra strengthening.
According to McLaren, the 600LT Spider is "at least 80kg" lighter than "any direct competitor".
Its powered retractable hardtop roof can be operated at speeds of up to 40km/h and provides "Coupe-like refinement" when raised, the company said.
When in the boot, the hardtop takes up 52 litres of space, so multiple golf bags may be out of the question in the 600LT Spider.
The Spider's eight-legged power
Aside from the hardtop, the 600LT Spider's engine has been carried over from the Coupe: McLaren's twin-turbocharged, 3.8-litre V8 with 592hp and 620Nm of torque.
The engine is mated to a dual-clutch, Seamless Shift 7-speed gearbox (SSG) that features Ignition Cut in Sport mode to facilitate faster changes, while delivering a dramatic aural crack from the top-exit exhausts.
With that pairing, the 600LT Spider will blast to 100km/h in an eyeball-swivelling 2.9 seconds and just 5.5 seconds more to hit 200km/h –  a plodding 0.2 seconds slower than the Coupe.
Roof up, the Spider will hit 324km/h, or 315km/h with it lowered.
Drop-dead gorgeous drop-top
Meanwhile, McLaren's engineers say that cutting off the roof won't dent the 100kg of downforce the Coupe enjoys at 250km/h.
"The McLaren 600LT Spider adds a new dimension of excitement to the most extreme model in the Sports Series family, while losing none of the Longtail focus," said McLaren Automotive's chief executive Mike Flewitt.
"In addition to our weight advantage over competitors, we have also retained the top-exit exhausts that debuted on the Coupe – and I'm pleased to report that they sound and look even better with the roof or rear window of the Spider lowered!"
---
McLaren Speedtail owners invited to customise their new hypercar