Installing red-amber-green arrow traffic lights at most intersections – which the Land Transport Authority (LTA) is aiming for by 2023 – would lead to better road safety, said industry experts, even as they stressed that it would not be feasible to do so at all 1,600 right-turning junctions here.
"It's a compromise between safety and traffic flow; if safety comes first, then one has to accept delays," said Mr Gopinath Menon, who is a senior transport research consultant at Nanyang Technological University.
"Right-turners will be delayed – our system has always allowed them to turn right on full green, provided they think it's safe to do so. Now it's gone, it means they have to stay back, they'll be held back."
Mr Gerard Pereira, who is a training manager with the Singapore Safety Driving Centre, said that the authorities typically check on the volume of traffic at a junction.
If traffic is heavy at a junction, the proposed changes could affect traffic leading to the area, causing more delays, he said, adding that one has to "see how junctions are mapped out". He called for more analytical studies to be done to ensure the most appropriate action would be implemented.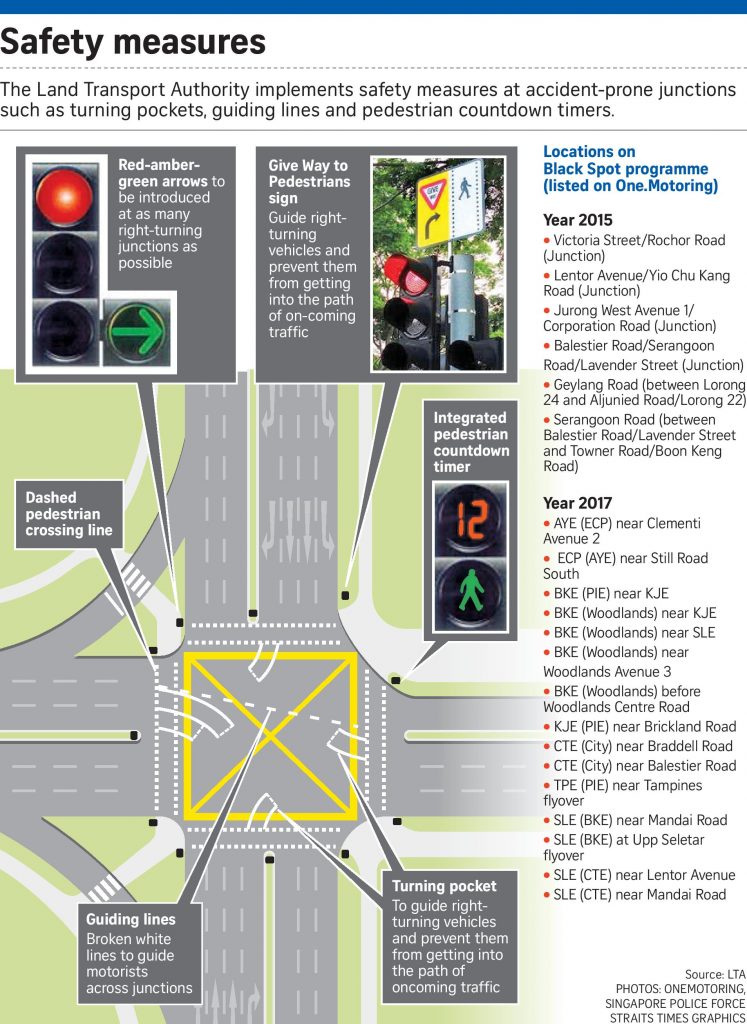 Mr Menon added that having a blanket rule that all right-turn junctions must have the red-amber-green arrow lights is not necessary.
He said: "It should be installed only where there are problems. It's not needed everywhere; it's quite safe at some places and if drivers exercise patience, there's no problem."
The LTA's statement on installing red-amber-green arrow lights at as many right-turning junctions as possible came in the wake of two fatal accidents at such junctions in the past week.
The accidents led to an online petition calling for the LTA to review its rules. The petition has garnered nearly 16,000 signatures so far and its creator, who declined to be named, said that she was glad to hear of the LTA plan.
"When I first looked at the two accidents, I saw the similarity was that the junctions were really huge," said the marketing manager in her 40s.
"It makes it difficult for the driver to exercise good judgment when turning."
Motorcycle accidents account for nearly 40 percent of traffic fatalities in 2017
In 2015, the LTA identified six accident-prone junctions, and another 15 were pinpointed last year.
The LTA implemented additional safety measures at all the locations, such as installing special lights, signs and road markings.
The issue of shared green time does not just affect motorists.
Last year, at least two pedestrians, who had the right of way, were hit by cars whose drivers failed to see them.
On July 28, a driver in a Mercedes-Benz car knocked down a young woman at a crossing in North Buona Vista Road.
On Aug 26, retiree Sunny Yeo, 72, was pushing his 89-year-old mother Violet Tan on a wheelchair across Punggol East Road when a car hit Madam Tan and ran over Mr Yeo's foot. Madam Tan was hospitalised at Tan Tock Seng Hospital, but died three weeks later.
To minimise accidents at such junctions, LTA said that it paints turning pockets to remind motorists to pause and look out for pedestrians.
The Traffic Police also regularly monitor such roads to see if other enhancements are required. But they added that both motorists and pedestrians must do their part to ensure their own safety on the road.
In countries such as the United States, it is not uncommon to see a split-phase traffic timing system, which assigns the right of way sequentially to both vehicles and pedestrians.
Statistics also show that there is a larger decline in pedestrian incidents as well as multi-vehicle crashes when green time is not shared.
---
LTA to install more safety measures, including red-amber-green arrow lights at right-turn junctions
Drivers involved in fatal traffic accidents in Clementi and Bukit Timah arrested