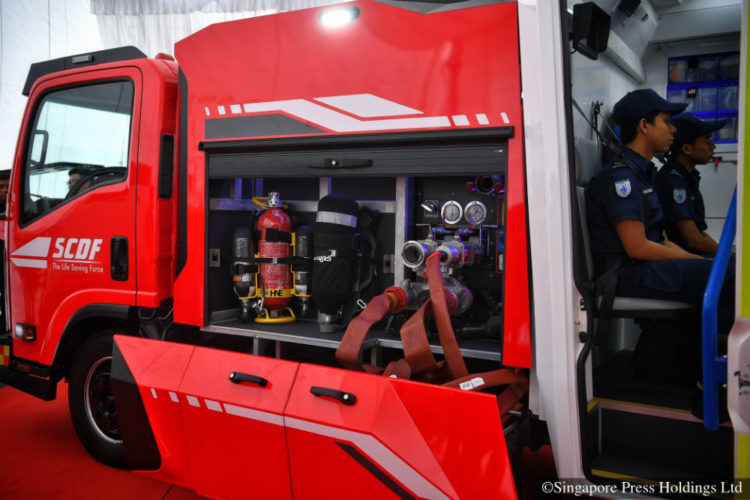 The company behind Singapore's iconic Red Rhino firefighting vehicle is back with another big-bang product, though the challenge was to make it smaller than others in the market.
The Fire Medical Vehicle (FMV), built by home-grown engineering firm Hope Technik, was launched during the Singapore Civil Defence Force's (SCDF) annual workplan seminar last Wednesday and boasts the capabilities of a firefighting appliance and an ambulance.
While the concept of marrying firefighting and medical facilities into one vehicle is not new and has been adopted by some cities in America and New Zealand, Hope Technik's FMV is one of the most compact hybrid vehicles with such functions in Asia, said Mr Vic Naidu, 33, head of the company's special vehicle operations.
"It's made with Singapore firefighters and medical personnel in mind. So it's uniquely Singaporean and not just something 'off the shelf'," he added.
Mr Naidu and a team of about 20 engineers, technicians and project managers began work on the project in May last year and took 10 months to design, engineer and build the vehicle which stands at about 2.9m high, 2.3m wide and 7.3m long.
The FMV has a fully functioning ambulance cabin to treat patients and take them to hospital.
To be deployed in less severe emergencies such as minor road traffic accidents, the FMV will enable firefighters who are cross-trained in emergency medical services to provide early care to accident victims.
The FMV's compact size allows it to manoeuvre Singapore's dense cityscape and enter the emergency bays of most local hospitals.
The fire pump is housed behind the driver's cabin, while the vehicle's rear features a white cabin that is fitted with a stretcher, four seats and medical equipment typically found in an ambulance.
Mr Naidu said that one of the greatest challenges they faced was meeting the needs of both the fire-rescue team and the medical team.
"We consulted the SCDF and their teams extensively, and made considerations for all the components – hoses, nozzles, rescue equipment, oxygen tanks. These were all part of what we needed to fit into the package."
Mr Naidu, who joined Hope Technik fresh out of university in 2009, was also part of the team that created the latest four generations of the Red Rhino.
They have produced more than 60 Red Rhino emergency vehicles for the SCDF so far.
While the FMV's concept was first explored by the SCDF, Hope Technik brought it to life.
With a front resembling a fire engine, the FMV is able to carry a crew of four and up to three casualties in emergencies like minor industrial and road traffic accidents.
Another consideration besides the FMV's functionality was its aesthetic, said Mr Naidu.
"The last thing we wanted to build was a vehicle as square as a tissue box. So, besides playing with design lines, we also segmented the firefighting and life-saving components by colour – red and white respectively."
The SCDF will be deploying six FMVs to enhance emergency response efforts.
The FMV has already attracted interest from other emergency forces in neighbouring countries, and there are hopes for the product to go international, added Mr Naidu.
Said the company's chief executive officer Peter Ho: "The FMVs are designed from the point of view of users from Asian cities like Singapore. It's still early days, but we're exploring and we're trying to find our strategy."
---
Related story: SCDF officer hurt in taxi blast discharged from hospital
Related story: Ambulance calls will be differentiated
---