A car's name not only sets benchmarks. It raises expectations, too.
In my experience, anything that's called a "Gran Coupe" must be grand in some sense.
The first Gran Coupe I drove was the 6 Series Gran Coupe (6 GC) back in 2012. It certainly had grand proportions.
The 6 GC was longer and lower than the F10 5 Series (both models shared the same platform). BMW said it had "coupe-like" styling. But despite its size, it was a hoot to drive, especially the 640d variant.
The 6 GC was a rival to the Mercedes-Benz CLS, which had kicked off the "four-door coupe" trend. Its role is now fulfilled by the 8 Series Gran Coupe.
In 2014, BMW launched the 4 Series Gran Coupe. It was essentially a 4 Series Coupe with a pair of rear doors. I again enjoyed this model. Till today, the 440i Gran Coupe remains one of my favourite modern "non-M" BMWs.
Now, when BMW announced its 2 Series Gran Coupe, I had a head-scratching moment. How was the carmaker going to distil all this "grandness" into its most compact saloon?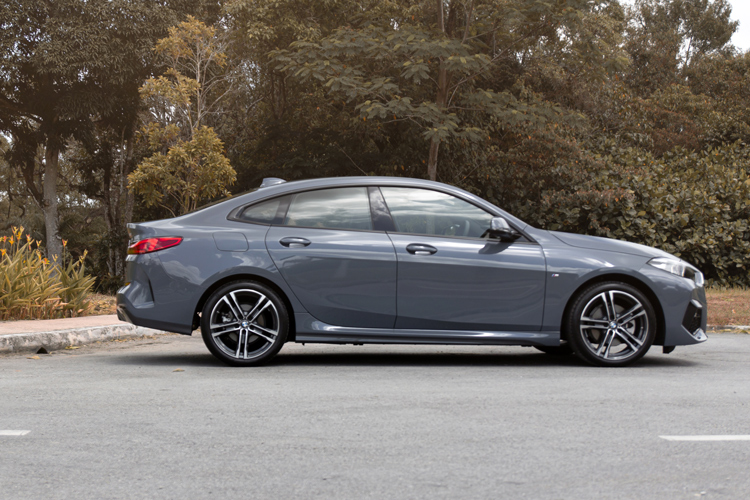 IS THAT A BMW 1 SERIES?
Making that question even more pertinent is how the 2 Series Gran Coupe has the same front end as the 1 Series hatchback.
That makes the 2 GC seem even more compact than it already is.
The 2 Series Gran Coupe does look nice when viewed from the side. Its rising shoulder line contributes to its "ready to sprint" stance. The frameless windows are a sexy touch.
Rather unflattering, on the other hand, is the car's rear end. Perhaps the tail-lights are too long. Maybe the way the boot lid protrudes reminds me of a duck's beak. Either way, it'll polarise opinions.
INTERIOR HITS
The 2 Series Gran Coupe has a driver-focussed cabin.
Settle in behind the wheel and you'll find an excellent driving position, with the dashboard angled towards the driver. The pedal placement is spot on.
I like the meaty steering wheel which offers a positive grip. Although I prefer the old gearshift lever to this one, it still falls neatly to hand. As always, the iDrive system is quick and intuitive.
What I cannot get to grips with is the 2 Series Gran Coupe's instrument panel. It's identical to the one in the 3 Series.
I get that carmakers need to be high-tech. But these meters are ridiculous. They are neither intuitive nor pleasant to look at.
Hopefully, they'll be improved (or changed, for that matter) when the car is facelifted.
Backseat accommodations are relatively generous, unless you're over 1.8m tall. Occupants here will appreciate the air-con vents, as well as the pair of USB-C charging ports.
DRIVING BITS
Has BMW managed to give its smallest Gran Coupe a "grand" driving experience?
To be fair, yes. But only in proportion to its size.
The 2 Series Gran Coupe is relatively refined and quiet on the go. Its lowered stance and driving position are positive points, too.
But I believe a Gran Coupe should have "long legs" for cruising and overtaking. This ability is usually granted by turbocharged straight-6 engines with large reserves of horsepower and torque.
So, in this aspect, the 2 Series Gran Coupe is different.
It doesn't have a 3-litre inline-6 motor. It has half of one. Beneath its bonnet is a turbocharged 1.5-litre 3-cylinder capable of 140hp and 220Nm.
The 218i Gran Coupe's century sprint is accomplished in 8.7 seconds. Not quick, but it is 0.3 of a second faster than its main rival, the Mercedes-Benz CLA180 Coupe.
Getting the 2 Series Gran Coupe to put down the power means revving the engine. This is fun, as the motor is eager to be stretched, and there's a nice thrummy soundtrack to accompany proceedings.
The 7-speed dual-clutch gearbox, which is responsive and obedient, helps you in this regard. Too bad there are no paddle shifters for the manual override function.
I don't like having to drop my hand to tap the gearshift knob up or down.
GRAND HANDLING?
Given the need for revs, the 218i Gran Coupe obviously doesn't have "long legs". It's more of a sprinter than a marathon runner.
And it's an agile one at that, eagerly darting into corners and carving through traffic with ease.
I was surprised at the feel and feedback from the steering wheel as well. Some won't like this, but feeling the bumps and undulations on your fingertips is pleasing to keen drivers.
You get a sense of what the car is up to. Isn't that what driving's about?
With a set of high-performance tyres replacing the softer, more comfort-biased OEM ones, handling would further improve. That said, this setup will be adequate for most drivers.
WHO IS THE 2 SERIES GRAN COUPE FOR?
Even if BMW won't admit it, a lot of the 2 GC's customers are going to see this car as an entry-level BMW saloon. Perhaps some of these folks wanted the sedan version of the 1 Series hatchback.
Either way, the 2 Series Gran Coupe is a compelling proposition. It may not have the Merc CLA's looks, but its overall build quality is better, and the experience is more refined.
For keen drivers, that final point might ultimately be what they need to make a decision.
---
BMW 218i Gran Coupe M Sport 1.5 (A)
ENGINE     1499cc, 12-valves, inline-3, turbocharged
MAX POWER     140hp at 4600-6500rpm
MAX TORQUE     220Nm at 1480-4200rpm
GEARBOX     7-speed dual-clutch with manual select
0-100KM/H     8.7 seconds
TOP SPEED     215km/h
CONSUMPTION     16.9km/L (combined)
PRICE INCL. COE     $163,888 (no VES rebate/surcharge)
AGENT     Performance Motors
---
Click here for our BMW 840i Gran Coupe review
We drive the BMW M135i xDrive
Click here for our Mercedes-Benz CLA200 review