The BMW i8 has been the world's best-selling hybrid sports car since its debut in 2014.
It looks like a million-dollar supercar but "only" cost about half as much when it was launched in Singapore.
Maintenance expenses are MINI One territory.
Road tax is that of a 1.5 litre engine and the petrol consumption is a fraction of a V8 rival.
Like its coupe sibling, the new i8 Roadster is an amazing piece of engineering.
An electric motor drives the front wheels via a 2-speed gearbox and BMW's familiar 3-cylinder turbocharged engine powers the rear wheels.
It delivers an incredible 231hp and 320Nm from only 1.5 litres.
This is the highest output of all the 1.5 litre BMW models.
The petrol engine transmits its power through a 6-speed automatic.
The electric motor's peak output is 12hp more than the i8 coupe at 143hp.
This is courtesy of increased battery cell capacity from 20 to 34 amperes and gross energy capacity from 7.1 to 11.6 kilowatt hours.
The lithium-ion battery is located under the centre of the car.
With a light right foot to prevent the engine from kicking in, the battery has a range of 53 kilometres.
We took a road trip in a pair of i8 Roadsters into the hinterland fields and forests of Munich in the autumn of last year.
I piloted the E-Copper Metallic one with my lady co-driver and the other two journos had the Donington Grey one.
Your next Jaguar could have BMW's electrification tech in it
These are colours not previously offered in the i8.
Both hues are accented with Frozen Grey Metallic-dual body colours are typical of BMW's range of i cars.
You know it is a special car when the doors open up and outwards.
These gullwing doors add to the occasion.
It takes a certain technique to enter gracefully. This is something I learned quickly.
The purpose was to demonstrate to my lady companion how not to embarrass herself.
Getting into the i8 Roadster requires one to sit onto the seat across the sill and then rotate your body while sliding your legs into the foot well.
Egress is the reverse.
Once inside, much of the switchgear is similar to other BMWs.
However, you are in a special world of straights and curves which blend seamlessly in the i8.
Once the wing mirrors are adjusted into view, the reflection of the rear swooping buttress above the left and right rear fenders appear at first instance to be body panels left opened.
They add masculinity to the i8 Roadster and its supercar profile.
I started my i8 Roadster drive with the roof up, not wanting the world to see that I did not own the car.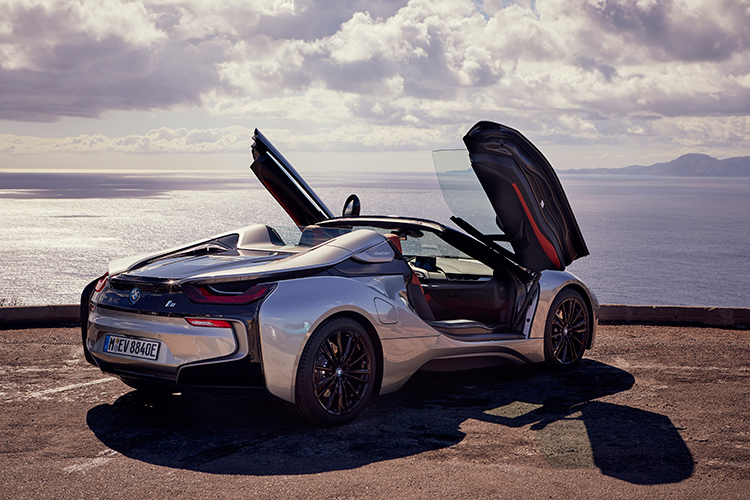 In the meantime, I familiarised myself with the i8 Roadster's cockpit.
Within half an hour we were in scenic country.
I decided it was time to drop the top as we snaked through forest roads.
The well-insulated soft-top takes only 15 seconds to open or close.
That is faster than it takes me to kick-start one of my classic motorcyles.
In the i8 Roadster, the rear-seats of the coupe have made way for the soft-top mechanism.
The boot, however, still offers a generous 100 litres of storage space, enough for a shopping spree of several Birkin handbags.
The man's gym bag and toothbrush are consigned to the smaller 80-litre rear boot.
My companion was prepared for the chilly autumn weather with a sweater, scarf and a hoodie.
I had forgotten to bring any form of cold weather clothing.
But I am blessed with a higher-than-normal BMI.
This means I could drive in ten degree Celsius without shivering in my tee-shirt.
This is important when you want to look cool in an uber-cool supercar.
The roadster can speed up to 105km/h on pure electric energy.
It extends to 120km/h if the eDrive button on the centre console is engaged in conjunction with COMFORT or ECO PRO mode.
The eDrive mode keeps the car in electric mode as long as possible.
COMFORT mode strikes a balance between electric power and the petrol combustion power whilst ECO PRO favours fuel-efficient driving.
These are spec sheet figures and like the battery range of 53 kilometres, I did not put them to the test.
That said, during my drive of over an hour, which saw me engage both COMFORT and SPORT modes, the battery did not run out of juice.
I felt guilty that my co-driver had not had the opportunity to drive the i8 Roadster.
When she took the wheel, the grin on her face was as wide as mine was earlier.
I whipped out my iPhone to take a snapshot of her happiness.
As usual, I needed a pee stop before everyone else.
I always try to answer the call of nature at a petrol kiosk in my overseas jaunts.
However, we did not come across any after my bladder suddenly felt like bursting at the seams.
We therefore stopped outside a bistro in a narcissistic district called WeBling.
I pretended I was one of the patrons as I strolled into the gents.
After relieving myself, I headed for the exit as if I was going to light a Marlboro even though I do not smoke.
I yearned to get back behind the wheel, but acted like a gentleman and declined the offer when asked by my "chauffeur".
We followed the GPS on the 8.8 inch Control Display to our lunch destination at La Villa at Lake Starnberg.
En route we passed through a magical-looking forest in Seefeld and stopped for a Kodak moment.
Lunch was gastronomic, but made more eventful when our professional German photographer was prevented from taking photos of the i8 Roadster against the background of the villa and the lake.
Apparently, we needed prior permission for any photo shoot and it will cost us two thousand euros!
We then drove away in search of another idyllic spot for our German shutterbug to earn his keeps.
I then led the way to a park with a three-storey building.
It was the Park Buchheim Museum.
Guess what? Yes, we needed prior permission to take photos there with our cars and it, too, cost two thousand euros.
Our German friend was astonished and profusely apologetic.
The two debates in German about photography had taken up about 30 minutes and we were by then running late for the return to Garching.
To make up for lost time, I breached a little over 240km/h on the autobahn with a lot more oomph in reserve.
The top speed is electronically limited to 250km/h.
In unison, both electric and petrol combustion power plants offer all-wheel drive with a total output of 374hp and 570Nm.
These figures propel the relatively lightweight 1595kg i8 Roadster (the i8 Coupe is 60kg lighter) from zero to 100km/h in 4.6 seconds.
Floor the throttle in COMFORT or SPORT mode and you will never guess the howl of the engine comes from a humble 1.5 litre, three-cylinder.
It is amazing until you find out that it is aided by an amplifier (artificial engine sound amplification is the future when all cars are electric).
In SPORT mode, both power plants work at their maximum intensity whilst charging the battery in full tilt on the overrun and under braking.
Although 4.6 seconds is not supercar fast, it is enough on the autobahn to scare lesser cars into giving way as the i8 Roadster quickly looms large in their rear-view mirrors.
In real world driving, a second rarely makes much of a difference.
The i8 Roadster handles less of a supercar though.
The Audi R8 or R8 Spyder drives like a go-kart with a sharp steering and virtually no body roll when executing a fast corner.
The BMW rolls more but its ride is more pliant and will soak up Singapore's bumpy roads better.
This car is more than a technological marvel.
It turns also turns heads every time even in its hometown of Munich.
A lady in an M4 looked at us with envy. Motorists gave way in traffic jams to gawk at it.
It is a doddle to drive in heavy traffic as vision is good all-around even with the top up.
There are some cars that sadden me when I finally return them. I can now add the BMW i8 Roadster to that list.
It may not be the fastest car for the money or handle like it is on rails, but the i8 Roadster tugs at the heartstrings.
At the end of an unforgettable drive through scenic winding roads, fast autobahns and slow city traffic, I shed a little tear.
---
BMW i8 ROADSTER 1.5 (A)
DRIVETRAIN
TYPE     Inline-3, 12-valves, turbocharged, hybrid
CAPACITY     1499cc
BORE X STROKE     94.6 x 82mm
COMPRESSION RATIO     9.5:1
MAX POWER     374bhp at 5,800-6,000rpm
MAX TORQUE     570Nm at 3,700rpm
POWER TO WEIGHT     234.4bhp per tonne
GEARBOX     6-speed automatic with manual select for combustion engine; 2-speed automatic for electric motor
DRIVEN WHEELS     All
PERFORMANCE
0-100KM/H     4.6 seconds
TOP SPEED     250km/h
CONSUMPTION     50km/L (combined)
CO2 EMISSION     46g/km
SUSPENSION
FRONT     Double wishbones, Dynamic Damper Control
REAR     Five-link, Dynamic Damper Control
BRAKES
FRONT / REAR     Ventilated discs
TYRES
TYPE     Dunlop Blizzak LM32 (winter tyres on test car)
SIZE     195/50 R20 (front), 215/45 R20 (rear)
SAFETY
AIRBAGS     4
TRACTION AIDS     ABS, DSC
MEASUREMENTS
LENGTH     4689mm
WIDTH     1942mm
HEIGHT     1291mm
WHEELBASE     2800mm
KERB WEIGHT     1595kg
TURNING CIRCLE     12.3m
BUYING IT
PRICE INCL. COE $661,888
WARRANTY
Battery     8 years/100,000km
Combustion engine     5 years/200,000km
+ AWESOME DESIGN, SUPERCAR-LIKE ACCELERATION, UBER-COOL FACTOR
– NO SUPERCAR HANDLING, ARTIFICIAL SOUNDTRACK, TRICKY INGRESS/EGRESS
---