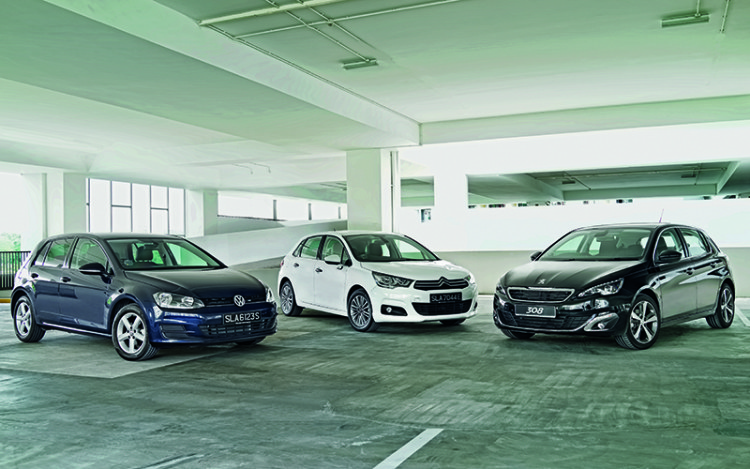 The Volkswagen Golf is the benchmark in its segment because it offers the most complete package. It may not be the most stylish continental hatchback, but it is well made, well equipped, relatively roomy and efficient – attributes that matter most to Euro-hatch buyers.
Roaring at the Golf is the lion-badged Peugeot 308. Like its German rival, the 308 also has a European "Car of the Year" award (2014) under its belt. It aims to impress with its design, amenities and performance. We tested the higher-spec variant, but a simpler version (with one-inch-smaller wheels and without panoramic sunroof and sat-nav) is available for $5000 less.
Back in Singapore's new car market is the 308's corporate cousin, the Citroen C4. The C4 uses the same 1.2-litre drivetrain as the 308, but is claimed to be slightly more powerful and economical. The C4 promises to be comfortable as well.
Will the Golf outshine its competition yet again? Or will either of these French contenders put it in the shade for once? Keep reading to find out.
---
The Volkswagen Golf's main disadvantages in this contest against the two French rivals are its comparatively low power and ungenerous equipment (for instance, it has halogen headlights, while the C4's are HID and the 308 uses LED).
But the lack of ponies is compensated by the rapid-shifting dual-clutch gearbox, which gives the Golf the quickest pick-up. And while its cabin is the most basic, it's still the most spacious of the bunch.
The Citroen C4's friendliness towards its driver (or drivers) is its most appealing trait. The instrumentation and ergonomics are excellent, while the cushy seating is great for short and long rides alike.
The C4 is also a good "shopping trolley", thanks to its multi-item cargo hold. Too bad its rear cabin is relatively impractical.
Even more appealing than the C4 and Golf is the Peugeot 308. We like its stylish exterior and designer cockpit, but dislike how the funky steering wheel blocks some part of the instrument panel, no matter how you adjust the wheel and your driving position.
The 308 would have been the clear winner in this comparo, if not for its much higher sticker price. At press time, the Peugeot hatchback costs almost $19k more than the C4 and $14k more than the Golf.
---
Volkswagen Golf 1.2 (A)
DRIVETRAIN
Type    Inline-4, 16-valves, turbocharged
Capacity    1197cc
Bore x stroke    71mm x 75.6mm
Compression Ratio    10.5:1
Max power    110bhp at 4600-5600rpm
Max torque    175Nm at 1400-4000rpm
Power to weight    89.5bhp per tonne
Gearbox    7-speed dual-clutch with manual select
Driven wheels    Front
PERFORMANCE
0-100km/h    10.2 seconds
Top speed    192km/h
Consumption    20km/L (combined)
CO2 emission    115g/km
SUSPENSION
Front    MacPherson struts, coil springs, anti-roll bar
Rear    Multi-link, coil springs, anti-roll bar
BRAKES
Front / Rear    Ventilated discs / Discs
TYRES
Type    Pirelli Cinturato P7
Size    205/55 R16
SAFETY
Airbags    7
Traction aids    ABS, ESP
MEASUREMENTS
Length    4255mm
Width    1799mm
Height    1452mm
Wheelbase    2637mm
Kerb weight    1229kg
Turning circle    10.9m
BUYING IT
Price incl. COE    $105,800 (after $10k CEVS rebate)
Warranty    3 years/100,000km
+ Roomiest cabin, cleverly maximised boot, most refined powertrain
– Sombre cockpit, fairly basic hi-fi system, shorter warranty than the rest
BEST IN OCCUPANT SPACE
---
Citroen C4 1.2 (A)
DRIVETRAIN
Type    Inline-4, 16-valves, turbocharged
Capacity    1199cc
Bore x stroke    75mm x 90.5mm
Compression Ratio    10.5:1
Max power    130bhp at 5500rpm
Max torque    230Nm at 1750rpm
Power to weight    104.8bhp per tonne
Gearbox    6-speed automatic with manual select
Driven wheels    Front
PERFORMANCE
0-100km/h    11.5 seconds
Top speed    197km/h
Consumption    20.4km/L (combined)
CO2 emission    113g/km
SUSPENSION
Front    MacPherson struts, coil springs
Rear    Torsion beam, coil springs
BRAKES
Front / Rear    Ventilated discs / Discs
TYRES
Type    Michelin Energy Saver
Size    205/55 R16
SAFETY
Airbags    6
Traction aids    ABS, ESP
MEASUREMENTS
Length    4239mm
Width    1789mm
Height    1523mm
Wheelbase    2608mm
Kerb weight    1240kg
Turning circle    10.8m
BUYING IT
Price incl. COE    $100,988 (after $10k CEVS rebate)
Warranty    5 years/100,000km
+ Most impressive efficiency, highly competitive pricing, most flexible boot
– Least practical backseat, narrowest front seats, still a manual handbrake
BEST IN DRIVER-FRIENDLINESS
---
Peugeot 308 1.2 (A)
DRIVETRAIN
Type    Inline-4, 16-valves, turbocharged
Capacity    1199cc
Bore x stroke    75mm x 90.5mm
Compression Ratio    10.5:1
Max power    129bhp at 5500rpm
Max torque    230Nm at 1750rpm
Power to weight    112.2bhp per tonne
Gearbox    6-speed automatic with manual select
Driven wheels    Front
PERFORMANCE
0-100km/h    10.7 seconds
Top speed    200km/h
Consumption    19.2km/L (combined)
CO2 emission    119g/km
SUSPENSION
Front    MacPherson struts, coil springs, anti-roll bar
Rear    Torsion beam, coil springs, anti-roll bar
BRAKES
Front / Rear    Ventilated discs / Discs
TYRES
Type    Michelin Pilot Sport 3
Size    225/45 R17
SAFETY
Airbags    6
Traction aids    ABS, ESP
MEASUREMENTS
Length    4253mm
Width    1804mm
Height    1472mm
Wheelbase    2620mm
Kerb weight    1150kg
Turning circle    10.4m
BUYING IT
Price incl. COE    $119,900 (after $10k CEVS rebate)
Warranty    5 years/100,000km
+ Sportiest-sounding motor, most elegant interior, biggest boot
– Odd dashboard orientation, least comfortable backseat, highest price
BEST IN DESIGN
---