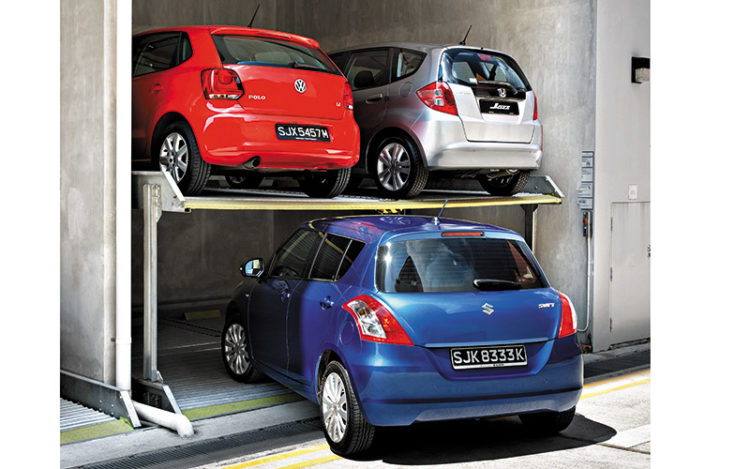 Packing the most efficient drivetrain in this contest sounds like a winning factor, but only when it is combined with flexibility and nippy handling. The Polo ticks the efficiency box, but its compact cabin and relaxed performance fall short of the expectations of fussy supermini buyers. This makes the price tag (five figures dearer than its two rivals) difficult to swallow, especially when the immediate competition is able to offer more for much less.
Despite being more frugal than before and featuring an improved cabin of a standard easily a notch above its opponents', the new-generation Swift still lacks the practicality and adaptability of the segment's other top gun – the Jazz. The good news, however, is that the Swift's humble power output and dated gearbox do not adversely affect its fun-to-drive nature.
Emerging ahead in this contest and retaining its unofficial title as Singapore's favourite supermini is the Jazz. With an interior that is as versatile as it is spacious, the loveable Honda can be configured to provide an array of seating and storage requirements that would leave its rivals fumbling. Combined with its tiny yet punchy motor, it's easy to see why the Jazz remains such a tough package to beat.
---
Volkswagen Polo 1.4 (A)
DRIVETRAIN
Type Inline-4, 16-valves
Capacity 1390cc
Bore x stroke 76.5mm x 75.6mm
Compression ratio 10.5:1
Max Power 85bhp at 5000rpm
Max Torque 132Nm at 3800rpm
Power to weight 82.6bhp per tonne
Gearbox 7-speed dual-clutch
Driven Wheels Front
PERFORMANCE
0-100km/h 11.9 seconds
Top Speed 177km/h
Consumption 17.2km/L (combined)
SUSPENSION
Front MacPherson struts, coil springs
Rear Torsion beam, coil springs
BRAKES
Front / rear Ventilated discs / Discs
TYRES
Type Goodyear DuraGrip
Size 185/60 R15
SAFETY
Airbags 2
Traction Control ABS with ESP
MEASUREMENTS
Length 3970mm
Width 1682mm
Height 1462mm
Wheelbase 2470mm
Kerb Weight 1029kg
Turning Circle 10.6m
BUYING IT
Price $105,300 incl. COE
Warranty 3 years/100,000km
+ Economical engine, quick-shifting transmission, pliant ride
– Plain-looking cabin, hi-fi system lacks punch, snug rear seat
---
Honda Jazz 1.3 (A)
DRIVETRAIN
Type Inline-4, 16-valves
Capacity 1339cc
Bore x stroke 73mm x 80mm
Compression ratio 10.5:1
Max Power 100bhp at 5000rpm
Max Torque 127Nm at 4800rpm
Power to weight 94.3bhp per tonne
Gearbox 5-speed automatic with manual select
Driven Wheels Front
PERFORMANCE
0-100km/h 11.3 seconds
Top Speed 170km/h
Consumption 14.9km/L (combined)
SUSPENSION
Front Macpherson struts, coil springs
Rear Torsion beam, coil springs
BRAKES
Front / rear Ventilated discs / Discs
TYRES
Type Dunlop SP Sport 2030
Size 185/55 R16
SAFETY
Airbags 2
Traction Control ABS
MEASUREMENTS
Length 3900mm
Width 1695mm
Height 1525mm
Wheelbase 2500mm
Kerb Weight 1060kg
Turning Circle 10.4m
BUYING IT
Price $92,900 incl. COE
Warranty 5 years/unlimited mileag
+ Roomy multi-function cabin, strong motor, accurate steering
– Widespread use of hard plastics, engine is rough at high revs
---
Suzuki Swift 1.4 (A)
DRIVETRAIN
Type Inline-4, 16-valves
Capacity 1372cc
Bore x stroke 73mm x 82mm
Compression ratio 10:1
Max Power 95bhp at 6000rpm
Max Torque 130Nm at 4000rpm
Power to weight 91.8bhp per tonne
Gearbox 4-speed automatic
Driven Wheels Front
PERFORMANCE
0-100km/h 12.3 seconds
Top Speed 165km/h
Consumption 16.1km/L (combined)
SUSPENSION
Front Macpherson struts, coil springs
Rear Torsion beam, coil springs
BRAKES
Front / rear Ventilated discs / Discs
TYRES
Type Bridgestone Turanza ER300
Size 185/55 R16
SAFETY
Airbags 6
Traction Control ABS
MEASUREMENTS
Length 3850mm
Width 1695mm
Height 1510mm
Wheelbase 2430mm
Kerb Weight 1035kg
Turning Circle 10.4m
BUYING IT
Price $94,500 incl. COE
Warranty 5 years/100,000km
+ Great build quality, pleasing engine note, nimble handling
– Outdated gearbox, small boot, narrow rear view mirror
---