If you have been following the news last week, you are probably feeling a bit sad.
Electric cars, electric vehicles and charging points are on everyone's minds. The Government is trying to encourage the adoption of EVs by lowering taxes, too.
All this is great news for the environment and our health, but it also meants the end of the internal combustion engine (ICE) is drawing even closer. After all, it has been painted as the enemy.
But we have some ways to go before motorists adopt EVs en masse. That turning point will be when you no longer need to think of where to go to charge your car.
But before that day arrives, petrolheads still have cars like this Mercedes-AMG GLA45 S, which loudly (and proudly) celebrate our passion for high-octane performance.
THE ULTIMATE GLA
If the GLA200 is the entry point to the range, then the Mercedes-AMG GLA45 S 4Matic+ (what a mouthful) sits right at the top of it.
Powered by the world's most powerful production 4-cylinder engine, the GLA45 S is the quickest and most muscular GLA model Mercedes-AMG has ever made.
It certainly looks the part, too. A big grille with vertical fins dominates the front end, along with larger air intakes. The standard 20-inch wheels accommodate big brakes – 360mm in front and 330mm in the rear.
At the rear, the quad-exhausts, along with an AMG-specific apron and larger roof spoiler, signal this SUV's performance to other drivers. The lower ride height makes the GLA45 S look even more athletic, too.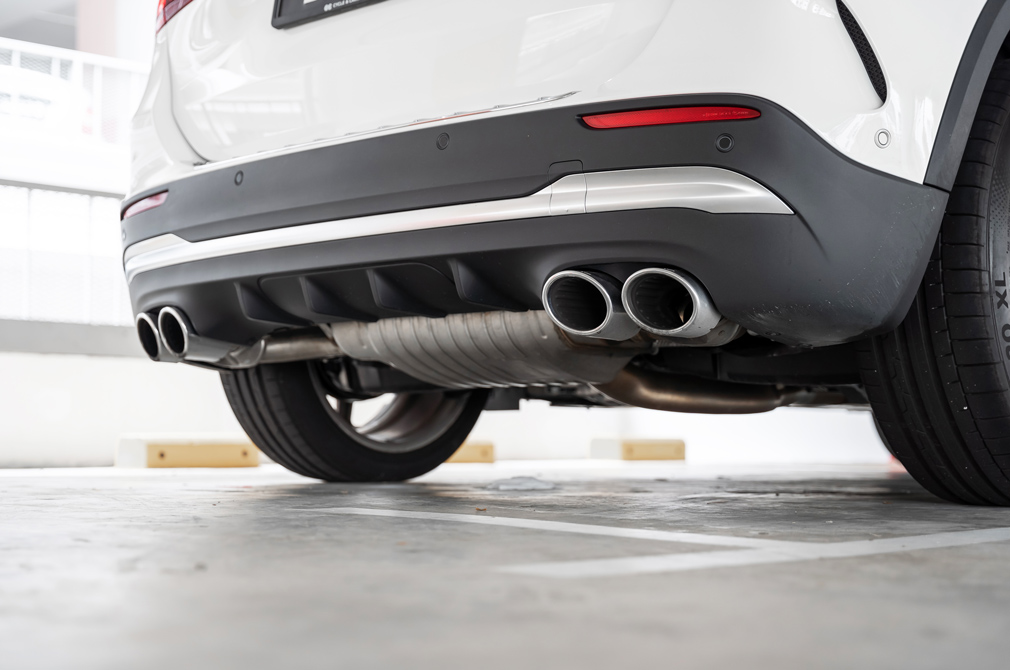 MERCEDES-AMG GLA45 S – RACY INTERIOR
The designers have done right by enthusiasts here. AMG Performance (bucket) seats, two-tone leather, alloy pedals and AMG-specific instrument panel displays are all standard.
You also get a chunky AMG-specific steering wheel finished in Nappa leather. It has Dinamica microfibre inserts to improve grip. The steering wheel also has AMG buttons with pictograms on them, and a handy drive mode selector knob.
Other AMG goodies include a Track Pace application, three-stage ESP, AMG Dynamics and AMG Ride Control suspension, which has three-stage adjustable settings.
There is a lot of scope for customisation here, but it will also take a lot of time to explore all the options through the numerous menus.
It's a lot easier to just tweak the Individual driving mode to your liking, until there's a chance to take the Mercedes-AMG GLA45 S to a racetrack.
READY TO ROCK N' ROLL
As a "full-fat" AMG model, the GLA45 S' engine is built by a single engineer.
This turbocharged unit is the beefiest production 4-cylinder ever produced, cranking out 421hp and 500Nm. These figures are sent to the wheels through Mercedes' own 8-speed dual-clutch gearbox.
Fire up the motor and it wakes up with a purposeful deep growl, telling the driver that it is ready to conquer (or tear up) any road it is pointed at. Modulating the power is surprisingly easy at low speeds. There is no jerkiness in the delivery.
Put the hammer down and the Mercedes-AMG GLA45 S bellows angrily, whipping its tachometer needle to the right and turning the scenery from the side windows into a blur. The SUV rockets to 100km/h in just 4.3 seconds.
The 4Matic+ all-wheel-drive system is fully variable, which helps optimise traction. When the engine pushes out this much power, harnessing it to do your bidding is even more important.
The Mercedes-AMG GLA45 S is an SUV you can have fun in. Of course it will respond even better to finessed inputs. But you can be ham-fisted here and still have a lot of fun.
Brake late and chuck it into bends, and the GLA45 S happily complies, aided by the grip from its tyres and suspension. Stomp on the accelerator mid-corner and the various electronics work their magic, enabling you to lay down the power in a linear manner.
In short, you feel like a hero behind the wheel.
NOT AS ANTI-SOCIAL AS EXPECTED
Surprisingly, the GLA45 S rides reasonably well even in its sportiest setting. Of course, this is better suited to track days or very smooth surfaces, but it is still impressive. For regular road use, the Sport setting for the dampers is fine.
AMG models are known for their raucous soundtracks, and the Mercedes-AMG GLA45 S is no exception.
The volume, however, has been tempered compared to its predecessor. While the older SUV used to deliver an almighty "crack-bang" when you shifted up at high rpms, this is no longer the case.
So, your neighbours will not be woken up when you leave early or arrive home late. This sounds less fun, but it's actually good. Irate neighbours will result in the Traffic Police and/or LTA taking a sudden interest in patrolling your estate.
The GLA45 S is quicker and more powerful than before, and sounds just as good without causing too much of a ruckus.
It may be an SUV, but models like these nevertheless cater to enthusiasts who still love the smell of petrol, and the ponies produced by its combustion.
Consider one if you're in the market for a high-performance compact SUV. Because one day, all your options are probably going to be electric-only.
---
Mercedes-AMG GLA45 S 4Matic+ 2.0 (A)
ENGINE     1991cc, 16-valves, inline-4, turbocharged
MAX POWER     421hp at 6750rpm
MAX TORQUE     500Nm at 5000-5250rpm
POWER TO WEIGHT     238.5hp per tonne
GEARBOX     8-speed dual-clutch with manual select
0-100KM/H     4.3 seconds
TOP SPEED     270km/h
CONSUMPTION     10.6km/L (combined)
PRICE INCL. COE     From $311,888 (after $20k VES surcharge)
AGENT     Cycle & Carriage Industries
---
Click here to find out more about the Mercedes-Benz range in Singapore
Read our review of the Mercedes-AMG GLB35 here
Or head here for our Mercedes-AMG CLA45 S review