Some might label them as underachievers, but I think that there's a certain dignity in the way Renault chooses to sprinkle its F1 fairy dust on only a select few models while the rest of its range couldn't be less sporty.
That's more than can be said for brands like Audi, Mitsubishi and Subaru, which unabashedly flog their rally heritage to tenuous lengths across all their models – years or even decades after they have stopped rallying competitively.
The Renault Megane 1.6 auto tested here, on the other hand, couldn't be further from the French car maker's F1 hoopla even if it tried.
Positioned at the opposite end of the performance spectrum from the sparkling new Renault Megane RenaultSport, the garden-variety five-door hatchback shows the remarkable depth of character that the latest Renault Megane model offers.
While the 2-litre turbo RenaultSport darts about like a proper hot hatch should, progress in the 1.6 happens with all the urgency of a cognac master distiller reducing the alcohol content of a 30-year-old cask from 115 proof to 90 proof.
In case you were wondering, the process takes two years. This also feels like the amount of time it takes for the mainstream Renault Megane to reach 100km/h.
Also just like a rare artisan cognac, the Renault Megane 1.6 is perhaps even more exclusive than the RenaultSport variant.
Apparently, there aren't many other markets besides Singapore where the combination of an automatic gearbox with a normally aspirated 1.6-litre petrol engine is in demand. So this car is something of a bespoke model.
Actually, a 4-speed automatic is also getting increasingly uncommon these days, even in Singapore where the Category A segment is seeing a proliferation of cars from Japan, Korea, Thailand, South Africa and Europe with five, six or even seven forward ratios, whether in a dual-clutch set-up or simulated in a CVT.
To prefer an ordinary 4-speed autobox these days is akin to saying: "I'd rather have leeches instead of antibiotics."
At least Renault makes a concession towards lowering fuel consumption by fitting cruise control as standard.
Those who love French cars for their quirks disguised as character traits will find them in the new Renault Megane, whose cruise control switch is curiously placed near the central armrest while the speed set, cancel and resume buttons are on the steering wheel.
Other party tricks on board include truly keyless operation, where walking away with the key card in your pocket or bag is all it takes to lock the car.
As with any recent Renault, the Megane comes with a raft of safety features such as multiple airbags and crumple zones, as well as impeccable Euro NCAP credentials.
Inside the cabin, the build quality of the Renault Megane has improved by leaps and bounds over the previous model. Most surfaces feel good to the touch, and the climate control panel has classy graphics and a dual-zone function.
Even the driver's instrument cluster has a chic simplicity to the layout of the gauges.
The exterior styling, however, is more anonymous than before, as Renault's designers this time have taken a safer design approach after the last Renault Megane hatchback polarised opinion with its controversial backside.
The Renault Megane may be a bit lighter than its predecessor, but it feels even less lively to drive.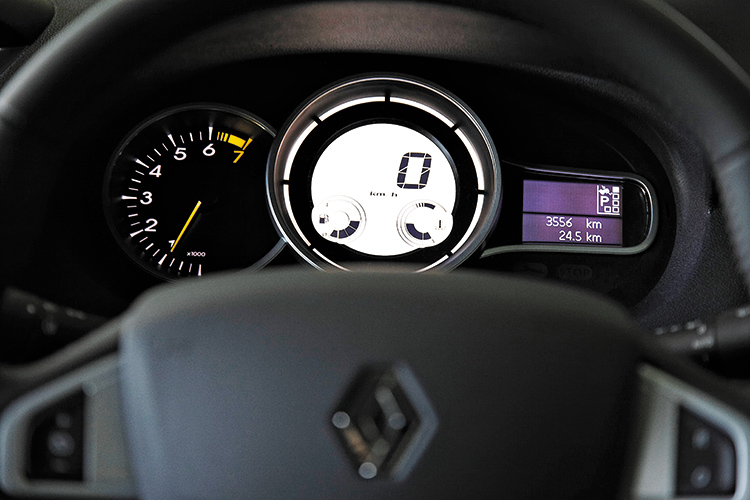 While some might welcome a more relaxed driving pace, a lack of acceleration could leave you languishing in the overtaking lane and expose yourself to fast-approaching vehicles.
While it's unfair to place any performance aspirations on the regular Renault Megane, it still manages to disappoint on the road even with lowered expectations on my part.
That said, perhaps it is the Renault Megane's impressive ability to keep external noises out that is the main reason behind the perceived lack of pace.
Look ahead without looking at the speedometer and get up to what you might feel is a comfortable pace on the expressway, then glance at the instrument panel and you'll find the needle pointing way past the three-figure mark.
So, the Renault Megane makes sense as a long-distance cruiser, but reaching that cruising speed feels like it takes forever.
Hopefully, this newcomer sells faster than it drives. Its keen pricing should help – this viable Golf rival goes for Polo Sport money in Singapore.
---
Renault Megane 1.6 (A)
ENGINE     1598cc, 16-valves, inline-4
MAX POWER     105bhp at 6000rpm
MAX TORQUE     145Nm at 4250rpm
GEARBOX     4-speed automatic with manual select
0-100KM/H     13.9 seconds
TOP SPEED     180km/h
CONSUMPTION     13.3km/L (combined)
PRICE INCL. COE     $87,888 (as of October 2010)
---
Check out the latest Megane Sedan, Megane GT and Megane RS
Group Test: Renault Megane Sedan Privilege 1.5 vs Volkswagen Jetta Sportline 1.4