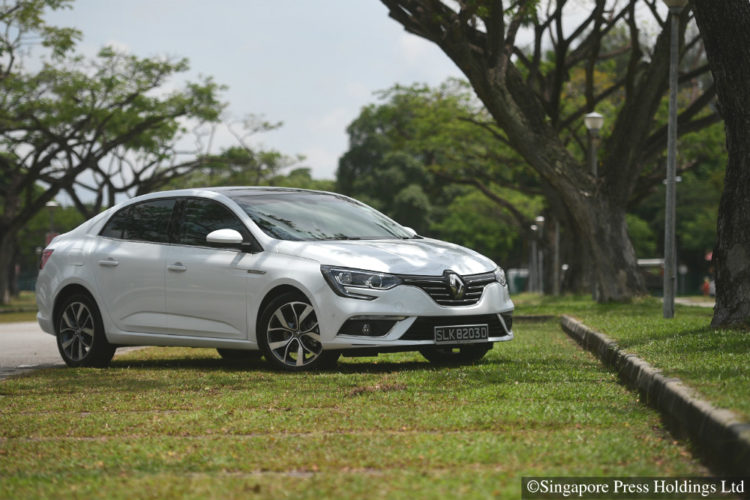 The new Renault Megane Sedan is like that stunning woman you spot across the room.
Beautiful hair, glowing complexion, fine features and clad head to toe in designer wear, with a tasteful application of bling that complements the sparkle in her eyes.
But when the music plays and she takes to the floor, you turn your head to the wall. Argh, where does she get those cringe-worthy moves?
Okay, the Megane is not all that bad. Its chassis, built on a new modular platform shared by Renault and Nissan, lends itself to soft, pillowy movements.
It is nice, comfy and you get to drive over humps as if they weren't there. It is a ride French cars were known for in the earlier years.
Yet, you tire of it after 20 minutes. In fact, you get a little sea-sick as the soft-sprung suspension responds to patchy road resurfacing the way a cup of jello in your hands responds to a sneeze.
To be fair, the Renault's ride characteristics are appealing if you are on a leisurely jaunt. It goes over humps with aplomb and you never feel the jarring vibrations brought on by road imperfections. The thumps are filtered out, but the soft dampers take longer to settle.
In short, it is just fine if it is not called to dance. In fact, very fine.

The car is regal, measuring 4630mm long, 1814mm wide and with a wheelbase of 2711mm, which makes it one of the biggest and most spacious sedans in its price segment.
It is also stylish, with a fresh new corporate face, C-shaped headlights with daytime-running LEDs (but halogen main lamps) and slim and elegant tail-lights highlighting its fastback-like rear.
Inside, the space it offers is between that of the Corolla and the Camry. Its 550-litre boot rivals that of the Mercedes-Benz E-Class. It is fairly rectangular, with very little intrusions, and the boot-lid has a kick opening function that actually works with just one kicking motion.
The cabin has a premium feel, even if there is no overt use of premium materials. There are plenty of cool features, such as four choices of LED ambient lighting, 12-volt outlets front and back, sunroof with rotary control, dual-zone climate control with rear vents and six airbags.
The centrepiece is a tablet-style infotainment console. The touchscreen is intuitive and logical and allows drag-and-drop functions.
And everything works brilliantly. The navigation is effortless to operate and as precise as the best out there; the reverse camera is the sharpest there is, even in low light; and the drive mode selector is easily customised.
There are apps, multimedia and phone pairing functions to please millennials (if millennials want a sedan in the first place).
Like many Renaults today, the Megane sedan is powered by a 1.5litre turbo-diesel paired with a 6-speed dual-clutch gearbox. It is not big on performance, but impressively frugal with an actual average of 20km per litre. Although its stated century timing is a sluggish 12.5 seconds, the car is eminently driveable because of its generous torque.
And at around $110,000, the Megane sedan costs about the same as the top Japanese sedans here. But on a number of fronts, it offers more bang for the buck.
---
Renault Megane Sedan 1.5 (A)
ENGINE     1461cc, 16-valves, inline-4, turbo-diesel
MAX POWER     110bhp at 4000rpm
MAX TORQUE     250Nm at 1750rpm
GEARBOX     6-speed dual-clutch with manual select
0-100KM/H    12.5 seconds
TOP SPEED    190km/h
CONSUMPTION    27km/L (combined)
PRICE INCL. COE    $109,999
---
Related story: Renault Megane Saloon review
Related story: Group Test: Peugeot 208 1.2 vs Ford Fiesta 1.0 vs Renault Clio 1.5 vs Volkswagen Polo 1.2