The little red convertible here looks like an edgier Lotus Elise, which is not far from the technical truth, but it is in fact nothing less than a veritable reinvention of the modern sports car.
It is a low-slung, high-tech driving machine that zaps the petrolhead straight into his electric future – without petrol or a cylinder head in sight.
The "engine" is still mid-mounted like the Tesla's distant relative from Britain, but it is now a three-phase AC induction electric motor, with a Power Electronics Module (PEM) on top and a battery pack ahead, which is also a structural element that adds to the already considerable stiffness of the monocoque tub.
The PEM converts and orchestrates the car's electric current, both on the move and at a standstill while charging, and its high efficiency means that less than two per cent of converted energy is lost as heat or stray voltage that could "Taser" a nearby pedestrian (just joking).
The computer-controlled batteries jam-packed behind the seats are said to have the industry's highest energy density today and were co-developed with Japanese electronics giant Panasonic.
The basic structure is hand-built at Lotus' Hethel plant and then shipped to Tesla's Silicon Valley factory, where the car is completed and delivered. The bonded and riveted extruded-aluminium chassis has been carried over from the Elise, but the Tesla Roadster Sport wears carbon fibre panels to keep the electric set-up's weight penalty to under 400kg.
It still weighs over 1.2 tonnes, which is some 30 percent heavier than the lithe Lotus.
The dimensions are dissimilar, too, with the Tesla Roadster Sport being longer, broader and a smidgen taller (by 9mm), and riding on a slightly lengthened wheelbase.
The exterior details are also very different from those of the Elise. The Tesla design is noticeably less pretty and more aggressive, thanks to an "angrier" front end, a racy rear diffuser and purposeful carbon fibre weave visible around the cockpit.
Specify black for the forged alloy wheels and Electric Blue for the paintwork, and your Tesla is ready for some Knight Rider action. Another apt colour for this ride is Lightning Green.
The way it accelerates is like greased lightning, but with neither thunder nor grease. There are no engine revs, no gear changes and no traditional mechanical hesitation before a firm flex of your right foot is "turned" into thrust, Tesla style.
The take-off is instantaneous and serious, the acceleration seamless and stupendous, with the soundtrack a nutty mix of motor whirr, wind rush and tyre roll.
This vehicle pins my back to the seat back in familiar supercar fashion, but the sensations are otherwise peculiar, like a ballistic blend of golf cart and guided missile.
This rocket kart flies from nought to 100km/h in just under 4 seconds and continues to charge relentlessly ahead (actually, "discharge" would be a more accurate description) until legalities and aerodynamics start spoiling the party.
This clean flying machine overtakes in a big hurry, too. Whether from 50km/h to 100km/h or from 80km/h to a hereby unprintable figure, the Tesla Roadster Sport despatches the overtaking task so quickly that slower traffic alongside seems to shoot backward.
All this shooting forward rapidly drains the Tesla Roadster Sport's batteries, though. A full charge is claimed to provide a range of 390 kilometres, but if you make good use of the juice from point to point, which is likely because it's a sports car and all, then in my experience it won't go much farther than 200 kilometres.
This is with the excellent air-con running, by the way. On this small island, where the typical daily mileage is around 50 kilometres, the Tesla Roadster Sport's driving range, whether theoretical or practical, is at least adequate.
But drive-away Sepang track days are out of the question – you must trailer the Tesla there and back. A couple of laps at Pasir Gudang Circuit are possible, though.
And you don't need to use the brakes much, because their regenerative function (which feeds precious kinetic energy back to the batteries every time you step on the brake pedal or lift off the throttle) is so powerful that it slows the car down almost forcefully, acting like "engine braking" but without the engine.
The Tesla Singapore manager told us that this is the reason why, even with over 500 kilometres on the clock, the test car's brake pads still look brand-new.
Handling-wise, the Tesla Roadster Sport behaves like a heavier and clumsier Elise. In corners, the still-unassisted steering is less sweet and the chassis less immediate than on the agile Lotus, but between corners, the Tesla will easily leave the British sled in its imaginary exhaust wake.
Standard Ohlins dampers, with 10 levels of adjustment (which any respectable mechanic can set), give the suspension some flexibility, but the midway setting is probably effective enough for most roads, journeys and pilots.
The cockpit should satisfy most guys, but their wives and girlfriends will swear under their breath as they involuntarily adopt pilates moves to enter the vehicle. Once inside, they will continue to curse because there is no space to stretch their limbs and no place to put their handbag.
The spartan cabin must seem like hell to the poor girl. But it is heaven for the boy in the hot seat (literally if necessary, because it comes with a bum heater), especially if he is also a gadget freak. The carbon fibre is obvious and glorious, the centre console's "PRND" buttons light up like a Star Trek flight deck and there are two colourful touch-screens to play with.
The higher, larger rectangular display is an Alpine multimedia system that plays the usual digital files, hooks up to your iPod (ideally loaded with MP3s of classic hits by rock band Tesla), and links with the reverse camera to facilitate parking.
Audio quality is acceptable, but you don't buy a raw roadster to listen to the stereo. Way cooler than any hi-fi is the smaller, squarish 7-inch display below the air-con controls, because it is the driver's self-service interface for the Tesla's terrific electric drivetrain.
A user-friendly variety of graphs, graphics and alphanumerics present a wealth of driving data that makes for great reading. The intriguing information that can be tracked and called up includes the fuel saved by driving electrically (in gallons of gasoline "unburned"), the energy use history (nett power employed and regenerated, for the day and for the month to date), and a record of recent charge sessions.
A built-in accelerometer measures both peak and real-time torque, horsepower and g-force, while an Economy mode dampens the "engine" to maximise the range, although it remains punchy.
Activate the Performance parameter and the watermelon-sized electric motor produces maximum possible juice all the way, but what you happily gain in smiles per hour, you will lose heavily in miles per kilowatt-hour.
Certain features of the Tesla's clever on-board computer are similar to those in a conventional petrol car, but with an electric twist. The range-to-empty indicator, for instance, provides two different figures: "ideal", if your driving is gentle; and "est" (estimated), if your driving is mental and your inner Energizer Bunny is on hyperdrive.
There is also a temperature gauge, like in a normal petrol vehicle, but the Tesla device shows separate cool/hot readings for the motor, battery pack and PEM, using a seven-bar scale that resembles something out of a B-grade sci-fi flick.
Keeping those critical components in the safe temperature range are ordinary radiator fans in the nose and proprietary propylene-glycol cooling tubes in the battery housing.
The 6831 lithium-ion cells, which have an expected lifespan of seven years, weigh a total of 449kg and store 56kWh of electricity, making them more energy-dense than all other battery packs currently in the EV business, except the unit in Daimler's electric Smart – which is supplied by Tesla.
The company has also tied up with Toyota to electrify some of its models for mass production.
The Tesla Roadster Sport is certainly not transport for the masses. Only the well-off few can afford its $490k price and own the landed property to make "refuelling" less of an issue.
It takes 16 hours to recharge fully from empty using a standard 240V household outlet, with the optional fast-charger system ($3000 for the high-power connector plus another $4000 for the home installation and $1000 for professional labour) reducing this downtime to a mere four hours.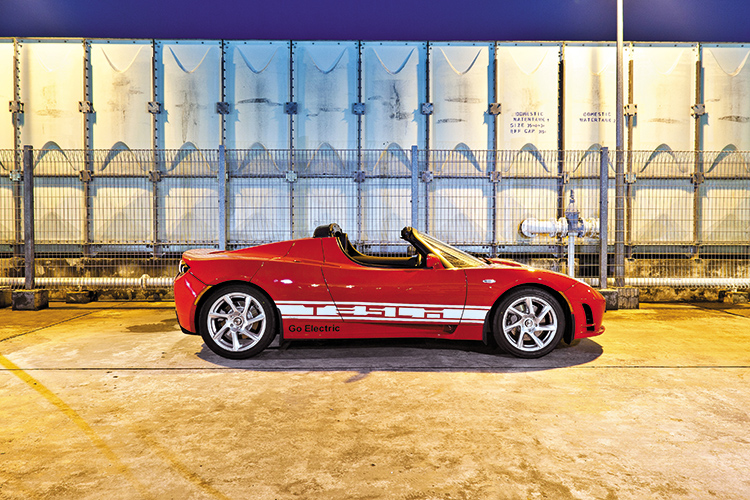 Like a laptop on wheels, you can charge the car anytime and wherever there is a convenient three-pin wall socket, with every minute's plug-in adding 250 metres or so of range. The Tesla Roadster Sport's equipment in Singapore includes a sturdy, nearly 5.5-metre mobile charging cable that fits easily in the boot.
Pumping a full load of kilowatts into the Tesla will add around $13 to your domestic electricity bill, which translates to roughly 3.3 cents per kilometre if you drive conservatively and double that if you drive crazily.
This is massively cheaper than running any petrol-powered supercar with similar accelerative ability and also far more eco-friendly, with zero tailpipe emissions and none of the inefficiencies of internal combustion.
Futuristic, fantastic and quick, the Tesla Roadster Sport is truly a wild electric shock for the brave enthusiast. I want one.
---
Tesla Roadster Sport (A)
ENGINE     375V, AC induction electric motor, air-cooled
MAX POWER     215kW (288bhp) at 4400-6000rpm
MAX TORQUE     400Nm at 0-5100rpm
GEARBOX     Single-speed
0-100KM/H     3.9 seconds
TOP SPEED     212km/h
CONSUMPTION     Not applicable
PROVISIONAL PRICE INCL. COE     $490,000 (as of December 2010)
---
What is the difference between a hybrid, plug-in hybrid and electric car?