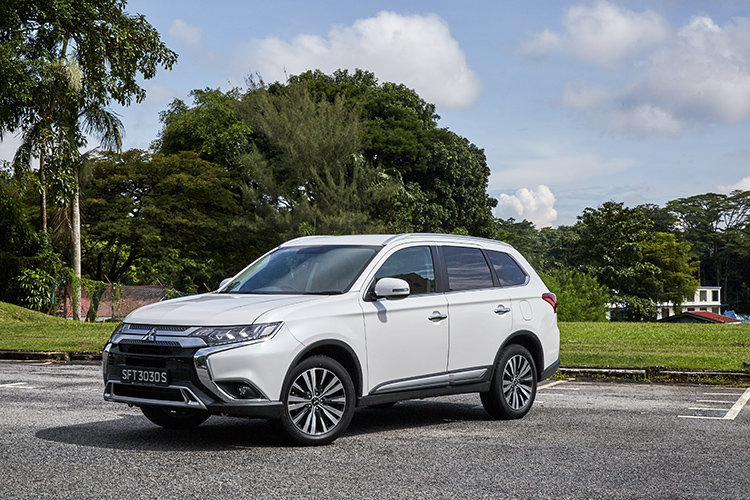 The Mitsubishi Outlander is a car which needs no introduction to families in Singapore seeking a large, relatively affordable seven-seater.
At $109,999 after dealer discounts, it's one of the more affordable large SUVs around if you absolutely need the seating and carrying capacity but have already spent the money redecorating your BTO flat.
If you had $30k less to spend, you could get the Grab driver-favourite Toyota Sienta, but its 1.5-litre, 105hp engine needs some goading, and Renault's handsome Grand Scenic is still $6k dearer even after subsidies.
For the 2019 model year, the Outlander has gotten a second Botox injection, with good results.
Group Test: Toyota Harrier 2.0 versus Mitsubishi Outlander 2.4
Up front, a new twin-blade grille with honeycomb plastic insets top and bottom now forms Mitsubishi's new "Dynamic Shield" design, which sits between two DRL-equipped headlights and atop a redesigned lower front fascia.
New 18-inch alloys spruce up the car's side profile and overall, the design tweaks mean the Outlander's countenance has now matured to become more handsome, striking and coherent, even if the chrome surrounding the front bumper is a bit much.
Inside, the Outlander has retained its cavernous space – headroom is plentiful in every seating section.
The driver and passenger get acres of legroom, and drivers of this somewhat-land yacht will appreciate the good all-round visibility when you're trying to dock, sorry, park it.
The front seats are now electrically adjustable, and an electric parking brake greets your fingertips when you finally do park the Outlander, which has rear parking sensors fitted, but no front ones.
The middle is where the Outlander shines. Second-row passengers now get twin air-con vents to cool off (sorry third-row folks, still no air-con vents for you) while enjoying the well-padded and comfortable seats, and the large windows will placate children on long journeys.
The third row is best for carrying children. Headroom is adequate for this 1.78m-tall writer, but legroom is at a premium even if you move the second row forward.
With all seats up, the 591 litres of boot space is more than enough for a week's shopping. If you head to Ikea, you can expand that space by folding both the second- and third-row seats flat.
Infotainment in the Outlander is best described as serviceable – the speakers get plenty loud and the screen does what you need it to, but overall, it's slow to respond and the icon arrangement is confusing.
There is satellite navigation, but when you load that up, the graphics take on an inexplicably low-resolution appearance. It's best to just use your phone to navigate, since both Android Auto and Apple CarPlay are available.
Under the hood, the 2-litre 4-pot still puts out 148hp and 190Nm of torque. A little lesser than what a car this size needs but enough for daily driving duties, though it might struggle with all seven passengers aboard.
The engine is mated to a new INVECS-III continuously variable transmission (CVT), which is good for fuel economy but not the first choice for spirited driving.
The motor is comfortable pootling along at cruising speed but sink the accelerator deeper into the floor mat and it takes on a gruff tone, upset that you're trying to make it do more, before giving you the power you need.
Expressway jaunts are a joy thanks to the quiet cabin and soft ride, but hit a bump (like an expansion joint) and the resulting shimmy tells you the Outlander doesn't like being pushed hard.
And its nature is such. The soft and pillowy ride translates to the Outlander's unhurried nature, shoring up its family-car status.
Overall, the Mitsubishi Outlander can rest easy, knowing that its price-to-space ratio is unmatched by anything else in this category.
Niggles with its infotainment system and soft ride aside, there's nothing outlandish about this car, and with its new facelift, shows why the Outlander continues to be a firm favourite with Singaporean families.
---
Mitsubishi Outlander 2.0 (A)
ENGINE     1998cc, 16-valves, inline-4
MAX POWER     148hp at 6000rpm
MAX TORQUE     190Nm at 4200rpm
POWER TO WEIGHT     100hp per tonne
GEARBOX     CVT with 6-speed override
0-100KM/H     12.1 seconds
TOP SPEED     180km/h
CONSUMPTION     14.1km/L
CO2 EMISSION     164g/km
PRICE INCL. COE     $121,999 (after $10k VES surcharge)
---