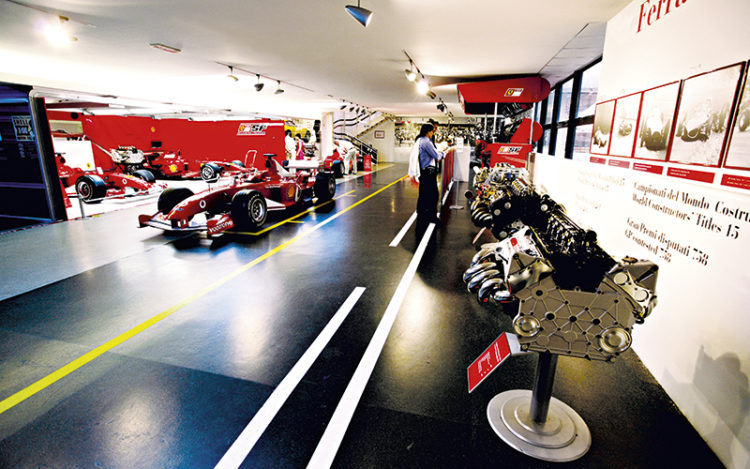 A lot can happen in five years. The United States ushered in its first African-American president, Kimi Raikkonen's F1 fortunes turned, and Justin Bieber was (unfortunately) scouted by Usher. But motorheads can rest assured that nothing much has changed at their paradise on earth, Maranello. For the uninitiated, the northern Italian town is home to Ferrari SpA, maker of arguably the sexiest and most desirable cars in the world.
Maranello is famed for one thing, and one thing only; you immediately sense it when you cruise past the heart (or centro) of town – every business here is decorated with something related to Ferrari. You probably couldn't get a business licence if you didn't follow this tradition. For this petrolhead, the first order of business is to fuel my need for "scarlet" speed, and there's indeed plenty of Ferrari-fast food for the horsepower-hungry soul.
CREATING DREAMS
Let's break Maranello down roughly into two areas – the one that's owned by Ferrari, and the other that isn't. For anyone hoping to catch a glimpse of where Ferraris are made, sorry – it's not possible, unless you're an owner and have made special arrangements with your local dealer, or you're some journo doing a story (like yours truly). So, you have to take my word for it when I tell you that the Ferrari factory has undergone a thorough revamp – most of it indoors and out of public sight.
Five years ago, it was already an impressive facility. If you were expecting mind-numbing noise, unbearable heat and the overbearing smell of paint or smelting, you'll be in for a surprise. Everything here seems to go about silently, save for the occasional Enzo or F12 that rumbles through the lusciously green complex.
What's more impressive is on the inside. For starters, Ferrari has invested 50 million euros in a state-of-the-art production line dedicated to making turbocharged V6 engines. Calm down… None of these 6-cylinder powerplants is meant for any Ferrari supercar, but to be supplied to sister firm Maserati for its Quattroporte, Ghibli and Kubang models. All the engines are placed on an automated assembly line, but everything is still painstakingly put together by hand to ensure top-notch craftsmanship.
Moving further down, there's the manufacturing area for brand-new Ferraris. On the first floor, you'll see the V8 line where 458 Italias and Spiders are made, plus the newly added V12 line where the FF and F12 are built.
There's no time for the workers to slack off or sip on espresso in here. Each station is given 20 minutes before a nagging buzzer rings and the long train of robots progresses the unfinished vehicle to the next station. Everything is done with a precision that is more synonymous with Germany than Italy. I am told that tools are put down at exactly 5pm and work continues the next morning at 8am sharp. This means that only eight V12 Ferraris leave the factory every day.
SELLING DREAMS
As you make your way westwards, the buildings start to look more, um, traditional. This is the old quarters of the factory, where the red-bricked building is a favourite photo subject for visitors to Maranello, probably because it's just across from the Ferrari Store.
In line with the brand's latest strategy to cut production by at least four percent to below 7000 units this year, Ferrari has placed greater emphasis on merchandising, in addition to supplying more engines to its Maserati stablemate. Ferrari's very first, and now flagship, memorabilia shop has been vastly expanded to occupy what used to be the supermarket (where thirsty tourists bought their supply of Acqua Panna).
The selection is impressive – from stationery bearing the famed Prancing Horse emblem to red T-shirts proudly wearing the yellow shield logo of the Scuderia F1 team. Be sure to check out Ferrari Pr1ma, a newly introduced 100 per cent made-in-Italy fashion line targeted at the very well-heeled, with a dedicated private fitting room tucked in a quiet corner of the store. I also spot a Ferrari-themed mahjong set that would certainly interest punters from Singapore, Malaysia and Greater China.
After stocking up on jackets, mugs, shoes and whatnot, you can head out and stroll towards the Ferrari Museum (known officially as Museo Ferrari). It's hard to miss, thanks to road signs clearly pointing towards the contemporary black building adorned with a huge Prancing Horse logo.
On show now is an exhibition dedicated to the limited-edition LaFerrari called "Ferrari Supercar: Tecnica. Design. Mito." There are full-scale models of the LaFerrari from the preliminary design stage to a finished model. But don't expect to rub your bum all over the fixed-back seat of Ferrari's high-tech rocket, because visitors aren't allowed to touch
any of the exhibits.
Quick-witted enthusiasts will point out that the spanking new LaFerrari hardly qualifies as a museum piece. That's true, but there are many more glorious historical models displayed under the same roof. Powerful icons in the house include the 250 GTO, F40, F50 and Enzo, plus evocative single-seater racecars such as the 500 F2 that Alberto Ascari famously piloted to victory in the 1950s.
If you're lucky, you can hear the engine screams of Alonso and Massa's "company cars" being tested on Ferrari's private Fiorano racetrack, which lies just across the street from the museum. Follow the wondrous noise (or read the street signs) and you'll reach the circuit, its rumble strips coloured in the Formula One team's trademark red-and-yellow.
DRIVING DREAMS
For motorheads who want to have a go at driving a Ferrari while in Maranello (since they're there and all), there are at least two rental companies that offer driving experiences, which range from a ten-minute "quickie" to a two-hour "tour de force". Pushstart (www.pushstart.it), for example, sells dream drives in the 458, 599, California, F430 Spider or Scuderia, and even the race-spec 430 Challenge. You also have the audacious option to pilot a Lamborghini Gallardo or Aventador – if seeing the disgusted faces of Prancing Horse employees as you drive past in a Raging Bull is your kind of thing.
This article was first published in the July 2013 issue of Torque.
---
Ferrari Museum in Maranello expands, and opens two new exhibitions
Ferrari Land theme park in Spain opens to the public