When it comes to Aston Martins, the best-known models are perhaps the DB4 and DB5, thanks to the brand's association with the James Bond movies.
During this era, sports car manufacturers weren't obsessed with producing models that were lightweight and hunkered-down like Formula 1 racecars. Not yet at least.
In its heyday, Aston Martin was also well-known for creating luxurious, hand-made sports cars. Over the decades, the genre grew more extreme, with a focus on shedding weight and developing even more power – all in pursuit of lower acceleration times and higher top speeds.
Aston Martin tried its best to keep up with the likes of Ferrari and Lamborghini, but offering even more luxury merely resulted in additional weight. It became more and more difficult to claim that a car combined superb luxury with equally superlative performance.
But that began to change in the last decade or so, as the SUV phenomenon exploded. The trend presented a valuable opportunity for Aston Martin.
And it's not just because every other buyer wants an SUV. It's because it doesn't matter how big or heavy an SUV is – it still sells. There are no concerns with weight and weight savings.
Therefore, it is perfectly acceptable for a super-luxury, high-performance SUV to be a behemoth.
ENTER THE DBX
While Aston Martin was developing the DBX for its launch in 2020, their engineers (some from Lotus) did their best to get the fundamentals right.
They created a lightweight aluminium composite body, and placed all the heaviest components either in the middle of the SUV, mounted them as low as possible in the chassis, or both.
It may have mattered less in the 550PS DBX, but it matters a lot – and makes perfect sense – to do this in the DBX707. The carmaker touts it as the "world's most powerful luxury SUV". With 707PS (hence its name), it is no empty boast.
Beneath the bonnet is a Mercedes-AMG sourced twin-turbocharged 3982cc V8. Aston Martin says that the engine's outputs are within its operating parameters and does not require re-tooling.
Interestingly, 707PS is close to the 730PS achieved by the AMG GT Black Series.
Paired to the motor is a 9-speed planetary automatic, which has been beefed-up by replacing its torque converter with a multi-plate wet clutch. This gives added snap to the gearshifts.
The gearbox is faster than a standard automatic, but not as quick as a dual-clutch transmission (DCT). The planetary-type gearbox is robust enough to withstand 900Nm and also be used for towing, while a DCT cannot.
Clearly Aston Martin wants to make headlines. The DBX707 rockets from rest to 100km/h in a supercar-rivalling 3.3 seconds, and can reach a top speed of 310km/h.
MORE THAN MERE FIGURES
The carmaker clearly wanted to prove that the DBX707 wasn't just about lofty numbers. Perhaps it is why the model's launch was in Sardinia, Italy. The location has a combination of highways and mountain roads to test the SUV's mettle.
I was concerned at first. An SUV – instead of a coupe or sports sedan – with 700PS and 900Nm causes some trepidation.
But it didn't take long for the DBX707 to show its breeding as it tackled serpentine roads with aplomb. In spite of its 2245kg mass, it did not feel heavy at all. The remarkable agility is thanks to the steering and chassis behaving as one.
You can deploy its entire stable of horses with ease as you blast out of corners. That it is not daunting is a testament to the decisions made by the development team.
They must have spent a good deal of time getting the DBX707's chassis set-up right.
The ride, even in Sport+, was well-controlled and even borderline comfortable. This is even more impressive considering the unit I drove was shod with even larger, optional 23-inch wheels and bespoke Pirelli P Zero tyres.
I've had the pleasure of driving sports saloons with such superb suspension tuning. I'm now left wondering if I have ever come across an SUV that feels quite as sorted.
Amazingly, the triple-chambered air suspension takes the sting out of rough roads, while still offering firm damping with variable ride height to reduce pitch and roll. A vehicle this tall needs all the help it can get, so there's also a 48-volt active anti-roll system.
OTHER HANDLING MATTERS
Electric power steering has been something of an Achilles heel for sports cars for it typically leaves their helms bereft of feel.
But this is not the case in the DBX707. Engineer Andy Tolkey explained how the team tweaked the settings to enable it to mimic the tactility of a hydraulic system with the "correct" heft and proportionality in turns, helping the driver accurately direct this behemoth through difficult bends.
There is still hope in electric power steering systems – but only if engineers spend more effort in getting them right.
Helping this British Behemoth shred speed are the large carbon-ceramic brakes, measuring 420mm in front and 390mm in the rear.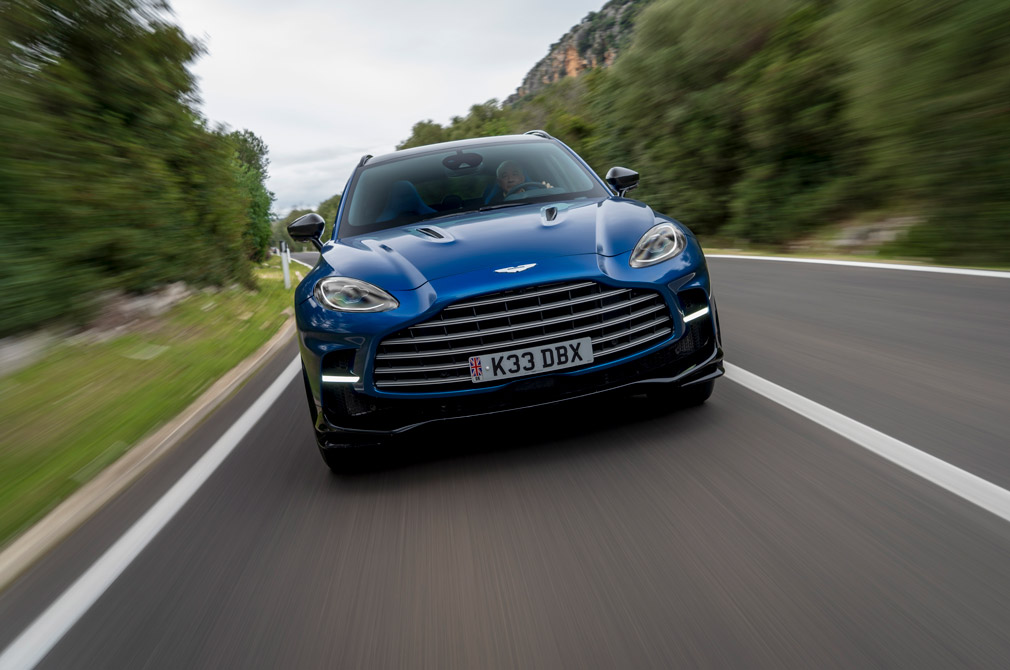 These have been revised, with optimised calliper sizes and booster characteristics, to improve pedal feel and braking response for greater driver confidence and enhanced precision.
They have certainly been well-matched to the vehicle and its mass, enabling it to stop as if it were a hot hatch.
The DBX707 is equipped with a centre differential that can direct 100 percent of the torque to the rear axle. At the rear, there is an e-Diff with lower gearing than the DBX – 3.27 compared to 3.07, improving acceleration in all gears.
A DISTINCT PROPOSITION
The DBX and DBX707 are not what traditional enthusiasts seek, but they are many buyers today want.
Indeed, the current sports car market presents challenges for Aston Martin's line-up of coupes. But in the world of SUVs, the firm has an excellent chance to rush to the head of the class.
The DBX707 combines handcrafted British luxury that rivals Bentley and Rolls-Royce, with the sportiness that Aston Martin is renowned for. Hopefully with the brand's participation in Formula 1, the DBX707 will get more recognition.
It has certainly won me over with its blend of controlled handling, blazing acceleration, superb steering, confident braking, and most importantly, everyday usability.
It works far better than it has any right to, and deftly occupies the middle ground between the refined Bentley Bentayga and the hard-riding Lamborghini Urus. And the feather in its cap is that for now at least, it is also the most powerful SUV you can buy.
---
Aston Martin DBX707 4.0 (A) 
ENGINE     3982cc, 32-valves, twin-turbocharged V8 
MAX POWER     697hp (707PS, 520kW) at 6000rpm 
MAX TORQUE     900Nm at 2600-4500rpm 
POWER TO WEIGHT     310.5hp per tonne 
GEARBOX     9-speed automatic with manual select 
0-100KM/H     3.3 seconds 
TOP SPEED     310km/h 
CONSUMPTION     7km/L (WLTP combined) 
PRICE EXCL. COE     TBA (car set to reach Singapore 2H 2022) 
AGENT     Wearnes Automotive
---
Bentley Bentayga Speed review: Driving the world's fastest SUV on track