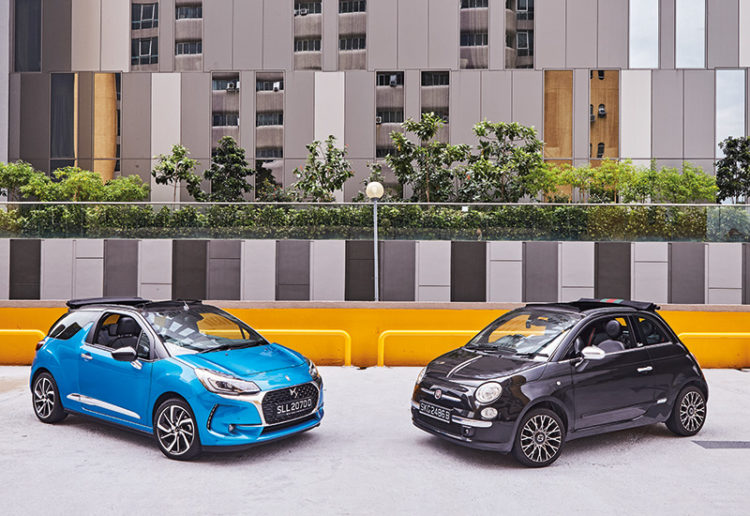 It is often said that when it comes to creating cars meant for fashion-conscious motorists, nobody comes close to the French and Italians.
The French and Italians have a flair and talent for design that other carmakers cannot match. Even MINI's handsome Convertible seems a bit ordinary when compared to the two hatchbacks gracing these pages.
Although the DS 3 Cabrio and Fiat 500C are both billed as convertibles, they are technically targas, for they can only go "topless" by sliding their cloth soft-tops rearwards, and their cabins are never fully exposed.
The newer of the two cars is the DS 3 Cabrio. DS is Citroen's standalone premium brand, launched in 2015.
In line with its upmarket positioning, the DS 3 Cabrio doesn't resemble any Citroen model. Its elegant highlights include swathes of chrome on the grille and along the flanks, plus "shark fins" along the B-pillars.
Facing off against the DS 3 is the Fiat 500C. But this is no ordinary 500C – our borrowed unit is the even funkier Gucci Edition, which has the Italian fashion brand's trademark Verde/Rosso/Verde stripe on its soft-top and "Gucci" badges on its B-pillars and tailgate.
The 500C's trump card is the fact that it hasn't aged since it was launched in 2010. If you want to attract members of the fairer sex, I daresay this hatchback's adorable design will do the job.
The 500C's circular theme continues in its cabin, which has round air-con vents and a humongous speedometer that dominates the dashboard. I particularly like the Gucci-trimmed leather seats, which reinforce the hatchback's fashionable image.
These stylish elements, however, cannot hide the 500C's age. The cockpit's most modern function, for instance, is Bluetooth in the basic hi-fi system.