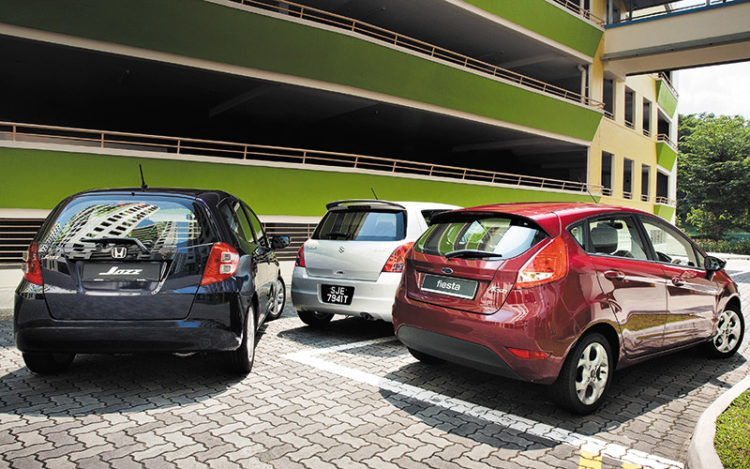 The Honda Jazz is a marvel of interior packaging that makes its competitors feel cramped. The rest of the car is similarly accomplished, with a comfortable ride, clean handling, and equipment and quality levels worthy of a class above. Unfortunately, the price, too, is from a class above. This is the Jazz's greatest weakness. It's one hell of a hatchback, but it can't quite justify costing five figures more than the competition.
The Fiesta is a fantastic way to enter the Ford fold. It's engineered properly and designed nicely, yet it's one of the most affordable Continental cars right now. It's like a European designer product without the designer pricing. The best part is the suspension, whose innate ability belies the humble position of the Fiesta at the bottom of the local Ford range.
The Suzuki Swift is the least practical of the trio, but it's the most enjoyable and thus this group test's winner. Whether accelerating hard, cornering vigorously or braking fast, the Swift plays along with gusto, seemingly soaking up the attention paid by the keen driver. This is an interim warm hatch for the young enthusiast working his way up to a Swift Sport. This is a super driving machine with a down-to-earth price. It's hopeless as a family car, yes, but as a personal vehicle for the swinging single, the Swift is sweet.
---
Suzuki Swift 1.5 (A)
ENGINE
Capacity 1490cc
Cylinder layout Inline-4
Valves 16, DOHC
Bore x stroke 78mm x 78mm
Compression ratio 9.5:1
Power 102bhp at 5900rpm
Torque 133Nm at 4000rpm
TRANSMISSION
Type 4-speed automatic
Driven Wheels Front
PERFORMANCE
Top Speed 180km/h
0-100km/h 11.7 seconds
Consumption 14.5km/L (combined)
SUSPENSION
Front MacPherson struts, coil springs, anti-roll bar
Rear Torsion beam, coil springs
BRAKES
Front Ventilated discs
Rear Discs
TYRES
Type Bridgestone Potenza RE080
Size 185/60 R15
SAFETY
ABS Yes
Airbags 2
Traction Control No
MEASUREMENTS
Length 3755mm
Width 1690mm
Height 1510mm
Wheelbase 2390mm
Kerb Weight 1050kg
Power to Weight Ratio 97.1bhp/tonne
Turning Circle 10.4m
BUYING IT
Price $56,900 incl. COE
Warranty 3 years/100,000km
+ Stylish design with a Continental feel, eager yet user-friendly handling, a lot of Japanese supermini for the money
– Limited interior space and practicality, ride can get quite noisy and bumpy, not the best outward visibility
---
Ford Fiesta 1.4 (A)
ENGINE
Capacity 1388cc
Cylinder layout Inline-4
Valves 16, DOHC
Bore x stroke 76mm x 76.5mm
Compression ratio 11:1
Power 96bhp at 5750rpm
Torque 125Nm at 4200rpm
TRANSMISSION
Type 4-speed automatic with manual select
Driven Wheels Front
PERFORMANCE
Top Speed 166km/h
0-100km/h 13.9 seconds
Consumption 15.4km/L (combined)
SUSPENSION
Front MacPherson struts, coil springs, anti-roll bar
Rear Torsion beam, coil springs
BRAKES
Front Ventilated discs
Rear Discs
TYRES
Type Goodyear Eagle LS2000 Hybrid II
Size 195/50 R15
SAFETY
ABS Yes
Airbags 2
Traction Control No
MEASUREMENTS
Length 3950mm
Width 1722mm
Height 1433mm
Wheelbase 2489mm
Kerb Weight 1101kg
Power to Weight Ratio 87.2bhp/tonne
Turning Circle 10.2m
BUYING IT
Price $65,999 incl. COE
Warranty 5 years/100,000km
+ Sophisticated exterior and interior design, great chassis that does everything well, real refinement in all driving situations
– Average cabin space and practicality, tinny doors and lightweight switches, air-con's performance in hot weather
---
Honda Jazz 1.3 (A)
ENGINE
Capacity 1339cc
Cylinder layout Inline-4
Valves 16, SOHC
Bore x stroke 73mm x 80mm
Compression ratio 10.5:1
Power (with motor) 100bhp at 6000rpm
Torque 127Nm at 4800rpm
TRANSMISSION
Type 5-speed automatic with manual select
Driven Wheels Front
PERFORMANCE
Top Speed 170km/h
0-100km/h 11.3 seconds
Consumption 14.9km/L (combined)
SUSPENSION
Front MacPherson struts, coil springs
Rear Torsion beam, coil springs
BRAKES
Front Ventilated discs
Rear Discs
TYRES
Type Dunlop SP Sport 2030
Size 185/55 R16
SAFETY
ABS Yes
Airbags 2
Traction Control No
MEASUREMENTS
Length 3900mm
Width 1695mm
Height 1525mm
Wheelbase 2500mm
Kerb Weight 1060kg
Power to Weight Ratio 94.3bhp/tonne
Turning Circle 10.4m
BUYING IT
Price $70,900 incl. COE
Warranty 3 years/100,000km
+ Incredibly roomy and versatile interior, decent all-round dynamics, bomb-proof build quality
– High price by compact car standards, tarmac and engine noise can intrude, ride still a bit bumpy in the rear
---
Related story: 2014 Honda Jazz review
Related story: Suzuki Swift Special Edition review
Related story: Group Test: Peugeot 208 1.2 vs Ford Fiesta 1.0 vs Renault Clio 1.5 vs Volkswagen Polo 1.2