A car with 299hp, 400Nm of torque and a 0-100km/h time of 6 seconds sounds damn good.
And if the car in question is a Mercedes-Benz CLS, that would sound even more attractive.
But what if I said I didn't want this car?
SAY THAT AGAIN
When I first drove the CLS350 in Barcelona, it did not even have a model designation yet. All I was told was that it had a turbocharged 2-litre engine and rear-wheel-drive.
My short, 20-minute drive in it (our group borrowed it from the Thai journalists) was loads of fun. Unlike its all-wheel-driven and more powerful CLS450 sibling, the Mercedes-Benz CLS350 was more playful.
It liked being chucked into corners and made to do improper speeds. In fact, it was cheeky. The rear end even felt a bit "loose". I felt like the car was daring you to make it step out of line.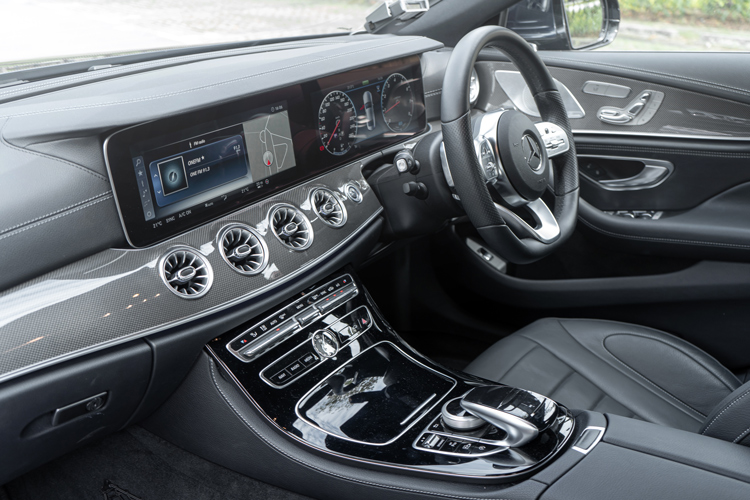 A CHANGE OF HEART
If a car is so much fun, why would I have a change of heart?
Well, it's not so much a change of heart than it is a realisation.
The CLS350 is loads of fun being flogged as you go up and down mountain roads. But I feel that a Mercedes-Benz CLS should be a potent and cossetting cruising machine. One that can take corners, but does not live for them.
HOW DOES THE CLS350 FARE IN SINGAPORE?
The Mercedes-Benz CLS350 is actually the "correct" CLS variant for Singapore. From road tax and performance perspectives, it makes perfect sense.
The 2-litre engine only attracts $1202 in annual road tax. If you had a CLS450 or CLS53, that 3-litre engine would cost $2384 annually.
As mentioned earlier, the Mercedes-Benz CLS350 with its 299hp and 400Nm is not inadequate. And the century sprint time of 6 seconds is hardly slow, too.
WHAT ABOUT EQUIPMENT?
Standard fare includes an AMG Line exterior and 19-inch AMG wheels, Multibeam LED headlights and a tyre pressure monitor.
The Mercedes-Benz CLS' interior has a definite wow factor, too. There's a gorgeous pair of 12.3-inch displays for the instrument panel and infotainment.
The ambient lighting offers 64 colours to suit your various moods. A 13-speaker Burmester audio system lets you blast your favourite tunes.
For safety, there's the Pre-Safe suite of features and seven airbags. Active Parking Assist and a 360-degree camera make parking this long saloon a bit easier.
MISSING IN ACTION
Mercedes' voice-activated digital assistant isn't present, though. And for some reason, getting Apple CarPlay to work was an inconvenient process.
Apart from enabling Bluetooth and plugging in my phone, I had to enable my personal hotspot, too. Then I had to grant the car access by keying in my passcode. Only then did it work.
In the newer Mercedes models, such as the CLA, A-Class and B-Class, CarPlay starts the moment you plug in your phone.
Then there's the issue of refinement.
On a whole, the Mercedes-Benz CLS350 is quiet. It has a pliant ride, provided you don't select Sport or Sport+.
But I'm looking at the CLS350 in the context of what the CLS means to me.
And in this regard, the CLS350's 4-cylinder engine doesn't cut it. Stand outside the car while it idles, and you'll hear it clattering.
You also need to work the engine to produce out those ponies. The 400Nm only comes in at 3000rpm. In the Mercedes-Benz CLS450, you get 500Nm from 1600rpm, or just above idle.
Working the engine also results in workmanlike vocals entering the cabin. That's something I'd rather not hear in a car costing over $340k.
Considering its luxurious character and stature, a car like the Mercedes-Benz CLS deserves six cylinders – no less. Throughout my drive, I constantly recalled the creaminess – and seamlessness – of the turbocharged 3-litre inline-6s in the CLS450 and CLS53.
WHICH SHARK?
The Mercedes-Benz CLS350 is a not a bad car per se. I love its shark-nosed design and the fact that it is well-equipped.
However, it's also the "junior shark" of the family. If you want a more playful CLS model and are okay with it being less refined, this is your ride.
But if not, then you'll find the "senior sharks" in the form of the Mercedes-Benz CLS450 and CLS53 much more satisfying.
---
Mercedes-Benz CLS350 2.0 (A)
ENGINE     1991cc, 16-valves, inline-4, turbocharged
MAX POWER     299hp at 5800rpm
MAX TORQUE     400Nm at 3000-4000rpm
GEARBOX     9-speed automatic with manual select
0-100KM/H     6 seconds
TOP SPEED     250km/h
CONSUMPTION     13km/L (combined)
PRICE INCL. COE     $341,888 (after $10k VES surcharge)
AGENT     Cycle & Carriage Industries
---
READ: Mercedes-Benz CLS450 review
READ: Mercedes-Benz A-Class Sedan review
READ: Mercedes-Benz A200 Progressive review
READ: Mercedes-Benz CLA200 review: Baby Shark