There is a new coffee joint in Tan Tock Seng Hospital. It peddles barista-style beverages at affordable prices, and has a counter connected to a corridor that every caffeine- and sleep-starved employee in this institution harries past.
It even has a simple, uni-syllabic, easy-to-declare name.
Needless to say, this shop is making a killing. Sometimes, when the recipe for success is just right, it feels so obvious you wonder why nobody else had tried it before.
The same is true for the Mercedes-Benz GLB. Premium badge, check. SUV form, check. Seven seats, check. Sub-$200k price, check. End of review, this thing will sell itself. Go buy yourself a hazelnut latte (I know just the place) and read something else.
Just kidding. You ought to know more about the GLB, so read on!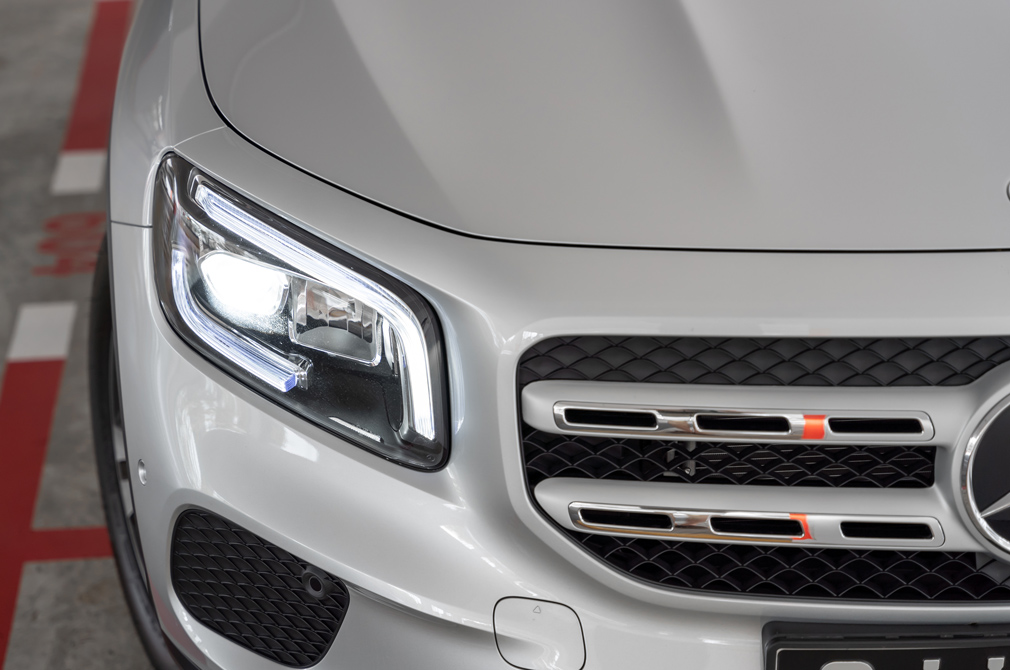 A GOOD-LOOKING MINI-SUV
The mini-SUV is not an inherently elegant type of car and so it has proved despite the sheer volume of examples ambling soullessly around the automotive marketplace.
Faux coupe forms, fooling-nobody cladding, desperate angularity. Every trick in the vehicular book has been tried by every manufacturer and yet tiny-SUV town remains an aesthetic tragicomedy.
This is not the case with the Mercedes-Benz GLB. Look at the SUV in its entirety. You may have to admit this is an excellent looking thing.
In a masterful stroke of inspiration, Mercedes seems to have hit upon an attractive, even likeable, design paradigm. Echoes of the legitimately butch Gelandewagen are unmistakable. It does not matter whether this came about by accident or not.
Never mind that it is in the manner of being the G-wagen's Gen Z, hair-gelled, vegan offspring. This fancy-schmancy city-mobile still manages to carry the family's military DNA.
I apologise for my hypocrisy in lauding an SUV over the eminently more sensible MPV style. But the GLB looks better than the "bread van" BMW 2 Series Gran Tourer.
With that, it has dusted its seven-seater competitor.
GLB HAS DESIGNER TOUCHES
The Mercedes-Benz GLB's interior wields a similar lead over its direct rival. Built on the front-driven MFA2 platform, this high-style visage was applied in similar form to the newest A-Class and GLA.
This interface impresses with its overt technological modernity, headlined by two glossy wide-screen displays through which most of the car's functions can be accessed.
With touchscreen, touch pad, and thumb-selector interactivity, there is a great amount of control redundancy that makes this system one of the industry's easiest to operate.
The industry's most ostentatious and configurable multi-hue ambient lighting setup turns the Merc GLB's insides into anything from a vodka bar to a jazz lounge.
All this pulsating razzmatazz is more than enough to distract the Mercedes customer from the hollow plastic hiding in plain sight, particularly on the lower parts of the dash and the centre console.
It should also probably be enough to make said buyer forget about the comparative material plushness of the much larger and less expensive Mazda CX-9. When in doubt, look at the steering wheel. There's that shiny star to guide our souls again.
Speaking of the CX-9, that is probably the minimum size of SUV to comfortably carry seven adults and a bit of luggage.
You can think of the Mercedes GLB as more of a 5+2. Never the mind the absence of second row air-con vents. Before every journey, you must make a choice.
Do you wish to take your least favourite children in the rearmost seats, or do you want to bring your bags? Pressed into passenger duty, the last row consumes almost the entire boot.
Still, no other compact SUV (premium or otherwise) gives you that option at all. Hence, this extra bit of people-carrying utility cannot be considered anything but a plus in the Benz's favour.
SOME POLISH REQUIRED
A car must, eventually, stop preening on the showroom floor and actually be driven. This is where the mask slips a little.
Under the handsome, squared off bonnet is Merc's new turbocharged 1.3 litre mill producing a respectable 163hp. That is enough to motivate the Merc and its five and two half occupants quickly enough, but the execution can occasionally feel uncouth.
This is an engine that tends to surge a bit, speak with an agricultural grunt, and co-operate clumsily with its 7-speed dual-clutch gearbox on step-off, especially on a wet surface.
The front wheels take some time to respond to boost that comes in a lump, often squirrelling a little before finally digging in and clawing the car off the line.
Wafting elegantly away from an inclined standstill on a rainy day is not something done easily. And winning the 50-metre dash against Professor Aggro in their 216i (for the last gap in the outer lane) is not necessarily a foregone conclusion.
Satisfaction returns once the car gets up to speed. Despite a tall and boxy stance, the GLB changes direction with surprising composure and alacrity.
It remains upright and rarely washes into unchecked body roll when harried along at the kind of speeds its family-centric owners are likely to maximally push.
Forgivingly weighted steering and excellent visibility make this car a good ally through the narrow streets around Balestier and the thronging free-for-all of Havelock Road.
DESIGNED TO COMPEL
A seven-seater Land Rover Discovery Sport may go deeper into the jungle, but the GLB has it licked for in-city wieldiness. However, the decidedly non-SUV 2 Series Gran Tourer may win a turning dogfight.
If you can ignore the motor's slightly gravelly soundtrack, the Mercedes-Benz GLB laps up, in typically fluent Mercedes fashion, the worst the PIE can throw at it.
At $187,888, the GLB is simultaneously a fantastic deal and not. It mostly feels like a "proper" Mercedes, for much less than the nearest other seven-seater premium SUV, and its five-seater GLC big brother.
The GLB's small footprint may penalise the suckers in the third row, but at all other times, the extra space allotted is a boon and a blessing. Even if you don't carry that many people often, the GLB is a better solution than a full-size SUV that runs empty most of the time.
That said, if you can snap yourself out of this premium badge hypnosis, you will find your shopping cart awash with excellence.
Rivals, such as the aforementioned CX-9 and Skoda Kodiaq, deliver more space and arguably, particularly in the Mazda's case, a lusher experience at far lower price points.
But faced with all the GLB offers, you can't, can you.
---
Mercedes-Benz GLB200 Progressive 1.3 (A)
ENGINE     1332cc, 16-valves, inline-4, turbocharged
MAX POWER     163hp at 5500rpm
MAX TORQUE     250Nm at 1620-4000rpm
POWER TO WEIGHT     104.8hp per tonne
GEARBOX     7-speed dual-clutch with manual select
0-100KM/H     9.1 seconds
TOP SPEED     207km/h
CONSUMPTION     15.6km/L (combined)
PRICE INCL. COE     From $187,888 (no VES rebate/surcharge)
AGENT     Cycle & Carriage Industries
---
Click here to find out more about the Mercedes-Benz GLB
Read our first drive of the Mercedes-Benz GLB here
GLB200 or GLB35 AMG? Two editors debate so you can decide