French automobiles have always been known for their quirky and distinct designs. A look back at the squat Citroen DS with its tapering body, or the previous-generation Renault Megane and Vel Satis hatchbacks with their "duck-tails", will easily confirm this. If a car doesn't look Japanese or German, you can almost be sure it is French.
In contrast to its aforementioned rivals, Peugeot cars have regularly sported more conventional designs that appealed to mainstream buyers instead of just "artists and designers".
Nonetheless, there is still one styling detail on Peugeots that has consistently polarised opinions: that recognisable snout at the front end adorned with the marque's lion badge.
That bit of design controversy has now been eliminated thanks to the work of its designers/plastic surgeons, who have performed automotive rhinoplasty on Peugeot's new executive contender, the 508.
In place of the "reduced" nose is a more angular face punctuated by sharp headlamps. The car's overall design is also modern (note the LED tail-lights) and cohesive, although it isn't as striking as expected by French standards.
This should nevertheless suit the 508 (which replaces both the mid-sized 407 and the larger 607 saloons) just fine. Having returned to the executive segment following a two-year absence (the 407 bowed out of the Singapore market in mid-2009), Peugeot knows that overplaying the Gallic avant-garde card would only end up deterring instead of attracting buyers.
Certain to charm the intended clientele, then, are the 508's cabin refinements. Slide into the driver's seat and you're met with a modern instrument cluster along with an LCD screen that relays average speed and fuel consumption figures.
Framing the dials is a multi-functional steering wheel, which has numerous buttons labelled for easier usage. The centre panel would have been wholly impressive if not for the audio system's dated orange display.
The good news is that the subsequent batches of 508s shipped into Singapore will eschew this in favour of a colourful 7-inch display that includes a navigation system.
Adding to the car's premium feel are the LED interior lamps and the four-zone climate control – the latter feature exclusive to the Allure variant tested here.
Rear seat occupants, who already benefit from the 2817mm wheelbase (it surpasses the 407's by 92mm), can even go as far as to select whether they want cold air directed at their faces, feet or both.
Meanwhile, the generous legroom and high ceiling, together with the retractable sunblinds, make the back seat a welcome lounge to unwind in after a long day at the office.
The 508's proportions might hint at ungainliness at first, but this initial impression is soon dispelled once you're behind the wheel. The electro-hydraulic steering is light (it does firm up slightly during expressway runs) but surprisingly precise and responsive, making it easier to manoeuvre this large saloon around town.
Contributing to the 508's lithe performance is its suspension, which delivers an adequately pliant ride while presenting composed behaviour when the car is hustled through corners. This Pug isn't big on sharp handling, but if it's that typical French poise you seek, you'll find it here.
Another key influence is the 508's relatively light 1.4-tonne kerb weight, which is significant considering that it's actually 25kg lighter than its smaller and lesser equipped 407 predecessor.
Giving this lion its muscle is the familiar turbocharged 1.6-litre four-pot producing 156bhp. The engine seems small considering the 508's size, but its wide torque spread (240Nm from 1600rpm to 4000rpm) gives it good tractability and adequate pulling power across its power band.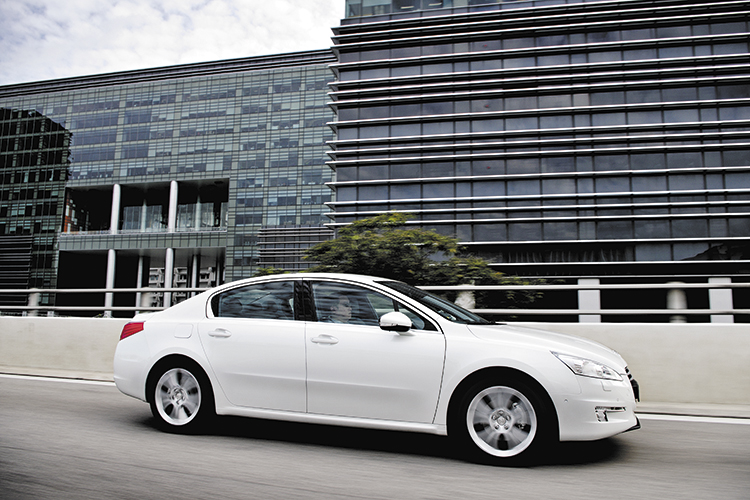 Although the motor doesn't sound inspiring, it is frugal – Peugeot claims a combined consumption figure of 14.1km per litre, which nearly equals the figure achieved by the 207 1.6 hatchback (14.3km/L).
Aiding this endeavour is the Aisin-supplied 6-speed automatic, which is very receptive to throttle inputs. A firm prod is enough to get it to hold second gear all the way to redline, so only the keenest drivers will be making use of the paddle shifters.
These minor blemishes aren't enough to mar this refined executive saloon. But given the car's French lineage, perhaps the real complaint here is about the missing kinks. There's nothing strange at all about the pretty conventional styling or the perfectly practical interior.
Ironically perhaps, it's this very lack of Gallic quirks that gives the 508 its quirkiness.
---
Peugeot 508 1.6 (A)
ENGINE     1598cc, 16-valves, inline-4, turbocharged
MAX POWER      156bhp at 6000rpm
MAX TORQUE      240Nm at 1600-4000rpm
GEARBOX      6-speed automatic with manual select
0-100KM/H      9.2 seconds
TOP SPEED      220km/h
CONSUMPTION      14.1km/L
PRICE INCL. COE      $156,900 (as of July 2011)
---