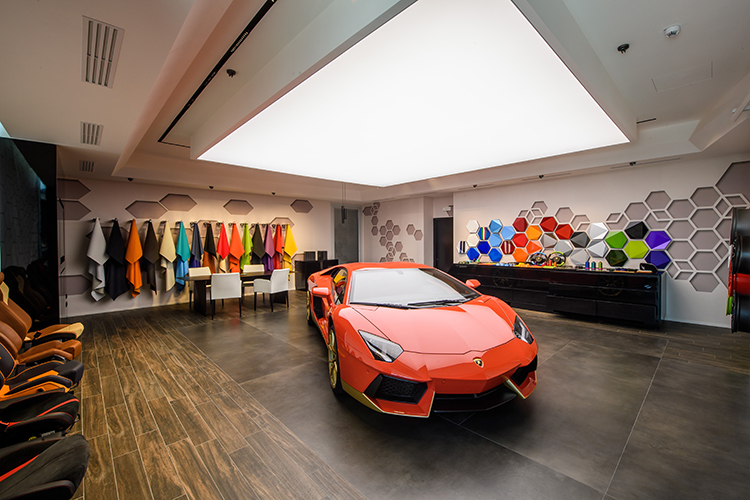 How are cars born? In my imagination an Audi e-tron's parts dance into place in Tony Stark's lab via a slickly choreographed, Kevin Feige-produced sequence.
A Bentley Mulsanne is magicked into form by angels to the accompaniment of winged harpists playing on hovering clouds, and a Mazda MX-5 gambols forth in a swarm of corgi puppies on a sun-drenched meadow.
Lamborghinis? They spawn from a heavy metal guitar riff while explosions saturate the horizon.
Reality is a lot less melodramatic, but even more fascinating.
I discover this on a tour of the Lamborghini factory in Sant'Agata, Bologna. Special things happen here.
The first clue is the literally squeaky clean, turquoise floor, on which the path for the cars as they take form is marked out with the checkerboard pattern of racing kerbs in tricolore.
Talk about a signal of intent. In this building, Huracans and Aventadors take shape at an average rate of only 4.5 cars per day.
Racing versions share the production line. The place is not huge, and despite being airy and spacious, there is a sense of intimacy.
Brightly lit and filled with the mixed chatter of machines dovetailing with highly trained technicians, the air positively tingles with energy.
Liliya, our guide for the tour, dishes out some numbers as we stand by a complete but naked V12 perched on a plinth for display.
An Aventador takes about a month to build, depending on degree of personalisation. Painting one alone takes 200 hours. Two weeks are required to produce the monocoque.
The car is more than 80% carbon fibre, which is woven on site. Its heart, the ferocious, screaming V12, takes 18 hours to assemble and nine hours to test.
Mated to the gearbox, the powertrain weighs 430kg. Roberto, the friendly neighbourhood transport robot, then brings it to the 13-station line.
Said line is manned by technicians who undergo an initial 8.5 months of on the job training before they are allowed to spanner up a car.
The waiting time for a Huracan Performante is approximately a year.
We are led first into Lamborghini's Ad Personam Studio. This is a section of the production floor dedicated to the company's personalisation program.
Laid out in a manner inspired by creative spaces and design studios, customers come to the Ad Personam Studio to make their Huracans and Aventadors very much their own.
All manner of exotic materials are laid out, including the semi-aniline, fine Nappa and Alcantara.
A scrapbook gives me an insight of the kinds of things a well-heeled individual can get monogrammed onto, for example, the headrests.
In the Ad Personam programme, a dog's face is not out of the question, nor is the signature of a customer's wife. I've heard she is now an ex-wife. Oops.
Restrictions are applied only for safety. For example, the craftspeople will gently refuse to do a white interior that will produce glare to the driver.
Taste, however, is largely unregulated. An order for a baby blue car with an orange interior made it through.
Upholstery workers beaver away in the background. I catch sight of a large sheet of leather fresh through quality control with circles around defects.
These will be cut out and used where they can be, for example to make accessories. Preparation of leather takes a week, followed by eight to nine hours to upholster a seat.
Emerging from the Ad Personam Studio, we stroll through the line.
Most intriguing is the one where the cars are lifted for the powertrain to be rammed up its rear and bolted in, like the Death Star getting its planet-killing laser installed.
Emerging blinking into the murderous July heat, we walk down a street signposted "Via LM002" into a brand-new area of the compound in an entirely different, bigger building.
Via is Italian for street, and LM002 is Italian for "badass SUV". It references Lamborghini's 1980s tribute to right angles, originally meant for the military but eventually built in very limited numbers.
Welcome to the Urus land. This new facility has a more regimented rhythm to it. It runs according to what Liliya tells us is the "Industry 4.0" standard, and spits out 22-26 giant SUVs in two shifts per day on a 23-station line.
The engines come in crates from Neckarsulm in Germany. Despite this, we sense very little of the benign German overlord that is the Volkswagen Automotive Group.
Everything in Italy is incredibly stylish, including the safety shoes. They weigh 3kg each.
Being the womb of gestation for rarefied, highly customised supercars built only to order, Lamborghini's Sant'Agata facility is fundamentally different from the mass production plants that metronomically churn out, say, thousands of Volkswagen Golfs.
This hive of human-machine cooperation where so much technology meets so much art even makes me yearn to be a part of it.
I might ask if they have an opening for an on-site doctor.
---
Lamborghini Urus SUV radiates an ultra-high performance aura
Lamborghini Aventador SVJ titillates, then pulverises your senses