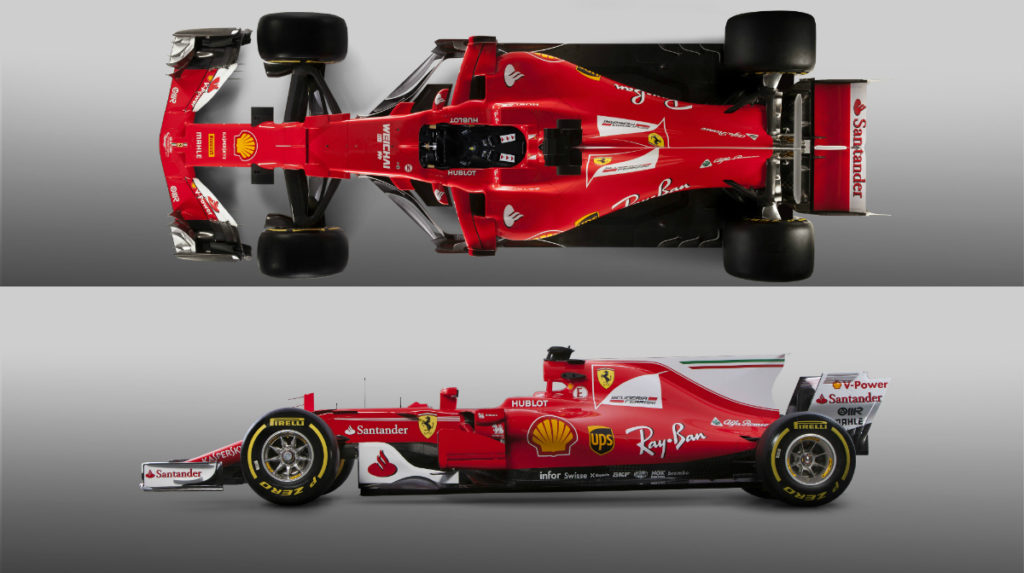 Scuderia Ferrari's 63rd Formula 1 racecar is born out of a regulation change that is without precedent in this category of motorsport.
Generally, in the past, regulations went in the direction of slowing down the cars. However, this year, the rule changes go in the opposite direction, meaning the cars have more aerodynamic downforce and more mechanical grip.
On the topic of aerodynamics, the Gestione Sportiva group has concentrated its efforts on finding the right compromise between downforce and aerodynamic resistance, or drag. The new Pirelli tyres are much wider than in the past, by 6 centimetres each at the front and 8 at the rear. This increased frontal area constitutes a "brake" on forward motion, as does the increased downforce coming from the 2017-specification front wing, floor and diffuser. Countering this effect, the combination of downforce and the bigger footprint from the tyres translates into increased grip, leading to higher cornering speeds.
There are several chassis differences between the SF70H and Ferrari F1 cars from the recent past. The lengthened nose and the arrow-shaped wing are a consequence of the regulations, as is the obvious fin on the engine cover and the more complex aero appendages ahead of the air intakes on the sidepods, whose unusual shape was designed in harmony with the front crash structure. Visible at the front is a duct that has an aerodynamic role, while behind the driver, the roll-hoop which incorporates the engine air intake has been completely redesigned.
Also updated is the suspension layout, which still retains a push-rod design at the front with pull-rods at the rear. The hubs and wheel nuts have been redesigned to facilitate the work of the mechanics when changing wheels during the pit stops.
Finally, also as a function of the expected increase in performance this year, the power-steering and braking systems have been upsized.
In contrast to the aerodynamics, when it comes to the power unit, there have been few changes to the regulations. The main one concerns the amount of fuel that can be used by each car during the race – with the predicted increase in performance and a bigger percentage of each lap spent at full revs, the permitted amount of fuel has increased from 100kg to 105kg, although the flow rate is still fixed at 100kg per hour.
The Ferrari 062 engine is a definite step forward compared to its predecessor when it comes to chasing performance. The layout of some of the mechanical components on the hybrid power unit has been revised, while other areas maintain a similar layout to the 2016 car. On the sporting regulation front, the abolition of the "Token" system allows the teams more room for development over the course of the season. 

Ferrari Challenge driver Martin Berry races for Make-A-Wish Singapore in 2017.
Ferrari F1 driver Kimi Raikkonen gathered with Singapore tertiary students on the sidelines of the 2016 F1 Singapore Grand Prix.