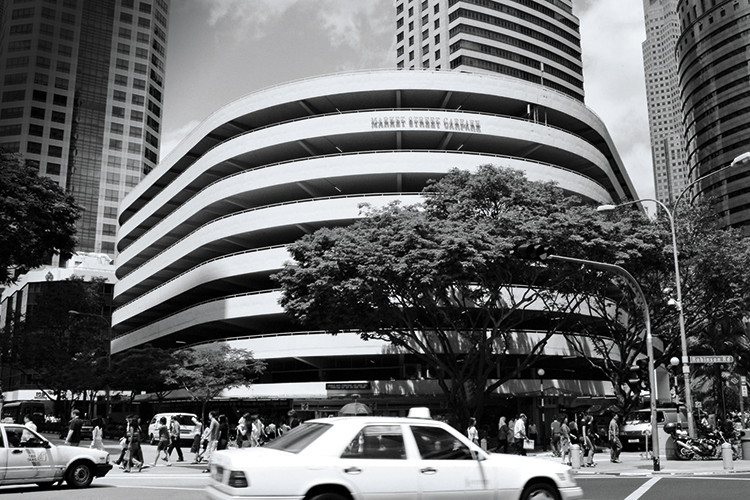 Back in the early 1960s, Singapore's urban infrastructure was poor. With both human and vehicular traffic increasing much faster than the expansion of the land transport network, the space crunch became acute in busy areas such as the CBD (central business district).
To ease this inner city congestion, made worse by cars parked anyhow along thoroughfares, the Government directed the Public Works Department (PWD) in 1963 to build the country's first multi-storey carpark.
Construction of the $2.5 million Market Street Car Park took 14 months, and it was officially opened in June 1964. Eight storeys high, the triangular structure sits at the junction of Cross Street and Cecil Street, with some 780 parking lots for cars and 130 for motorcycles. According to a Straits Times report dated April 19, 1963, it was, at the time, "the biggest of its kind in Southeast Asia."
When Market Street Car Park first opened, however, it was only half occupied throughout the day. The Registry of Vehicles (ROV) attributed this underutilisation to the fact that Singaporean motorists were still not used to parking in buildings.
Those unused spaces did not stay vacant for long, however – as Singapore's economy grew, so did the vehicle population. By 1970, the Market Street Car Park was experiencing a shortage of "supply" as drivers unable to secure season parking near their offices used the hourly lots instead. This created long queues for people visiting the CBD for a short while.
In response, the Ministry of Law and National Development's carpark division announced that parking fees in Market Street after the first hour would double from 50 cents to a dollar (still a far cry from today's hourly rate of $4).
But the increase was not enough to deter well-heeled executives, one of whom had his $30,000 Mercedes-Benz stolen from the carpark in 1978. It is unknown if the car was ever recovered, but the police did haul the joyriding thief to court and slap a nine-month jail sentence on him.
In 2004, Market Street Car Park was purchased by CapitaCommercial Trust (CCT) for almost $35 million – over 10 times its original construction cost. The place was extensively renovated in 2006 and, two years later, CCT was given the green light to redevelop the site into an ultra-modern Grade A office tower.
Market Street Car Park was unceremoniously shut down two months ago. Its closure meant the loss of valuable downtown parking lots. More importantly, one of Singapore's most iconic buildings passed into history.
---
Inadequate monitoring of carpark operations and enforcement by HDB