With more than a million units sold since its launch in 2011, the Audi Q3 is one of the most successful four-ringed models – which explains its long run.
But now, it is time for a change. From a distance, the second-generation Audi Q3 does not seem very different from its predecessor, but get closer and you will notice that it is a more aggressive-looking machine.
It has sharp, angular lines and flared wheel arches, with redesigned LED headlights flanking a single-frame grille to convey the latest Audi design language.
Unique to the Audi Q3 are two additional character lines running up the bonnet, giving it a more stylish, contoured effect.
The new Audi Q3 is more spacious, as it is 97mm longer and 18mm wider than its predecessor, with its wheelbase stretched by almost 80mm.
Two tall adults will find plenty of shoulder and elbow room at the rear. But fitting a third person would be a squeeze.
The Audi Q3's boot offers 530 litres of luggage space. Push the rear seats forward and that increases to 675 litres.
Need more space? Lay the rear seatbacks flat and you will have 1525 litres.
The compact crossover behaves neatly on the go. The front-wheel-drive 1.5TFSI, equipped with a turbocharged 1.5-litre engine mated to a 7-speed dual-clutch gearbox, corners reasonably well.
The car rolls a fair bit when traversing a sequence of corners, but steering loads up accordingly, so you will not be caught out suddenly.
Ride comfort, even in Dynamic mode, is very good.
Interestingly, the Audi Q3 35 TFSI variant bound for Singapore is a 1.4-litre.
It has the same output and performance as the 1.5 – 150hp and 250Nm, and goes from 0 to 100km/h in 9.2 seconds with a top speed of 207km/h.
The Audi Q3 35 TFSI's output is also unchanged from the outgoing Q3 1.4TSI, but it is slower in the century sprint while top speed is a tad higher.
Fuel efficiency is appreciably better though, so it is clear Audi wanted that over grunt.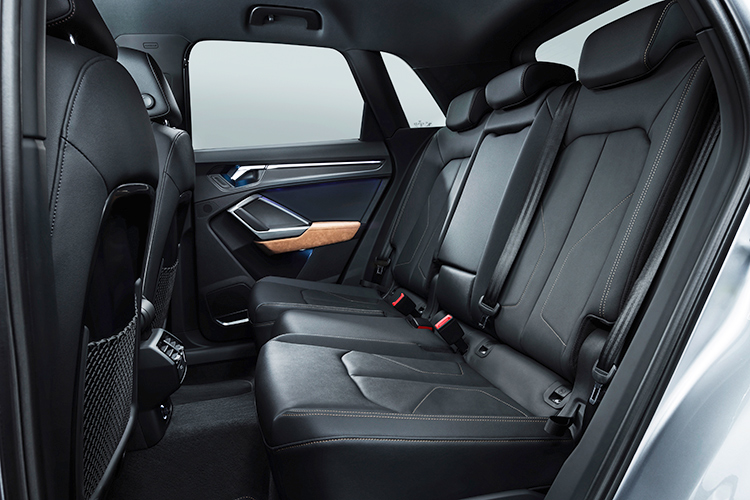 The new Q3's cabin looks significantly more modern, with new switchgear and metallic effect trim.
The car comes with a 12.3-inch virtual cockpit complete with 3D navigation map.
Being able to see where you are going while receiving directions and other driving information makes driving easier and safer.
Music tracks and Audi connect services can also be called up on this screen.
One thing that has remained unchanged is the Q3's build quality. Pretty much everything shouts "quality", including its beefy steering wheel and rotary knobs for the air-conditioning system.
One item seems incongruous, though – a lone hi-fi volume control knob sitting just below the air-con controls. It almost seems like the designers forgot about it.
The other thing which may not vary very much is the price, according to Audi.
The new Audi Q3 is due here in the fourth quarter of the year.
---
Audi Q3 1.5 (A)
ENGINE     1498cc, 16-valves, inline-4, turbocharged
MAX POWER     150hp at 5000rpm
MAX TORQUE     250Nm at 1500-3500rpm
GEARBOX     7-speed dual-clutch with manual select
0-100KM/H     9.2 seconds
TOP SPEED     207km/h
FUEL CONSUMPTION     16.9km/L (combined)
AGENT     Premium Automobiles
---