The second edition of The Cars@Expo 2019 is taking place from October 5 to 6.
We did our own browsing earlier today. Here are the cars and other stuff that we think are worth checking out at The Cars@Expo.
KIA NIRO HYBRID
The Kia Niro Hybrid has a redesigned exterior and new features that will please drivers and help keep everyone secure.
It used to be a Cat B car with 141hp. However, Cycle & Carriage has brought in the 128hp Cat A variant this time around.
The most exciting car at the Kia booth is also the reigning Straits Times Car Of The Year 2018.
The Kia Stinger has a striking design, a willing drivetrain and a competent chassis. Heck, it's even practical, thanks to its fastback body style.
Lest we forget to mention, it's an exciting and sublime drive, too.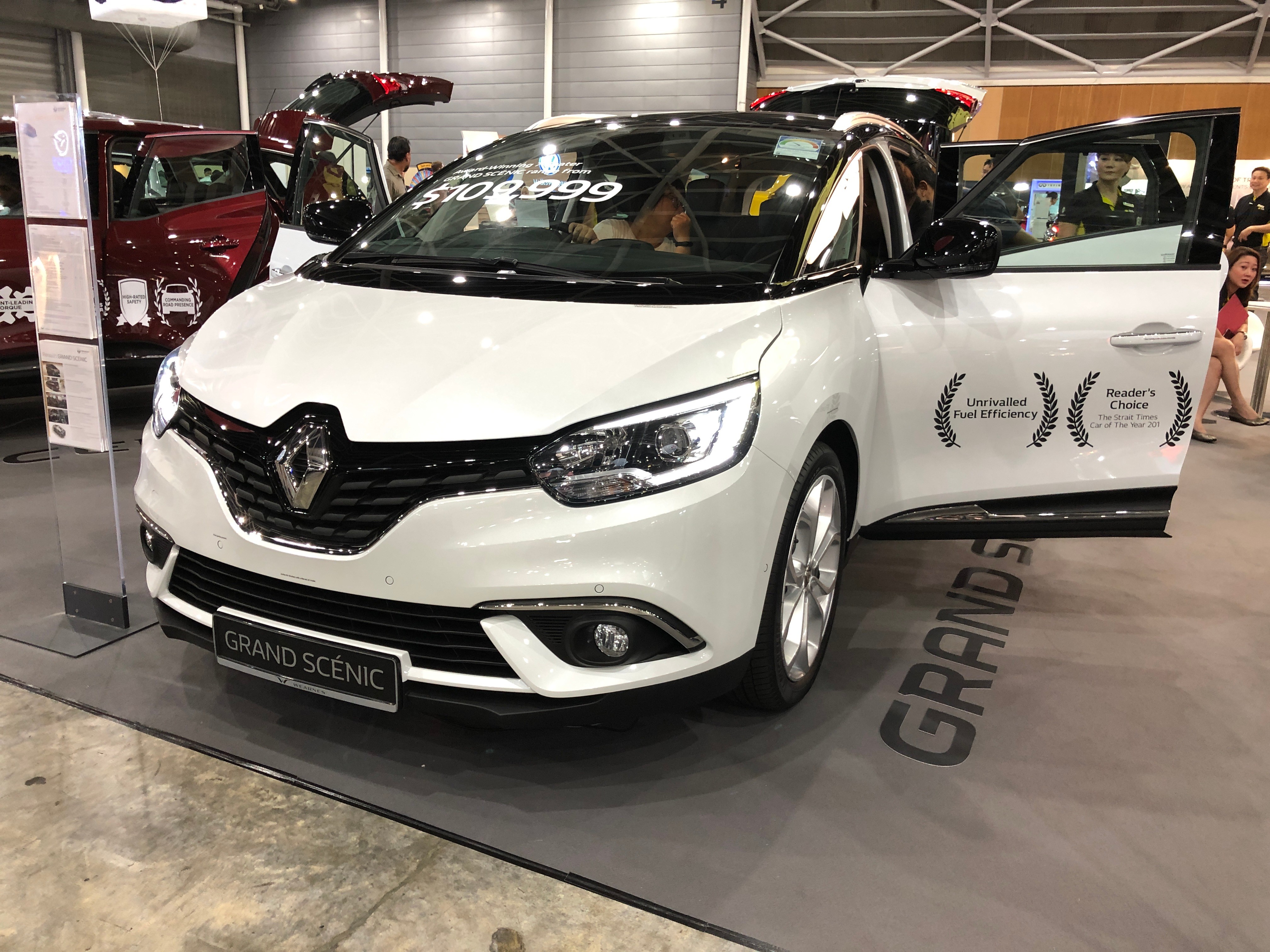 The Renault Grand Scenic is another ST-Torque Award-winner on display at The Cars@Expo.
We love its unique design (and those standard 20-inch wheels), flexible interior and plethora of safety features.
This French seven-seater is also torquey and frugal, thanks to its 1.5-litre turbo-diesel motor. You want pulling power for the family? Check this out.
RENAULT MEGANE RS
Yet another award-winner, and arguably one of the most exciting cars on display at The Cars@Expo.
The Renault Megane RS thrills drivers with its 280hp, turbocharged 1.8-litre engine, rear-wheel-steering and rorty exhaust.
There are rumours that the even hotter Renault Megane RS Trophy may arrive in Singapore next year.
The pre-facelift Kadjar had a turbocharged 1.5-litre turbo-diesel that had lots of low-end punch. But not everyone liked its relaxed power delivery.
Post-update, the Renault Kadjar now has a turbocharged 1.3-litre petrol engine that also does duty in Mercedes-Benz models, such as the A-Class and CLA200.
As a result, the latest Kadjar is a lot perkier and more fun to drive.
MITSUBISHI ECLIPSE CROSS
The coolest car in Mitsubishi's stable is the Eclipse Cross, described by the brand as "turbocharged", "coupe" and "SUV".
We love how effortless the turbocharged 1.5-litre engine feels, and the fact that the CVT is relatively smooth.
The fact that the Mitsubishi Eclipse Cross is also one of the most comfortable crossovers around can't be bad either.
CITROEN C5 AIRCROSS
The Citroen C5 Aircross is another cushy crossover you'll find at The Cars@Expo.
Citroen has a knack for quirkiness. But don't worry, there's nothing confusing here. The controls are intuitive and the design has flair.
We love the seats in this car. They really complement the C5 Aircross' excellent and quiet ride.
SKODA SUPERB
We like the Skoda Superb because of its value-for-money proposition. Long-wheelbase? Check. Turbocharged engines? Check. Dual-clutch gearbox? Check.
Limousine-like rear legroom? Check. Big-ass boot? Check!
In short, it's the most saloon/fastback you can buy for your money. We liked it so much that we also gave it an ST-Torque Award as well.
NISSAN SERENA e-POWER
The Nissan Serena e-POWER is the only electric MPV (multi-purpose vehicle) at The Cars@Expo.
Actually, it's also probably the only electric MPV in Singapore at the moment.
The Serena e-POWER has an electric motor that pumps out 134hp (100kW) and 320Nm of torque. The batteries are recharged by a 1.2-litre 3-cylinder engine.
Said motor does not power the wheels. It only charged the batteries.
The Nissan Serena e-POWER also has a spacious cabin, with a 1.4m tall interior. This makes it easy for occupants in the third-row to walk between the second-row seats.
SUBARU FORESTER
The Subaru Forester is aimed at buyers who want rugged-looking family transport.
This surefooted SUV comes with all-wheel-drive, a 2-litre flat-4 engine and Subaru's EyeSight system. The latter is a suite of safety features that helps enhance occupant security.
The flat-4 engine is a smooth operator, too. Quiet and unobtrusive, it contributed to the Forester's refined drive.
SUZUKI JIMNY
Don't be fooled by the diminutive Suzuki Jimny. With the right tyres, this box-shaped SUV is capable of tackling rough terrain.
With its ladder chassis, four-wheel-drive system and solidly built interior, it's ready to jungle boogie.
It might be the toughest small SUV at The Cars@Expo. Our only complaint is that the Suzuki Jimny belongs in a real forest. Not our concrete jungle.
SUZUKI SWIFT
If the Suzuki Jimny is too "hardcore" for suburbanites, then the Suzuki Swift might be a better choice.
Well-built and packing a punchy turbocharged 1-litre 3-pot, this supermini is perfect for zipping about town.
The Suzuki Swift is also relatively affordable. And needless to say, fun-to-drive as well.
MAZDA 6
The stylish Mazda 3 is getting a lot of attention now, but we haven't forgotten about the Mazda 6.
If you come to The Cars@Expo looking for an executive saloon that's solidly built, refined and a hoot to drive, you need to take this for a spin.
Our favourite variant is the 2.5-litre one, which has the extra oomph that the chassis and suspension can exploit.
VOLKSWAGEN GOLF GTI
The Renault Megane RS has more power and that trick rear-wheel-steering. But we haven't forgotten about the VW Golf GTI, the granddaddy of hot hatches.
The Golf GTI is quick, yet comfy and practical enough to be driven every day. No wonder there are so many of them zipping around Singapore.
SHOP FOR A NEW SET OF WHEELS
If you're not in the market for a new car, perhaps a snazzy set of new wheels might interest you?
Stamford Tyres has a boot at The Cars@Expo. If you're unsure about how to go about upgrading your rims, talk to one of their staff members.
Autobacs also has a presence at The Cars@Expo. They've got wheels and rubber, and an array of grooming products from Soft99 and Armor All.
---